Panoramic Vision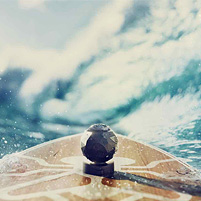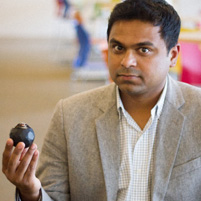 Amey Kanade (HNZ'09)
From death-defying athletic adventures to other once-in-a-lifetime moments, imagine video that can capture it all — literally. Thanks to Carnegie Mellon University spinout 360fly, soon everyone will be able to catch life in the round, with interactive, one-shot, 360-degree panoramic videos.

With a boost from a recent $17.8 million round of venture funding, 360fly (formerly known as EyeSee360) is gearing up for a spring 2015 launch of its new camera. The device will boast a unique 360-degree horizontal and 240-degree vertical view — the widest in the world.

Apps will be android and iOS compatible with live 360-degree view, and the rugged, lightweight camera will be waterproof up to five ATMs. Orders are in from major big box stores and leading online retailers and the device is expected to be ready for sale in spring 2015, competitively priced with other popular action cameras.

"360fly doesn't just take a video. It adds a replay button to your world. Because your life is too glorious to be filtered, cropped or edited," said Amey Kanade (HNZ'09), 360fly's director of marketing.

"It can fundamentally change the way people shoot, view and share video," Kanade said.

Founded in 1998 by CTO Michael Rondinelli (CS'01), 360fly moved from developing panoramic video to enable robotic perception to custom projects for industry and the military and the first consumer panoramic iPhone optic, GoPano.

Kanade joined the company after graduation, eager for a startup experience where he could dive quickly into varied responsibilities. He got what he wanted. The software engineer rapidly found himself spending more time with customers than writing code, eventually running a crowdfunding campaign and now serving as director of marketing.

While a student, the Master of Information Systems Management graduate also took a number of classes in the School of Art, and found his diverse CMU training invaluable.

"With modern day marketing you really have to be part scientist and part artist," Kanade said. "As an engineer by training on the marketing side, my entire CMU background is helping me now, both my strong platform of analytical skills and my artistic coursework."

In the past year, the Pittsburgh-based company has burgeoned from seven employees to 25 and counting. The CMU spinout now numbers five CMU alumni employees.

"The people at Carnegie Mellon, the professors, students and staff, they push you to a different level," Kanade said. "You're surrounded by so many smart people, you automatically feel the impetus of doing something better."
Related Links: 360fly | School of Computer Science | Heinz College
---