Carnegie Mellon Today has a New Year's resolution.
Its seeds were planted last fall when I received a letter to the editor the old-fashioned way, via the U.S. Postal Service. It read:
Dear Editor Mendelson,
Carnegie Mellon Today is most interesting and presents alumni in a most attractive manner. Keep up the excellent work.
—Richard Fisher
The letter also included a financial gift, unsolicited, for the magazine.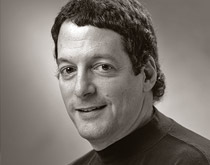 It turns out, Mr. Fisher isn't a CMU alumnus, but he is a prominent Pittsburgher—one of the cofounders of Federated Investors, which is a financial services company that today manages more than $350 billion in assets.
Less than two months after that benevolent correspondence, more seeds to the resolution were planted because of what happened in a Target store somewhere in Texas. According to media reports, a teenage girl took a photograph of a checkout boy whom one of her girlfriends thought was cute. She found out his first name and #alexfromtarget soon went viral on Twitter.
For those of you unfamiliar with Twitter, here is a brief explanation: It's an online social networking site where users can send messages, called "tweets." Each tweet has a 140-character limit, but within those 140 characters can be links to anything—news stories, personal photographs, videos. Users can select whom they wish to "follow"; so, for example, if you follow Bill Gates, every time he tweets—whether it's about his morning coffee or his latest gift to eradicate poverty—it will show up in your Twitter feed. Bill Gates has 18.5 million followers, so his tweets get some impressive visibility.
Thanks to the #alexfromtarget photo, Alex Lee went from 144 followers to nearly 740,000 in just two weeks. Not Bill Gates numbers, but to put it in perspective, the Nobel Peace Prize 2014 recipient, Kailash Satyarthi, has 46,600 followers, and Carnegie Mellon University has about 27,000 followers.
Perhaps the most significant seeds to Carnegie Mellon Today's New Year's resolution were planted through some recent reorganizing at the university. This is the first issue of the magazine published by the Marketing and Communications department. You'll still find in this issue the kinds of stories that chronicle the inspiring accomplishments of the university community in research ("BrainHub"), technology ("One Moore Milestone"), and the arts ("More Than a Pretty Face"), just to name a few.
Here's where the magazine's resolution kicks in. We want to make these stories—which even readers like non-alumnus Richard Fisher appreciate—go viral, just like #alexfromtarget. Plans are under way to make that happen later this year, through what will be a revamped website and a concerted effort to get our stories circulating throughout social media. In the meantime, if you want to help by sharing on Twitter, Facebook, LinkedIn, Google+, etc., what you read on the following pages, please do! (The simplest way is to go to carnegiemellontoday.com; the social media links are there.)
The magazine team thinks this is an especially meaningful resolution because, in a world that is often inundated with bad news, the accomplishments of the Carnegie Mellon community can provide confidence in a wondrous future for us all—alumni and non-alumni alike.
 —Robert Mendelson
    Executive Editor
    Follow on Twitter @RobertMendelson