Ian Harding is thousands of miles from his Los Angeles apartment. It's 2010, and the actor—who just graduated from Carnegie Mellon's drama school a year earlier—is in Paris' historic Louvre, where he is wandering nonchalantly through the hallways and soaking in the great works.
Harding has had little downtime since graduating. Almost immediately, he was cast in Pretty Little Liars, a teen mystery-thriller television show on ABC Family. After shooting the first 10 episodes, he is enjoying some well-earned time off.
Turns out, he isn't the only Liars cast member to vacation in Paris. He bumps into Tammin Sursok, who plays teen Jenna Marshall. Small world, indeed. The two are catching up when Harding notices flashes out of the corner of his eye. But of course! They're standing in front of the Mona Lisa, which other tourists must be trying to photograph. The actors step aside. But the flashes continue after they move out of the famous painting's sight lines, and Harding finally realizes the cameras aren't aimed at da Vinci's work. They're aimed at him and Sursok. Seriously? The show's pilot had only just debuted. The other episodes hadn't even aired yet. Are they actually being recognized? Yes. Yes, they are. And it is only the beginning.
Later that summer, Pretty Little Liars would cement itself as ABC Family's newest hit, with 2 million weekly viewers. Now in its fifth season—and recently renewed for a sixth and seventh—Liars has cemented Harding's status as one of Hollywood's newest heartthrobs and most bankable young stars. 
Born into a U.S. military family in Heidelberg, Germany, Harding moved to Virginia when he was only a few years old. Growing up, he had a wild imagination, a mouth that ran, and a mind that raced. "He could talk a dog off a meat wagon," his grandfather would say.
He was a cute kid, if a bit chubby, with curly black hair and baby-blue eyes that melted hearts. With a legion of stuffed animals at his command, he would weave wild tales about their adventures together for anyone within earshot—which was quite often everyone. "Use your inside voice," Harding's mother had to constantly remind him.
Given his flair for the dramatic, his sister Sarah suggested he join the drama club at his all-boys high school. Harding followed her advice and was glad he did. When he was cast as the loud, blustering boss in the school's production of How to Succeed in Business Without Really Trying, he realized performing was his calling.
Yet, as animated as he was growing up, he was quiet—shy even—early in his training at CMU. "He was always very dear, very charming, but we really needed him to be bolder," remembers drama professor Barbara Mackenzie-Wood.
Harding doesn't disagree: "I think it was this profound fear that I wasn't going to get it right. I was really scared of making a mistake."
Mackenzie-Wood's prescription? The chicken dance—sort of. She assigned him and a classmate a scene in which they had to dress up as six-foot-tall chickens and cluck their way around the stage. "It forced me to let everything go," recalls Harding. "I knew it was going to be absurd. But our mere existence is absurd, ya know? I really learned how to just be me."
It was a turning point for Harding. "All of a sudden, he bloomed," says Mackenzie-Wood.
That wasn't his only transformational moment on campus. One day while walking across the Cut during his freshman year, he was stopped by a classmate who noticed Harding wearing a purple rubber band on his wrist, which was adorned with a butterfly—the logo for the Lupus Foundation of America.
"Who do you know with lupus?" his classmate asked.
"My mom," said Harding. She had been diagnosed with lupus when he was only 7 years old. There is no cure, and she'd been dealing with the autoimmune disease since then.
"I'm so sorry," the classmate replied.
Harding could sense the pity in his friend's voice and sought to reassure him: "No, no, it's not that bad. She's okay."
"Oh. My mom had it."
Had. The word hung in the air. 
Harding's mother had done her best to not let her condition impact her children's lives. "I didn't want them to grow up with a sick mother," she says. "I tried very hard not to look sickly." Other than having to lie down when her joints ached, or wearing large-brimmed hats when she went outside—symptoms of lupus include swollen joints and sensitivity to the sun—her efforts were so successful that her son didn't even realize the disease could be fatal.
That night, Harding called his mother.
"You never told me you could die from this!" he exclaimed.
"Yes, I did," she replied, calmly.
"Well, you didn't focus on the bad parts of it!"
Reflecting on that conversation, Harding says, "Up until then, I don't think I really comprehended how serious lupus could be."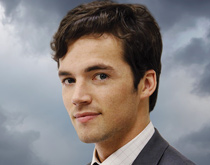 Senior year at CMU, he brought comedic chops to one of the lead roles in the school's production of the romantic farce The London Cuckolds. It's about a group of wealthy men and their wives—all of whom are covertly sleeping with younger men. Harding was cast as, who else, the heartthrob. Says the show's director and current head of acting Don Wadsworth: "Not only is Ian incredibly good looking—you can't deny the 'cheekbones of death,' I say—but he's amazingly quick. That's really the way to break women's hearts. Make 'em fall in love with you, and then make 'em laugh. Of course, then he lands this amazing job where he's quite the ladies' man. We prepped him for it, I think," he says with a wink.
Able to secure a top-level acting agent and manager during his senior year, Harding moved to Los Angeles after graduating. Before the summer was over, he had landed the lead role on Pretty Little Liars. The show, a mystery drama based on a bestselling young-adult novel, follows a group of four high school girls who receive messages from a mysterious person, threatening to reveal their secrets. Harding plays high school English teacher Ezra Fitz. Although the show features young stars who are beautiful and charming, its appeal is more than skin deep. Beyond entangling its characters in love triangles and teenage gossip, it artfully tackles tough issues that its audience is wrestling with themselves, including bullying, homosexuality, and mental health. Sure, Harding puts his cheekbones and baby blues to use, but he plays Fitz with a sincerity, earnestness, and maturity far above what one might expect from a man who makes girls literally shriek in public.
The show became ABC Family's highest-rated series premiere on record across the network's target demographics, women ages 18 to 34. Just as quickly, Harding's life changed drastically. After being recognized at the Louvre, he began to get stopped at malls and in restaurants. His adoring young fans—almost always teenage girls—were usually sweet and respectful, but were never shy about asking for pictures and autographs. "There's this unwritten rule in Los Angeles," says Harding's sister, Sarah. "When you see a celebrity in public, you can feel free to stare at them, but you don't approach them. That rule does not apply to teenage girls."
His popularity led to a 2010 Teen Choice Award. The event airs on Fox and honors the year's biggest achievements and entertainers as determined by teen viewers, who are the only voters. After more than 100 million votes were tabulated, Harding won the surfboard trophy for "Summer TV star: Male." In 2011, he won the award again. The next three years, he also won for the same role in the "TV Actor: Drama" category.
By the time he won his third Teen Choice Award, his social media accounts had exploded in popularity. Through Instagram and Twitter alone, he has received his share of marriage proposals, winking smile faces, heart emoticons—the kind of adulation that would be found in glittered ink on folded-up notebook paper if this wasn't the 21st century and the fans didn't have a direct pipeline to one of their favorite actors.
Having such a legion of fans gave Harding an idea. Instead of using social media to merely fan the flames of his popularity, he thought of harnessing the power of his stardom for a worthy cause: Lupus awareness. The lion's share of Pretty Little Liars fans and his social media followers are young women, the demographics line up perfectly. Lupus is most often diagnosed in women between the ages of 15 and 45.
These social media figures will put into perspective how much power Harding wields.
Instagram: Harding has more than 2 million followers; Lupus Foundation of America has fewer than 7,000 followers.
Twitter: Harding has more than 1.5 million followers; the foundation has fewer than 25,000 followers.
Harding began posting pictures of himself at Lupus Foundation activities, including fundraising drives and the national Walk to End Lupus Now. Through the walk, he raised more than $10,000. He has also launched fundraising campaigns for the Lupus Foundation that have capitalized on his fans' adoration. For $20, fans were able to buy a limited-edition T-shirt that says, "Future Mrs. Fitz," in honor of his Liars character. "It's mildly embarrassing, of course," says Harding. "But this is what's going to sell, and it raised money for a great cause. So … why not?"
More than money, though, it's about raising awareness of a disease that affects 5 million people worldwide. After all, even with his own mother battling lupus since he was in grade school, Harding didn't appreciate the full danger of the disease until that chance encounter on CMU's campus.
His public-service efforts are paying off. At a recent Walk to End Lupus Now, he met a young woman who had been diagnosed with lupus. She told him how she had fallen ill the year before. After weeks of tests, doctors were still unsure what was causing her symptoms. Remembering Harding's activity on behalf of the Lupus Foundation, she suggested perhaps lupus was the culprit. Subsequent tests proved her intuition was correct—she profusely thanked Harding and encouraged him to continue his advocacy, which he says he plans to do.
Meanwhile, with Pretty Little Liars currently ABC Family's most watched series, his success and popularity have garnered him auditions for lead roles in big-budget films. But while he's patiently waiting for just the right fit, he's not letting himself get pigeonholed into heartthrob roles.
He currently has several projects in early development, and some of the roles, he says, are undeniably darker than his pretty-boy schoolteacher Fitz. Worries, though, that such roles could harm his image are nonexistent. "I'm an actor. I act. I'm attracted to complicated and difficult parts, and some of those parts aren't nice," he says.
Because, ultimately, he says it's not only about what success you achieve—it's about what you do with that success. "The great thing about doing a television show is that it provides you with the financial cushion. Not so you can have a Maserati collection, but so that you can pursue projects that are interesting, challenging, diverse—because you love it."
It's all a means to an end, and he says the same goes for his fame. He could let his popularity simply feed his ego, or, he could use his more than a million fans to raise support for causes such as lupus awareness. He chose the latter—his way, he says, to pay it forward.