Thursday isn't a sleep-in day for Carnegie Mellon freshman Carly Bair. When the biology major's alarm clock sounds, it's still dark outside. But she knows better than to hit snooze. Awaiting her is a regimen of push-ups, sit-ups, running, and a bunch of other exercises during which she'll have no trouble breaking a sweat. Her diligence isn't for an athletic team; it's for her country. Bair belongs to the Naval ROTC, and Thursdays are mandatory battalion physical training sessions.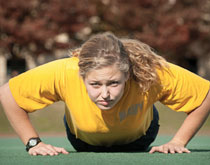 It's not the only mandatory activity. Additional weekly drill practices and a naval lab class (which doesn't count toward her total credits) are squeezed into her fall schedule, which already includes the standard five academic courses. There won't be a break at school year's end, either. She'll participate in a four-week NROTC summer program in which she'll receive one week of training in Marines, Subs, Aviation, and Surface Warfare.
When she graduates in four years, the NROTC scholarship recipient will be commissioned either as an ensign in the U.S. Navy or second lieutenant in the Marine Corps, and she will begin serving her eight-year military obligation, at least five of those years in active duty. The NROTC program is the single largest commissioning source that produces officers for the Navy and Marine Corps, thanks, in part, to CMU's NROTC Unit, which recently celebrated its 25th anniversary.
Bair is one of six NROTC members in this year's freshman class (an additional 23 freshmen attend other local universities). She admits that the schedule can be challenging, but it's a regimen she was exposed to for as long as she can remember. Her dad served in the Navy for 24 years. "I've always looked up to him, not just because he's my dad but because he has always carried himself with a sense of honor and discipline, and it was because of the Navy."
Bair, who graduated in the top 5 percent of her high school class, considered attending the U.S. Naval Academy, which is just a 20-minute drive from her Maryland high school. But, she says, "I didn't just want to be surrounded by future officers, and CMU was the perfect place to meet all kinds of people, from future set designers to future English teachers to future researchers." Once she realized she could have both a college experience and the NROTC, she says, her college selection was simple.
—Devin Beahm (DC'12)
Related Links:
Carnegie Mellon Naval ROTC