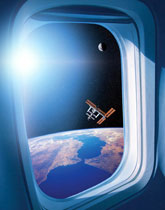 During the last week of May 2012, evidence of Joyce and Larry Hutton's Carnegie Mellon legacy hurtled through the sky over their house about 16 times a day. Was it a bird? A plane? No. It was lines of code in orbit, written by a Carnegie Mellon student at a company 2,716 miles from the Hutton's Pennsylvania home—a student who almost didn't go to Carnegie Mellon at all; a student named Natalie Morris, whose own Carnegie Mellon legacy started with the Huttons' enrollment 36 years before she was born.
The Huttons' Carnegie Mellon experience was different from Natalie's collegiate days. When Joyce and Larry enrolled in 1954, the university was still divided into Carnegie Tech and the women's studies arm, known as the Margaret Morrison Carnegie College. Joyce earned her BS in Secretarial Studies from MMCC and wanted to follow in the footsteps of her older sister, Jean, who had graduated from the same program 12 years ahead of Joyce. In an era when many women didn't go to college, Jean lived and worked in New York City, supporting herself with an administrative career. It was a "glamorous" life in the eyes of her younger sister.
Larry, a Canadian import, came to Carnegie Tech after being tipped off to its engineering programs by a friend of his father. The family friend, who lived just outside Pittsburgh, made an offer: If Larry would mow the lawn and babysit their kids, he could have room and board while he attended classes. That was a good deal to the teenager, who would have to work his way through college.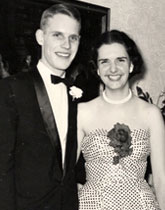 The paths of Joyce and Larry first intersected at a party during their sophomore year. Larry gratefully recalls many a home-cooked meal thereafter at the home of Joyce's parents, who lived only a few miles from the Pittsburgh campus. Joyce and Larry married in 1958, the day after their graduation, so that their friends could attend before they dispersed to pursue their own careers.
What connects the Huttons to Natalie and her code in orbit is a $10,000 Legacy Scholarship that the couple established through the Andrew Carnegie Society, a group of about 3,000 alumni across the globe who support the university with an annual gift of $1,000 or more. Although members receive benefits like VIP seating at university events and exclusive activities on campus and off, perhaps the society's biggest draw is the opportunity to create a personal relationship with a student like Natalie, who was a double major in computer science and physics.
After Natalie's junior year, she had a summer internship at Space Exploration Technologies Corporation (SpaceX) in Hawthorne, Calif. There, she wrote the lines of code that would program Dragon, the first privately designed and built spacecraft to dock with the International Space Station (ISS) in its nearly 15 years of orbit around the Earth. The unmanned Dragon brought a half-ton of cargo to the ISS, and about a week later, it splashed down, as planned, in the Pacific Ocean and was successfully retrieved. In May 2012, almost a year after she finished her internship with SpaceX, she saw her project (literally) launch. By then, the recent graduate had accepted a full-time job with the company as a flight code specialist. Says the self-proclaimed space nerd, "This is a dream come true. I still freak out on a weekly basis. I go, 'Wait, wait, wait, wait—I work at SpaceX?!'"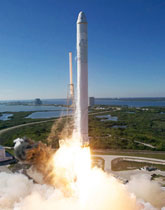 Natalie loves being employed by a company that makes her fantasies real. When she wanders down to the factory floor to get some coffee, she can see the rockets being assembled right in front of her. She never thought she'd have an opportunity to work at an innovative company at such a critical time: they've enjoyed success, but there's always uncertainty. And that, she says, is exciting. With the second Dragon launch just completed last October, Natalie is helping to make history in space travel, and she doesn't forget that the Huttons helped make it possible.
There are a variety of ways in which students can get in touch with their scholarship creators. Facilitated by the university, students receive the contact information of their benefactors. Several times a year, the university even sponsors old-fashioned letter-writing events and provides stationery and stamps. Students are encouraged to write to scholarship donors not only to thank them, but also to tell them a little bit about themselves and their plans for the future. In keeping with the times, some students send their messages via email.
But Natalie and the Huttons became acquainted in a different way: at the annual Andrew Carnegie Society Breakfast during the Huttons' 50th class reunion. The event is unique in that it physically brings together those who have established scholarships and the actual students receiving them. While dining together, they get the chance to know each other. Natalie and the Huttons say they connected right away. Natalie found herself very interested in Larry's career as a mathematician who worked with computers for more than 30 years, and she was impressed by the couple's involvement in the university, even half a century after their graduation.
"They're just really … cool," Natalie says, laughing at her perhaps unexpected word choice. She reevaluates her statement for a second before reaffirming, "They're cool people." The feeling is mutual. "She was just so bubbly and so enthusiastic. We loved her on sight," Joyce says.
The Huttons had requested that their scholarship recipient be a female in computer science, paying homage to Joyce's degree from Margaret Morrison Carnegie College and Larry's work with computers. As they talked with Natalie for the first time that morning over breakfast, the trio made a happy discovery: Natalie lived just minutes down the road from the Huttons' Lansdale, Pa., home! They never thought that a young woman interested in computer science would be found, relatively speaking, in their own backyard.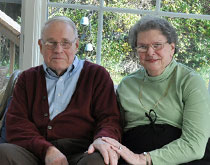 Natalie and the Huttons visited several times after their initial meeting when Natalie was home on breaks or over the summer. Natalie's picture hangs on the Huttons' fridge, and they have a graduation scrapbook she made for them. At a robotics competition at Natalie's former high school, where the Huttons met her parents and younger brother, Joyce was impressed watching Natalie talk to a group of young girls who were gathered around her, learning from her why math and science are interesting, even in the real world. The Huttons beam when talking about how proud they are of Natalie, and they are delighted that their scholarship gave her the financial help she needed. Larry says he is dismayed that today's college graduates can carry tens of thousands of dollars in student loan debt. His debt upon graduating, he recalls, was between $2,500 and $3,000.
Back in high school, when Natalie was considering which college would be her "top choice," she had a clear-cut preference. She had taken a six-week summer course in computer science offered by the Pennsylvania Governor's School for the Sciences, and it was held on CMU's Pittsburgh campus. She made up her mind then that CMU was the place for her. But her subsequent acceptance to Carnegie Mellon was both a triumph and a challenge; she knew she couldn't afford tuition on her own. When she petitioned the university for more financial aid, she got a life-changing surprise: the Legacy Scholarship created by the Huttons, without which, she says, she could not have enrolled.
Now that Natalie has graduated, the Huttons want to give that same chance to another student. "The opportunity to help Natalie turned out to be so fulfilling, we want to step up again this year," Larry says.
He and his wife did so by taking advantage of the Trustees Challenge, a fundraising initiative that is part of the university's larger capital campaign, Inspire Innovation. This time around, the Huttons have established an endowed scholarship. Unlike the Legacy Scholarship that Natalie received, which is paid out in its entirety over the four years it takes a student to complete his or her degree, the endowed scholarship grows over time, and the interest it generates is used to fund the scholarship in perpetuity, making it self-sustaining.
An endowed scholarship costs $50,000 to establish. But with the Trustees Challenge currently under way, the Huttons needed to provide only $30,000; the Board of Trustees provided the remaining $20,000. In reaching out to other alumni like the Huttons, the university aims to create 60 self-sustaining scholarships by the end of the university's capital campaign in summer 2013.
In essence, the endowed scholarships provide more funds to ease the cost of tuition for those, like Natalie, who simply can't afford it otherwise. And this is no insignificant number; about 60% of undergraduate students receive some form of aid.
The Huttons' CMU gift officer who helped to orchestrate the scholarship is Jocelyn Malik. She continues to stay in touch with the Huttons, often exchanging emails. "They're Carnegie Mellon graduates, and they're both smart as whips," Malik says. "They're funny, they're kind, they're engaging. And they have a real soft spot in their hearts for the university," which, she adds, has led to another soft spot, the one they have for Natalie Morris.

Shannon Deep (CMU'10, HNZ'11) of New York City has been a regular contributor to this magazine since her senior year at Carnegie Mellon.
Related Links:
Inspire Innovation
Giving to CMU