Cultivating Junior Scientists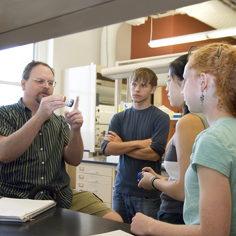 This summer marks the 25th anniversary of the Pennsylvania Governor's School for the Sciences (PGSS). Administered through Carnegie Mellon since its inception in 1982, PGSS classes are designed to encourage talented high school students to pursue careers in the sciences.
About 100 students are now participating in courses that cover the latest advances in biology, chemistry, physics, mathematics and computer science - opportunities that aren't typically available to them at their high schools. A hands-on approach to research is emphasized through team projects and laboratory courses.
Todd Mowry, an associate professor of computer science at Carnegie Mellon, points to his 1983 PGSS experience as the inspiration for his pursuit of a career in computer science.
"Twenty-four years ago, when I was a high school student attending the Pennsylvania Governor's School for Science, I had an epiphany right here in Wean Hall," said Mowry. "I would devote my career not to medicine, as I had been planning since childhood, but rather to computer science. PGSS was truly a life-changing experience for me."
Today, Mowry is an expert in his field, focusing on computer architecture, compilers, operating systems, parallel processing and database performance.
This year's projects cover such topics as genetically modified foods, high-temperature superconductors, neuroscience, molecular dynamics simulations, chaos and the wave-particle duality of light. Elective courses address astrophysics, immunology, materials science, laser technology, science and music, and the history of mathematical ideas.
According to Barry Luokkala, director of the PGSS, the program changes the students' lives both academically and socially.
"They find themselves for the first time in an environment in which everyone is academically talented and excited about math and science," he said. "They also discover that they are not self-sufficient and must learn from one another."
The 2007 classes began June 24 and will run through July 28. 
Photographed: Pennsylvania Governor's Students with a Carnegie Mellon professor.
Related Links: About the Program  |  Application Process  |  Invitation to Celebrate
---