Marilyn G. McCormick was surrounded by students after learning she was the recipient of the second Excellence in Theatre Education Award.
All the world's a stage for Marilyn G. McCormick. For the past 39 years she has instilled in students the idea that both in life and theatre: "Good, better, best; never let it rest, until your good gets better and your better is best."
McCormick is the winner of the second Excellence in Theatre Education Award, sponsored by Carnegie Mellon University, The Broadway League and the American Theatre Wing. The award will be presented at the 70th Annual Tony Awards on Sunday, June 12.
Renee Elise Goldsberry, a Tony Nominee for her role in "Hamilton" and CMU alumna, added a bit of drama to McCormick's day on May 23 by surprising the Cass Technical High School teacher in her Detroit classroom and shared the good news.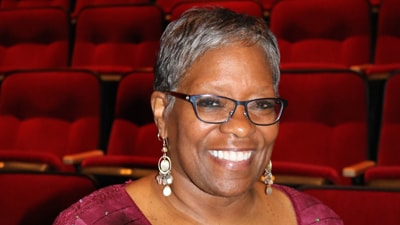 "On behalf of the Tony Awards, and on behalf of Carnegie Mellon University," Goldsberry said, "I would like to invite you to join me in New York at the 70th Annual Tony Awards."
McCormick, known as "MC" to her students, was stunned by the announcement and promised to see her there. McCormick will receive two tickets to the Tony Awards and Plaza Hotel Gala, travel to New York for her and a guest, and hotel accommodations.
As Goldsberry was departing, McCormick learned that, as part of her award, her theatre program would receive $10,000. She was overcome with emotion and was quickly surrounded by students.
Past and present students nominated McCormick for the recognition. They have gone on to attend colleges and conservatories before performing in regional theatres, Off-Broadway, Broadway, television and film.
Among the thousands of students McCormick has taught, she has trained actors, playwrights, poets, producers, directors and theatre educators.
"To think that my students recommended me for this award ... that's an honor," said McCormick, who is retiring in June.
McCormick holds a bachelor's degree of Education in Secondary Education and a master's degree of Education in Education Administration from Detroit's Wayne State University. A 1972 graduate of Cass, she has been teaching English and speech classes there since 1977 and began supervising drama shortly after. She has directed close to 50 productions including musicals, contemporary and classical plays and original works.
"I don't think she realizes the extent to which she has affected generations of students and changed their lives," said Crystal Williams, a 1998 graduate of Cass. A successful poet, Williams is associate vice president and chief diversity officer and a member of the English faculty at Bates College in Lewiston, Maine. "It is amazing to watch her interactions with students and witness the love that's exchanged."
"She helps us with life situations," said Chelsie Sutherland, a graduating senior. "She always teaches us to give love and to live now. She is my drive, my reason to get up every morning and go to school."
McCormick is the recipient of numerous awards including Cass Technical High School's Distinguished Alumnus, Outstanding Arts Educator from Wayne State University, Trailblazer Award from the Alfredine Wiley Scholarship Fund, Sankofa Award from Plowshares Theatre, nine Spirit of Detroit Awards for teaching from the Detroit City Council, and two Teacher of the Year Awards. In 1999, McCormick's production of "Sarafina" in the American High School Theater Festival in Edinburgh, Scotland, received a four-star review from Edinburgh's newspaper, The Scotsman.
"She instills so much into each of us, not only about school but about life. It all focuses on growing up, and she has helped us to realize that hearing "no" in this industry is OK," said Coda Boyce, a graduating senior. "She has taught us that experiencing failure is a learning experience — a way for us to grow."
"The biggest benefit of being her student is her availability to us," said graduating senior Michael Bishop. "I can call her any time about anything, and she will be there. She shows she genuinely cares for each one of us."
McCormick is a native of Pittsburgh, where she lived until she was 15, when her family moved to Detroit. She married Michael McCormick, now deceased, and is the mother of two: Michael of Los Angeles and Melanie of Maryland. 
The annual honor recognizes a K-12 theatre educator in the U.S. who has demonstrated monumental impact on the lives of students and who embodies the highest standards of the profession. A panel of judges, including Goldsberry, comprised of the American Theatre Wing, The Broadway League, Carnegie Mellon University and other leaders from the theatre industry selected McCormick from among finalists across the nation.
Carnegie Mellon University and the Tony Awards also named two runners-up for the Excellence in Theatre Education Award: Kevin G. Coleman, director of education at Shakespeare & Company, Lenox, Mass., and Sarah Crowell, artistic director, Destiny Arts Center, Oakland, Calif.