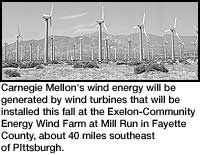 Carnegie Mellon will make the nation's largest single retail purchase of pollution-free, wind-generated electricity through an agreement with Community Energy, Inc., and Environmental Defense.
Carnegie Mellon will buy 5 percent of its total electricity next year from new wind power generated in western Pennsylvania. The purchase of wind-generated electricity, equivalent to the energy required by nearly 650 homes per year, is part of Carnegie Mellon's commitment to cleaner energy and the environment.
"Developing new technologies, policies and practices to protect and enhance our global environment is one of our strategic priorities," said President Jared L. Cohon.
"Our university is committed to using our research and education programs-as well as our own campus practices-to improve environmental quality, to provide leadership in environmentally sustainable practices and to support the development of wind power generation in western Pennsylvania. We hope this effort will become a practical model for other universities and organizations."
Carnegie Mellon's wind energy will be generated by 1.5 megawatt wind turbines that will be installed this fall at the Exelon-Community Energy Wind Farm at Mill Run in Springfield and Stewart townships in Fayette County, about 40 miles southeast of Pittsburgh.
The Mill Run project, which will consist of 10 1.5-megawatt turbines, will be the largest wind farm in the eastern U.S. The Carnegie Mellon wind energy purchase of 4,778 megawatt-hours will require more than an entire dedicated turbine to meet the demand.
"Carnegie Mellon's commitment to clean energy will protect human health by reducing pollution and help protect the planet from the threat of global warming," said Environmental Defense Executive Director Fred Krupp. "The university's purchase of wind power sends the clear signal that clean, renewable energy is a viable resource that will help reduce dependence on fossil fuels. Carnegie Mellon should be commended for its leadership in this arena."
"By making the largest retail wind purchase ever, Carnegie Mellon University is leading the way for all of us," said Brent Alderfer, president of Community Energy, Inc. "In a time of talk of an impending energy crisis, it is both satisfying and responsible to use energy that generates no pollution and uses no fuel, neither domestic nor imported. Carnegie Mellon's decision to buy locally generated wind energy makes a contribution locally and globally."
John Hanger, spokesperson for the Mid- Atlantic Renewable Energy Coalition (MAREC) said, "Once again, Carnegie Mellon has shown leadership in its commitment to the community, our state, and the health of our people and the planet.
"More important, the university's actions show that doing right by the environment is also a good business decision. Their vision is one that can and should be copied by educational institutions, government, businesses and individuals throughout the Commonwealth," Hanger said.
By moving from local coal-fired power plant production to wind power, the university's purchase will eliminate the production of 13 tons of nitrogen oxides per year, a precursor of ozone smog; 35 tons of sulfur dioxide, which leads to acid rain; 5,100 tons of carbon dioxide, the primary contributor to global warming; and 0.18 pounds of mercury, a pollutant that is toxic to humans and the environment.
The reduction in carbon dioxide emissions is equivalent to planting nearly 17,000 acres of trees or taking more than 1,000 cars off the road.
Wind energy is the world's fastest growing form of electricity generation, meeting the growing demand for clean renewable energy.
Community Energy, Inc. (CEI) was founded in fall 1999 to develop and market clean, renewable electricity. The company adds fuel-free, emission-free, new renewable electricity to the electric grid.
Environmental Defense, a leading national nonprofit organization based in New York, represents more than 300,000 members. Since 1967 it has linked science, economics and law to create innovative, equitable and cost-effective solutions to the most urgent environmental problems.
The MAREC is a coalition of businesses, nonprofit organizations and government agencies working together to build consumer interest in and demand for clean renewable energy. One of MAREC's projects is the Pennsylvania Wind Campaign, which encourages Pennsylvanians to purchase electricity generated from Pennsylvania wind farms.
(06/13/01)