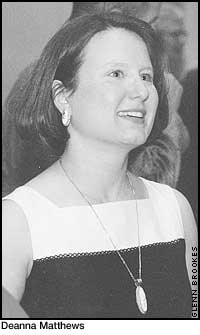 The university paid tribute to five members of the graduate student community for their outstanding service and teaching at the Education Awards ceremony in late April.
Deanna Matthews, who earned her doctor's degree in civil and environmental engineering, was awarded the Graduate Student Service Award for advancing the interests of and improving the quality of life for Carnegie Mellon graduate students and contributing to the university's academic community.
Alexei Kolesnikov, a doctoral student in the Mathematical Sciences Department, received the Graduate Student Teaching Award for excellence in teaching and designing effective and innovative course materials.
Michele DiPietro, who earned her doctor's degree in statistics, received an honorable mention service award. Nadine Fattaleh-Diggs and David Rode earned honorable mention teaching honors. Fattaleh-Diggs, a full-time lecturer in the Chemistry Department, is on leave from the Chemistry doctoral program. Rode is a doctoral student in the Social and Decision Sciences Department.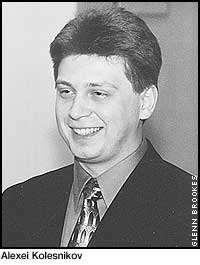 Matthews, a former Graduate Student Assembly officer, was cited for her efforts to provide affordable child care for graduate students, gathering and interpreting graduate student health care and stipend data, and "linking administrators to their graduate student constituency."
Among other qualities, one nominator lauded Matthews for her "ability to zero in on the crux of the problem, her diligent and incredibly quick follow-through, her rigor regarding details and her contagious sense of humor as she exposes the often-irrational or illogical state of current approaches to graduate student issues."
Kolesnikov, who earned honorable mention teaching awards the past two years, received praise from faculty and students.
Russell Walker, associate head of Mathematical Sciences, acknowledged Kolesnikov's thoughtful approach to delivering courses and his initiative in making courses more effective by developing corresponding Web sites. He also commended him for conducting review sessions and for presenting complicated material in an "understanding and interesting way."
Students said they appreciated his availability to help them understand the material and his thorough grading that included extensive comments.
Lisa Ritter
(06/13/01)