Developer of Autonomous Vehicles Selected as New Head of Robotics Institute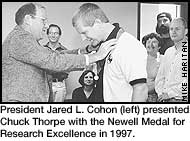 Charles E. "Chuck" Thorpe, a principal research scientist in Carnegie Mellon's Robotics Institute and founding head of its master's degree program, has been named director of the Robotics Institute. He replaces Takeo Kanade, who is stepping down after nearly 10 years to focus on his research activities.
Thorpe, who has served as acting director of the Robotics Institute for the past year, has strong ties to Carnegie Mellon and a long history of successful research in automated vehicles. He holds a doctor's degree from the School of Computer Science and is one of the university's first alumni to pursue a career in robotics. His advisers were Raj Reddy, founding director of the Robotics Institute, and Hans Moravec, one of the world's first developers of mobile robots.
Since receiving his doctor's degree in 1984, Thorpe has worked on the development of outdoor robotic vehicles, focusing on their computer vision, planning and architecture. He also has been involved in the development of automated helicopters, walking robots and robots that operate under water.
During the past 16 years, Thorpe and his "Navlab" research group have built a series of 11 robotic cars, trucks and buses for military and civilian research. In developing these vehicles, they have pioneered new technologies in stereo vision, laser rangefinding, 3-D terrain modeling, neural networks for perception, route planning, driver performance modeling, traffic simulation, teleoperation, vehicle control on rough terrain and system architectures.
In 1984, when Thorpe wrote his doctoral thesis, he also wrote a proposal to the Defense Advanced Research Projects Agency to develop techniques for driving in hazardous environments. The resulting grant funded development of Navlab 1, a blue Chevrolet van that contained $500,000 worth of computers and creeped along on its own at a maximum speed of 1.5 miles per hour.
Navlab 1 spawned a host of offspring and with each generation, the computers got smaller, cheaper and more powerful. The progeny included automated Army HMMVs, several Pontiacs, a Honda Accord, two "New Flyer" buses belonging to the Houston Metropolitan Transit Authority and three Oldsmobiles.
The Oldsmobiles and buses took part in the U.S. Department of Transportation's 1997 National Automated Highway Systems Consortium demonstration in San Diego, which showcased the technical feasibility of automated vehicles. The buses and cars drove themselves in the HOV lane of Interstate 5 at speeds between 60-100 miles per hour. This feat earned Thorpe and his team the School of Computer Science's Newell Award for Research Excellence.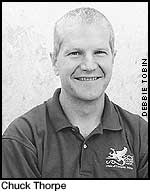 "We have the greatest respect for Chuck as a scientist, educator and administrator," said SCS Dean Jim Morris. "He is an excellent leader who has demonstrated great management skills already as a project manager, acting institute head and committee chairman. He embodies our college's 'reasonable person' principle."
Thorpe fell in love with machines as a youngster, growing up in Zaire, Africa, where his father was a surgeon and both parents served as missionaries. He remembers jungles, grasslands, talking drums, exotic food and people, strange languages, a cinder block house with a wood stove and electricity that only worked in the evenings.
"The things that got us excited were based on technology," he said. "Trucks and generators had to be fixed. It was good preparation for doing robotics research."
Thorpe spent eight years in Africa, attending an American day school near his home. Intending to be a doctor like his father, he attended North Park College in Chicago and earned a bachelor's degree in natural science in 1979. But he was bored by anatomy and intrigued by computers. He applied to Carnegie Mellon because of the work researchers were doing in artificial intelligence.
During his years as a member of the Robotics Institute, Thorpe advanced from graduate student and research assistant (1979-84), to research scientist (1985-90), and senior research scientist (1990-96). He became a principal research scientist in 1996 and two years later founded the robotics master's degree program.
He is a fellow of the American Association for Artificial Intelligence and a member of the Institute for Electrical and Electronics Engineers (IEEE) Robotics Society. He has been a senior member of the IEEE since 1993.
Anne Watzman
(06/13/01)