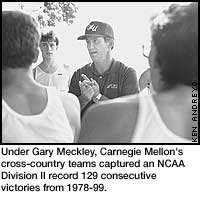 Sports fans and the media typically measure a coach by their teams' records and the number of championships won. Team members often grade their coach based on their motivational skills, their knowledge of the game and how they're respected and treated as individuals.
In each case, Gary Meckley, who has announced his retirement after 33 years as Carnegie Mellon's men's cross-country and track and field coach, would be rated among the best.
The Tartans' accomplishments under Meckley are many. His squads have combined for a 382-48 record for a winning percentage of .887. From 1978-99, a time when the schedule featured many dual meets, or head-to-head contests, the Tartans reeled off a NCAA Division III record 129 consecutive cross-country victories. They've posted a 92-4 track record against single opponents since 1977.
Before joining the University Athletic Association (UAA), Carnegie Mellon won 24 cross-country and track titles in the Presidents' Athletic Conference. The Tartans have won two UAA championships and Meckley has been named the UAA Coach-of-the-Year three times. He's coached 135 conference champions, 106 individuals who have qualified for the NCAA Division III national championship meet, 67 all-region performers and eight All-Americans.
Meckley's coaching successes have not gone unnoticed. He's been featured in Pittsburgh newspapers as well as in USA Today. He was among Sports Illustrated magazine's "Faces in the Crowd."
"He knew so much about what he was doing," said All-American and conference champion distance runner Kristo Kreichbaum (E 1999), a four-year letterman for the Tartans. "But he also looked out for us from a personal standpoint. He was always making sure we were doing well in our classes.
"He always looked out for your interests as a person as much as a member of the team. If you needed a break because you had two finals the next day, he had no problem with that. He was almost a parent away from home," Kreichbaum said.
As a sprinter, Ken Hallinen (IM 1982, HS 1986) remembers Meckley as a "tough" coach who "insisted we hit the time he had posted for the workout." As an assistant coach under Meckley since 1989, he was most impressed by his knowledge of the sport.
"I was always amazed at how much he knows about all the different events, what the correct form is for the hurdles, different strategies for the jumps and being able to tell what an athlete did wrong by just the sound of his or her footsteps," said Hallinen, manager of finance and planning for Computing Services. "He can coach and help the athlete in any event."
Dario Donatelli (IM 1981), an All-American cross-country and track performer for the Tartans and Carnegie Mellon's women's cross-country and track coach since the mid-1980s, said he will remember Meckley most for his inspiration.
"Gary has been a strong motivator to many of us and I'm proud to say I have been one of those motivated," Donatelli said.
Bruce Gerson
(06/13/01)