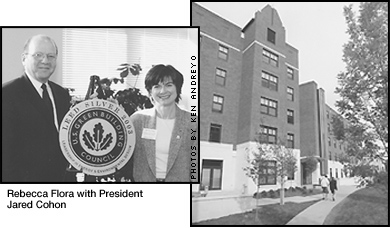 New House First Residence Hall To Receive LEED Certification
"New House," Carnegie Mellon's new $12.5 million residence hall, has earned recognition by the U.S. Green Building Council as the first "green" dormitory, making it the nation's healthiest, most energy-efficient residence for college and university students. The university received a Leadership in Energy and Environmental Design (LEED) Silver Certification from the U.S. Green Building Council (USGBC), a coalition of building industry leaders working to promote environmentally safe places to live and work.
"Carnegie Mellon's adoption of sustainable or 'green' building principles demonstrates its commitment to the health and well-being of young people today and in the future. This is really about the next generation," said Rebecca Flora (shown at right with President Jared Cohon), executive director of Pittsburgh's Green Building Alliance and board member of the U.S. Green Building Council, during the presentation of the Silver LEED certificate.
The LEED system is a voluntary, consensus-based national standard for developing high-performance sustainable buildings. It provides a complete framework for assessing building performance and meeting sustainability goals in categories including sustainable sites, water efficiency, energy and atmosphere, materials and resources, indoor environmental quality, and innovation and design.
"I believe we educate by doing the right thing and modeling right behavior. By doing green development, Carnegie Mellon has set a standard that I hope all of its students will follow into their future lives," Flora said.
Chriss Swaney and Teresa Thomas