Awards Honor Top Journalists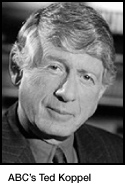 ABC's World News Tonight and ABC's Nightline won top honors in the broadcast reporting category at Carnegie Mellon's 2003 Cybersecurity Journalism Awards program at the National Press Club in Washington, D.C., late last month.
Specifically, Kendra Gahagan and Richard Sergay of ABC's World News Tonight won for spot news in the broadcast category; and Ted Koppel, Chris Bury and Tom Bettag of ABC's Nightline took top honors for their news documentary work.
In the print category, Robert O'Harrow Jr. of The Washington Post was the winner, with John Markoff of The New York Times receiving the award of merit.
MSNBC.com's Alan Boyle and Bob Sullivan won for online cybersecurity reporting, and anchor Renay San Miguel of CNN received the award of merit in the online category.
The awards were developed by Carnegie Mellon and the Newseum, an interactive museum of news in Arlington, Va., to honor editors, reporters and producers who have done the most to educate the public by giving readers and viewers a better understanding of America's ongoing war against terrorism.
A panel of judges was chaired by Pradeep Khosla, co-director of Carnegie Mellon's CyLab and the Dowd Professor of Electrical and Computer Engineering at Carnegie Mellon, and Susan Bennett, veteran journalist and director of international exhibits at the Newseum. The judges included David Ensor, a national security correspondent with CNN; Marilyn Thompson, assistant managing editor of investigative reporting at The Washington Post; Carol Giacomo, diplomatic correspondent for Reuters; and Mark Thompson, national security correspondent for Time magazine.
Judging was based on several criteria, including deadline pressures and content. All finalists demonstrated the ability to explain complex issues through clearly defined examples
Chriss Swaney