New center brings together university's world-leading expertise in Internet safety and privacy
Carnegie Mellon is pulling together its efforts to ensure safety and privacy for every computer user under one large umbrella organization called CyLab. CyLab will combine the university's existing expertise and related research centers to form an overarching center that will use innovation, technology, policy and outreach measures to guarantee cybersecurity, nationally and globally.
"Securing the nation's critical infrastructure requires proactive protection, effective detection and immediate response to threats," said Carnegie Mellon President Jared L. Cohon. "Our new CyLab is designed to work with speed and great efficiency to shore-up security breaches that can compromise the Internet-based electronic ties that enhance communications and services that bind so many enterprises together into a network that is the foundation of our economic prosperity."
Pradeep Khosla, head of Electrical and Computer Engineering and co-director of CyLab, said the new lab will fuse the university's expertise in information assurance, including research and development, public policy, response and prediction.
"We will ensure privacy and security by tackling cybersecurity issues from a variety of angles," Khosla said. "In cyberspace, threats move very quickly. This is not just a national security issue, but it is a national economy issue too," he said.
Carnegie Mellon's new CyLab also aims to spark cooperation between government and business to protect information networks.
"At Cisco, we share Carnegie Mellon's vision that a comprehensive information security initiative integrating response, prediction, research and education is the best way to address the problem of securing the nation's infrastructure," said Greg Akers, senior vice president and chief technology officer of Cisco Systems, a San Jose, Calif.-based company that enables customers to build large-scale integrated computer networks.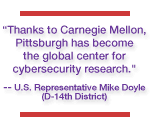 "We look forward to helping CyLab craft a focused research initiative centered on tools, technologies and practices to improve dependability, secure the Internet, embed security in computer and communications systems, and design a public/private partnership to accelerate outreach training and education," Akers said.
U.S. Representative Mike Doyle (D-14th District) said that cutting-edge research is critical to the future of our nation. "Our economic well-being and our public safety both depend on maintaining the security of our nation's information technology systems. Carnegie Mellon has developed tremendous expertise in this field, and the federal government should be taking full advantage of it," Doyle said.
"That's why I worked hard to secure $2.5 million last year and $6 million this year for Carnegie Mellon's integrated cybersecurity research and response program. I was pleased that I was able to convince my colleagues in Congress to fully utilize this truly national asset by making this investment in research at Carnegie Mellon's CyLab," Doyle said. "Thanks to Carnegie Mellon, Pittsburgh has become the global center for cybersecurity research."
While Carnegie Mellon researchers are already developing computer components such as hard drives and network cards that will be able to defend themselves–and ultimately each other–from attack, cybersecurity problems continue to grow. In fact, during the first nine months of 2003, more than 114,000 incidents of virus attacks and other computer breaches were reported to the CERT/CC.
"Since September 11, 2001, much has changed in the way people think about security," said Richard Pethia, director of CERT/CC and CyLab co-director. "Our definition has broadened, our understanding of increasing threats has sharpened and our ideas about how to protect and preserve our national security have evolved in new ways," he said.
Because the Internet is still susceptible to viruses, computer intrusions and cyberterrorism, the new CyLab will focus on developing technologies related to security in distributed systems and wireless and optical networks as well as those that guarantee the privacy of information.
CyLab will also support the university's ongoing CyberCorps program and its vision of making 10 million home users knowledgeable about cybersecurity. Carnegie Mellon received $6.1 million through the Army Research Office to pursue research, development and education in security.
Kelly Kimberland and Chriss Swaney