University News Briefs
Panel Discusses Role of Orthodoxy in Culture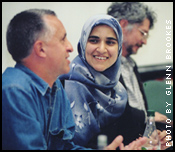 Independent filmmaker James Ault (left) and Dalia Mogahed, outreach coordinator at the Islamic Center of Pittsburgh, discussed orthodox religious beliefs during a panel discussion last month in Gregg Hall. The event was sponsored by the Center for the Arts in Society. Ault, director of the acclaimed 1987 documentary "Born Again: Life in a Fundamentalist Baptist Church," discussed the time he spent with a tight-knit fundamentalist congregation in New England. Mogahed explained the basic tenets of Islam and explored the influence of colonization and western values on Muslims throughout the 20th century. To her right is Marshall Alcorn, professor of English at George Washington University. Also participating was Snjezana Buzov, lecturer in history at the University of Pittsburgh.
ETC Opened ITs Doors to Visitors During Homecoming
The Entertainment Technology Center (ETC) held its annual open house during Homecoming Weekend to showcase student work and supply visitors and prospective students with information about the ETC and its programs. Attendees had the opportunity to experience the projects like video games and virtual reality programs that faculty and students have been working on all year. ETC faculty member Brenda Bakker Harger (right) plays "Mamba Di Amigo," a virtual world constructed as an assignment by students in the Building Virtual Worlds class. The Entertainment Technology Center is a joint master's program between Carnegie Mellon's College of Fine Arts and School of Computer Science.
HR Wins National Technology Award
Carnegie Mellon's Human Resources (HR) Department received the College and University Professional Association for Human Resources' (CUPA-HR) 2003 SCT Technology Award for HR Connection—its interactive, Web-based, administrative benefits and employee information application. Members of the HR Connection team include Barbara Smith, associate vice president for Human Resources; Lisa Zamperini, manager of information technology; Gemma Green, manager of Total Compensation; and Rick Smereczniak, director of Total Compensation.

Sponsored by Systems and Computer Technology Corporation (SCT), the SCT Technology Awards recognize individuals or teams that have demonstrated technological innovations that advance the higher education HR profession. Carnegie Mellon will receive $3,000 to go into an endowment or scholarship fund on behalf of the team.
West Coast Campus Celebrates Expansion
Carnegie Mellon celebrated the success and expansion of its West Coast Campus at Moffett Field, Calif., on Friday, Oct. 31, with a ribbon-cutting ceremony and a tour of its new headquarters in Building 23 on the historic Shenandoah Plaza, adjacent to NASA's Ames Research Center. President Jared L. Cohon and Raj Reddy, the Simon University Professor and West Coast Campus educational director, joined NASA officials to showcase the progress made at the campus since it was established in 2001.

The West Coast Campus opened for classes in Sept. 2002 with 56 students enrolled in programs leading to a master of science degree in information technology. The first graduation ceremony was held this past August for students who earned master's degrees in information technology with specializations in software engineering, e-business technology and the learning sciences. All of the programs involve extensive, in-depth projects that students complete as teams. This collaborative approach is one of the defining characteristics of Carnegie Mellon's West Coast Campus and has been touted by students as one of the program's most beneficial aspects.
Heinz Student Wins Capitol Hill Fellowship
The Women's Research and Education Institute (WREI) has awarded Heinz School graduate Jocelyn Yee one of its fellowships on Capitol Hill. Since 1980, WREI Fellowships have placed more than 250 outstanding women scholars on House, Senate and Congressional committee staffs to master federal policymaking while enhancing understanding of the effects of legislative actions on women and their families.

Yee, a native of Los Angeles, Calif., has just completed her master of science in public policy and management at The Heinz School. In addition to an abiding interest in legislative actions of importance to women, Yee is also interested in the differing status of men and women in the U.S. and how it affects policy. While at Carnegie Mellon she served on the Graduate Women Advisory Board and was the graduate student representative on the Board of Trustees Finance Committee.
McGivney Inducted into Hispanic Hall of Fame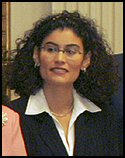 The Hispanic Scholarship Fund (HSF), the nation's leading organization supporting Hispanic higher education, recently inducted Martha Chávez McGivney into the 2003 HSF Alumni Hall of Fame. McGivney, director of Carnegie Mellon's Master of Science in Public Policy and Management Program, received HSF's Inspirador Award for her "amazing accomplishments, limitless potential, energy, drive and commitment to education issues" that make her a role model for Hispanics nationwide. The first in her family to receive a college degree, McGivney moved to the United States from Guanajuato, Mexico, with her parents. In her current position at Carnegie Mellon, she is helping to increase educational opportunities for Hispanics and serves on the President's Diversity Advisory Council, which provides strategic direction on diversity issues.
Stats Professor Named Chairman of Committee on National Statistics
Statistics Professor William F. Eddy has been named chairman of the Committee on National Statistics (CNSTAT), a standing committee of the National Academies. CNSTAT fosters understanding of important national issues by improving the statistical methods and information on which public policy decisions are based.

Eddy's current research focuses on the data generated by functional Magnetic Resonance Imaging (fMRI), a technique used by cognitive neuroscientists to chart brain activity. He is a member of the board of directors of the National Institute of Statistical Sciences and is a lifetime National Associate of the National Academies. He was previously chairman of the National Academies' Committee on Applied and Theoretical Statistics, making him the first person to chair both the academies' statistics committees.
ECE Professor Wins Pake Prize for Leadership, Research
Robert M. White, University Professor of electrical and computer engineering and head of Carnegie Mellon's Data Storage Systems Center, has won the 2004 George E. Pake Prize for outstanding research in physics and leadership in industrial research and development. The $5,000 prize will be awarded by the American Physical Society (APS) this March.

White's research has focused on the physics of magnetic phenomena, an area in which he has made seminal contributions to the behavior of light in magnetic materials. Magnetic technologies are the basis of magnetic data recording. He also served as the first Undersecretary of Commerce for Technology under former President George Herbert Walker Bush.

The Pake Award was endowed in 1983 by the Xerox Corp. in recognition of the outstanding achievements of Carnegie Mellon alumni George E. Pake as a research physicist and a director of industrial research.
Carnegie Mellon Honored by Clean Cities Program
The university received a $10,000 check from the Pittsburgh Region Clean Cities program last month in recognition of its commitment to alternative fuel vehicles. The funds, from the federal Department of Energy, will help defray the cost of purchasing five vehicles that run on compressed natural gas, which burns cleaner than conventional gasoline. Pittsburgh Region Clean Cities Treasurer Louise Bugna (center) presented the check to Kenneth R. Kimbrough (left), assistant vice president for Facilities Management Services, and University Police Chief Creig W. Doyle, whose departments bought the five vehicles. The check presentation took place during Carnegie Mellon's one-day Energy Fest, sponsored by the university's Green Practices Committee.
Trick Tapped for New Leadership Role
Michael Trick, a Carnegie Mellon business school researcher and educator, has been selected as a vice president/North America of the International Federation of Operational Research Societies (IFORS), an umbrella organization comprising 46 operations research societies representing 25,000 individual members. He and four other vice presidents will work closely with the incoming president to create programs that expand the international scope of operations research. His term will run from Jan. 2004 to Dec. 2006.

Trick is president of the Carnegie Bosch Institute for Applied Studies in International Management at Carnegie Mellon's business school, which provides education opportunities and research support for executives worldwide. He is also on the faculty of the business school, where he specializes in computational methods in optimization. Trick has served as a consultant to the United States Postal Service, major league baseball, several college basketball conferences and companies such as Motorola and Sony.
Researchers Receive $2.5 Million for Bio-Molecular Imaging
Carnegie Mellon scientist Robert Murphy has received $2.5 million from the National Science Foundation (NSF) as part of a five-year, $9.4 million multi-institutional grant headquartered at the University of California, Santa Barbara. This grant for "Next-Generation Bio-Molecular Imaging and Information Discovery" was one of eight large grants made this year by the NSF's Information Technology Research Program.

The ultimate goal of the project, which includes researchers from the University of California, Santa Barbara; the University of California, Berkeley; and Massachusetts Institute of Technology, is to develop new information processing technologies that will enable researchers to extract detailed information from images that depict the distribution of biological molecules within cells.

Central to the Carnegie Mellon research component is the first-ever software framework for automatically analyzing high-resolution digital images from fluorescence microscopes. Developed by Murphy, the software is able to discriminate patterns within cells that cannot be distinguished by the human eye. Murphy's work will pave the way to fully automate the extraction of information from fluorescent images and to construct statistically sound models of the biological processes the images depict.

This work should provide a more thorough understanding of cellular processes that underlie certain diseases, such as cancer and neurodegenerative diseases. Findings made using this sophisticated acquisition and interpretation technology should improve methods to diagnose and intervene earlier in these disease processes.
Entries Sought For MLK Writing Awards
Carnegie Mellon's Creative Writing Program will sponsor the fifth annual Martin Luther King Jr. Day Writing Awards for both university and Pittsburgh-area high school students on Monday, Jan. 19. Awards will be given in two categories: prose (fiction and nonfiction, 5,000 word limit) and poetry. Prizes are $100, $50 and $25 for first, second and third places in each category. Entries by high school students and Carnegie Mellon students will be judged separately.

Students interested in competing in the awards program should submit original works of prose or poetry that express their individual experiences with issues of race and discrimination or their personal reflections on race by Friday, Dec. 5. All entries should be accompanied by a cover sheet with the title of the work submitted, the category, the student's name, school, address and email address or phone number. Entries should be sent to Jim Daniels, English Department, Baker Hall 259.
University Announces Partnership with Sri Lanka
Carnegie Mellon has agreed to work with the government of Sri Lanka, an independent island republic in the Indian Ocean, to develop and deploy a program of information and communication technology. The university will partner with the Ministry of Economic Reform, Science and Technology, to launch initial Technology Peace Corps projects applicable to Sri Lanka. The Technology Peace Corps is a program envisioned by Carnegie Mellon to study how technology can be applied to promote sustainable development.

"Our expertise in information and communications technologies can make helpful contributions as Sri Lanka develops its own efforts in these areas," said Provost Mark Kamlet. "Our students and faculty will enjoy working with creative collaborators whose culture and traditions are different from our own."

The agreement between the university and Sri Lanka calls for Carnegie Mellon to share its best practices and provide counsel on a number of fronts, including developing information and communication technology practices for government, agriculture and industry. Both partners also believe information and communication technology can be used to disseminate the educational and academic capabilities of Sri Lanka's major universities to smaller institutions in more rural regions.

This partnership with Sri Lanka is just one of the many international agreements the university has made to share the best of its education and research. Carnegie Mellon offers master's degree programs in numerous countries, has formal education partnerships with Taiwan, Brazil and Mexico and offers virtual and traditional student exchange programs in many other countries.
Andrews Receives Award for Advances in Automated Reasoning
Mathematics Professor Peter Andrews received the Herbrand Award for Distinguished Contributions to Automated Reasoning at the 19th International Conference on Automated Deduction held earlier this year. The award, which recognizes a lifetime's contribution to this field, cited Andrew's "seminal contributions and pioneering research in type theory, mating-based theorem proving, automated deduction in higher-order logic, proof presentation, logic education and many other contributions to the field of automated reasoning."

Andrews is widely recognized for his work on automated theorem-proving in higher-order logic, also known as type theory. His book, "An Introduction to Mathematical Logic and Type Theory: To Truth Through Proof," is the only textbook on type theory. Over the past 30 years, Andrews and his research assistants have developed an automated program called Theorem Proving System (TPS) that proves theorems of first-order logic and higher-order logic interactively, semi-automatically and automatically. Its ability to prove theorems of higher-order logic automatically is unrivaled. Support for this work has come from the National Science Foundation.
Carnegie Mellon, Pittsburgh CLO Host Musical Theater Legend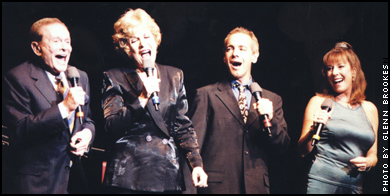 Carnegie Mellon and the Pittsburgh CLO hosted the American Society of Composers, Authors and Publishers (ASCAP) Foundation's Jerry Herman Legacy Series last month in the Purnell Center for the Arts. Named for and funded by Jerry Herman, best known for writing the music and lyrics for musicals like "Hello, Dolly!," "Mame" and "La Cage aux Folles," the three-day event featured panel discussions and master classes for Carnegie Mellon students. The festivities concluded with "Hello, Jerry!," a unique musical retrospective of Herman's career, starring (l-r) Herman, Karen Morrow ("Showboat"), Jason Graae ("Ragtime") and Paige O'Hara (voice of Belle in Disney's "Beauty and the Beast"). Three Carnegie Mellon students were awarded $1,000 Jerry Herman Legacy Series scholarships to continue their musical theater education.