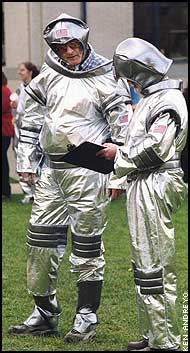 A Medieval Space Oddity
Civil and Environmental Engineering professors Larry Cartwright and Fran McMichael (above), known for their zany class projects, were at it again in early December. Their senior design project, "Space Oddity 2001," required students to build a trebuchet, a medieval weapon in the 12th and 13th centuries used to launch large stones over enemy castle walls. Students used their trebuchets to hurl a 14-pound computer at the "Space Nerds," cardboard cutouts resembling their instructors, on the Mall. Below, McMichael measures one of the launches. The team with the farthest launch won the competition.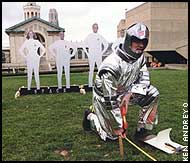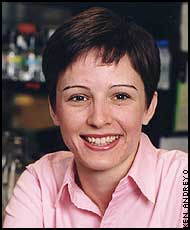 Biological Sciences' Mindy Hebert Earns Rhodes Scholarship
Mindy C. Hebert, a senior majoring in biological sciences, has been selected to receive a Rhodes Scholarship, one of the oldest and most prestigious international study awards available to students in the United States.

Hebert is the third student from Carnegie Mellon to win a Rhodes Scholarship. Previous Carnegie Mellon winners were the late Ronald Boyer, a 1953 physics graduate, and Cindi Dennis, who earned her bachelor's degree in physics and computer science in 2000.

Hebert, who has a minor in chemistry, was one of only 32 American men and women chosen as Rhodes Scholars this year. The scholars were chosen from 925 applicants who were endorsed by 319 colleges and universities in a nationwide competition. Rhodes Scholarships were created in 1902 by the will of Cecil Rhodes, British philanthropist and colonial pioneer.

Winners are chosen on the basis of high academic achievement, integrity of character, a spirit of unselfishness, respect for others, potential for leadership and physical vigor. The selection committee said finding scholarship winners with these basic characteristics fulfills "Rhodes' hopes that the Rhodes Scholars would make an effective and positive contribution throughout the world."

The Rhodes Scholarship Committee described Hebert as a candidate who made "extensive contributions to both church and community activities," and who "has worked to publicize social and ethical issues underlying scientific research." More..