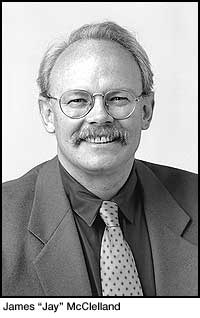 University Professor of Psychology and Computer Science James "Jay" McClelland and Professor David Rumelhart of Stanford University, both pioneers in the field of cognitive neuroscience, have been named winners of the 2002 University of Louisville Grawemeyer Award for Psychology.
The $200,000 prize is given annually for outstanding contributions to the field of psychology.
McClelland and Rumelhart are specifically being recognized for their work over the past two decades on a cognitive framework called parallel distributed processing. Their research group explored the concept of connectionism-the idea that no single neuron in the human brain does its job alone in processing information and that neural networks decide things collectively and simultaneously rather than just in sequence.
McClelland, who has been selected a member of the National Academy of Sciences, one of the highest honors that can be achieved by a U.S. scientist or engineer, is also co-director of the Center for the Neural Basis of Cognition (CNBC). The CNBC is a joint research effort with the University of Pittsburgh that studies neural structures and functions that underlie basic human cognitive abilities, such as perception, memory and language.
Last spring, McClelland was named a University Professor at Carnegie Mellon, the highest academic distinction faculty members can achieve at the university. Rumelhart, a professor of psychology and computer science, is on leave from Stanford for medical reasons.
While working together at the University of California at San Diego (UCSD), McClelland and Rumelhart produced "Parallel Distributed Processing: Explorations in the Microstructure of Cognition," a 1986 book that brought the concept of parallel computation to a wider audience in psychology, neuroscience and computer science.
Their findings continue to affect many subfields of psychology, such as decision making and language development, and the expanding fields of economics, engineering and artificial intelligence.
"Jay McClelland has made fundamental contributions to our understanding of the relationship between human cognition and underlying neural mechanisms of the brain," said Provost Mark Kamlet in announcing McClelland's promotion to University Professor last May.
"Through modeling, simulations and experiments, he has shed important insights on the parallel distributed processing that characterizes human perception, reading, information processing, language acquisition and cognitive development. More recently, he has turned to what we can learn about human thinking from disorders of cognition," Kamlet said.
McClelland has been a faculty member at Carnegie Mellon since 1984. He has joint appointments in psychology and computer science and is an adjunct professor of neuroscience at the University of Pittsburgh.
He received his bachelor's degree in psychology from Columbia University in 1970 and his doctor's degree in cognitive psychology from University of Pennsylvania in 1975. After earning his doctorate he joined the psychology faculty at UCSD.
McClelland, who has earned numerous awards and honors, is a recipient of the American Psychological Association's Distinguished Scientific Contribution Award (1996) and the Society of Experimental Psychologists' Howard Crosby Warren Medal (1993), which he shared with Rumelhart.
He has been published in more than 125 professional publications and has presented at more than 100 professional conferences and seminars.
Charles Grawemeyer was an industrialist, entrepreneur and University of Louisville graduate who had a lifelong passion for music, education and religious studies. Rather than rewarding personal achievements, he chose to recognize powerful ideas or creative works in the sciences, arts and humanities.
The Grawemeyer Foundation annually awards $1 million-$200,000 each for works in music composition, education, ideas improving world order, religion and psychology. For more information go to www.grawemeyer.org.
Teresa Sokol Thomas
(01/07/02)