Ground will soon be broken for Carnegie Mellon's new traditional-but unique-residence hall for first-year students on Morewood Avenue, between Morewood Gardens and Mudge House. While living conditions will be typical for its inhabitants-there will be two to a room and two bathrooms on each floor - its design and construction will be quite atypical.
The 72,000 square-foot structure has been designed and will be built using "Green Design" principles. It will be an energy- and water-efficient building that conserves materials and resources, minimizes harmful effects to the environment and maximizes living conditions. The new 259-bed facility will be the first building on campus and one of the first residence halls in the country to apply for certification from the Leadership in Energy and Environmental Design (LEED) Green Building Rating System.
LEED, which evaluates projects in several categories, such as energy and water efficiency, and indoor environmental quality, was developed by the U.S. Green Building Council (USBC). The USBC is a national, nonprofit organization of building industry leaders who are working to promote buildings that are good for the environment and safe and healthy for its occupants.
Peg Hart, senior project manager for Facilities Management Services, said the building would save 20 percent in energy costs compared to other residence halls similar in size.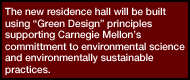 She said other environmentally friendly and energy efficient features include a light-colored roofing material to help reduce heat absorption in summer, ductwork to create fresh air circulation in the building thus improving the interior air quality, and operable windows. She also said each room will have individual heating, cooling and lighting controls and permanent carbon monoxide monitors will be installed.
The total cost of the facility, scheduled to open in April 2003, is $12.5 million. It is being constructed to meet the growing demand for on-campus housing and to ensure living quarters for first-year students, said Director of Housing Services Tim Michael. It will be the first new residence hall constructed on campus since West Wing and Resnik House opened in 1990 as part of the East Campus Project.
Michael said the residence hall would include a laundry room on the first floor, a kitchen and dining room for special events, a recreation room, a mailroom, and 24 different lounges and study areas throughout the building.
The nationally renowned Pittsburgh architectural firm of Bohlin Cywinski Jackson, designers of the Software Engineering Institute building and the Pittsburgh Technology Center, which housed the Carnegie Mellon Research Institute, designed the new facility. A university committee of students, faculty and administrators selected the firm and created the programmatic plan to help to maximize the first-year student experience.
The exterior of the new building will be a mix of red brick and pre-cast concrete that resembles limestone. Hart said the facade would aesthetically blend with Morewood Gardens and Mudge House.
Neighbors who live on Devonshire Road, adjacent to the building site, have approved the design of the new project.
Hart and Kevin Lamb, director of planning services, said the residents of Devonshire Road were comfortable with the building plans and had no objections. Several residents had opposed initial plans for a new residence hall at the site due to its proximity to their homes.
"This project is different," Hart said. "The original building design had a 'wing' that extended toward Devonshire. This one has no wing."
"The neighbors have given us very valuable input and have been quite supportive of the current plan," said Dean of Student Affairs Michael Murphy. "It is important that we build in a way that is respectful of the entire area.
"The architects have done a wonderful job of designing in a way that meets our objectives and addresses the past concerns of the neighbors," Murphy added. "I am very grateful to our neighbors on Devonshire for their continued involvement, and I am glad we have been able to reach consensus on the project."
The residence hall will affect a portion of the playground at the Cyert Center for Early Childhood Education. Hart said part of the playground will be relocated and new equipment, such as swings and slides, would be installed.
Bruce Gerson
(01/07/02)