In response to the growing need for standards to evaluate companies providing information technology (IT) outsourcing services, researchers in the School of Computer Science (SCS) have developed a methodology to rate outsourcing firms and have established a center to certify their capabilities.
Satyam Computer Services Ltd. (www.satyam.com), one of India's largest computer-related companies and a founding partner in the university's new Information Technology Services Qualification Center (ITsqc), is funding development of the eServices Capability Model (escm), as well as other models and appraisal methods.
Headquartered in Hyderabad, India, and Parsipanny, N.J., Satyam provides customized IT solutions for 300 companies around the world in several industry sectors.
"Phenomenal growth is projected in the next decade for organizations to outsource IT-intensive business activities, including back-office operations, engineering design, IT-services, payroll, tele-support and tele-marketing," said Prabhuu K. Sinha, Satyam's senior vice president for quality.

"These activities may range from routine and non-critical tasks, which are resource intensive and operational in nature, to strategic processes that directly affect revenues."
Satyam will be the first company authorized to use the new Carnegie Mellon evaluation method to appraise IT outsourcing service providers for its clients around the world.
Accenture, a leading management and technology consulting organization and provider of outsourcing services, also has joined the effort, providing funds and placing some of its associate partners at Carnegie Mellon as visiting industrial scholars. They also will assist in the development of the outsourcing evaluation methodologies.
Over the past several years, many kinds of organizations-from manufacturing firms and banks to hospitals-have been delegating computer-intensive activities to external service providers because they lack their own in-house capabilities. But in many cases, they have not been satisfied with the results, said ITsqc Director Jane Siegel, senior systems scientist in SCS's Institute for Software Research International.
"The outsourcing business involves billions of dollars, but right now companies that use these services have no consistent basis for making their selection," she said.
"Our goal is to give organizations a reference model to compare outsourcing providers and mitigate their risks. At the same time, the model and certification method we've developed will enable service providers to differentiate themselves and enhance their operations."
According to Dun and Bradstreet's "Barometer of Global Outsourcing," companies have reported that between 20 and 25 percent of all outsourcing relationships fail in any two-year period. In addition, nearly 70 percent of survey respondents said the outsourcing supplier "didn't understand what they were supposed to do, that the cost was too high and they provided poor service."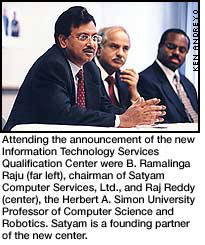 Siegel acknowledged that several models for evaluating the quality of products and processes in organizations already exist, but said that the eServices Capability Model contains important practices for outsourcing not addressed by any of the others.
"Outsourcing has limited coverage in the other models," she said. "Most of them don't address pre-contractual activity, and they don't deal with post-contractual feedback, i.e., how you hand back technology, skilled employees and lessons learned from an outsourcing engagement to the client without disruption of operations.
"Some of the worst failures occur because providers didn't get the right client requirements at the beginning of an engagement, or because the work wasn't handled correctly at the end," Siegel said. "We have developed material that can be used by service providers to determine the steps they need to take to implement each practice in their organization."
Carnegie Mellon researchers have been developing the eServices Capability Model for more than a year. They studied all available literature, interviewed companies and created and piloted their model, which underwent a rigorous technical review by quality and IT-outsourcing experts.
"By early next year, we will have trained and authorized our first set of evaluators who can do certifications for IT-enabled service providers," Siegel said.
The ITsqc is part of the Institute for Software Research International in the School of Computer Science. It was established to develop capability models for three important areas of the evolving networked economy. In addition to outsourcing, ITsqc researchers are developing capability models for electronic security and for electronic commerce.
Anne Watzman
(01/07/02)