Lab Spaces and Scheduling
CBDR maintains a variety of lab spaces on and off CMU's campus, including:
Lab space at 300 S Craig Street Room 161
The Social and Decision Sciences Lab in Porter Hall 217
The Tepper Quad Behavioral Lab on the ground floor of the Tepper Quad
All lab spaces may be reserved and used by affiliates of the center. Please find the scheduling information, usage policies, and descriptions of the labs below.
Lab Scheduling
At this time, all CBDR labs are booked using shared Google Calendars. To gain access to the calendars, email the lab manager with your Google email address (Andrew email addresses unfortunately cannot be used to book on these calendars). Once you have access, please read any additional reservation policies that are posted as an appointment each week on Sunday.
CBDR lab spaces are shared spaces, so please only reserve times when you plan to physically be in the lab for preparation, running participants, and/or cleanup. Everyone with access to the calendar is able to create and delete events, and it is expected that researchers will only edit their own events. The Center and lab manager maintain the right to restrict scheduling if researchers are found monopolizing labs or editing others' reservations.
When you reserve lab space on a shared CBDR Google calendar, first, make sure you are viewing the correct calendar! For the event, please include:
In the event title, the name of the researcher and the name of the project/study (used on internal reporting)
In the event description, include the name, email address, and phone number of the researcher who may be contacted about the reservation 
The dates and hours during which you need the lab to be reserved for your use, including time to set up and clean up. (Please do not use "all-day" events.)
Storing Materials in the Labs
Researchers are permitted to store a limited amount of experimental supplies and documents in the labs, provided it is clearly labeled with the experimenter's name and contact information, as well as a date by which it will be removed from the lab. Without these labels, anything left in the lab may be disposed of at any time without notice.
When you are finished running your study, please remove all supplies, documents, and compensation from the labs. Please do not plan to leave anything (e.g., signed informed consent forms) in the lab spaces with explicit permission from the lab manager. 
300 S Craig St, Room 161
Description
300 S Craig St, Room 161 is a large, flexible lab space with 4 cubicles, a reception desk, and 10 work tables with removable dividers. Laptops can also be brought to the lab to be used in studies (please see the tab "Inventory of Resources" below for more information about reserving computing equipment).
Craig 161 is a good space for computer-run studies, especially those requiring communication between participants, larger group studies, and consumption studies. Its location facilitates participant recruitment of the general public. The door is accessed with CBDR-programmed Andrew ID card swipe.
Dimensions
Approximately 25' x 32'; 800 square feet
Equipment
10 tables with removable dividers, which can be arranged to facilitate individual studies, partner studies, and group studies
Reception Desk
Large waiting area with seating for four just outside of the room
Floor Plan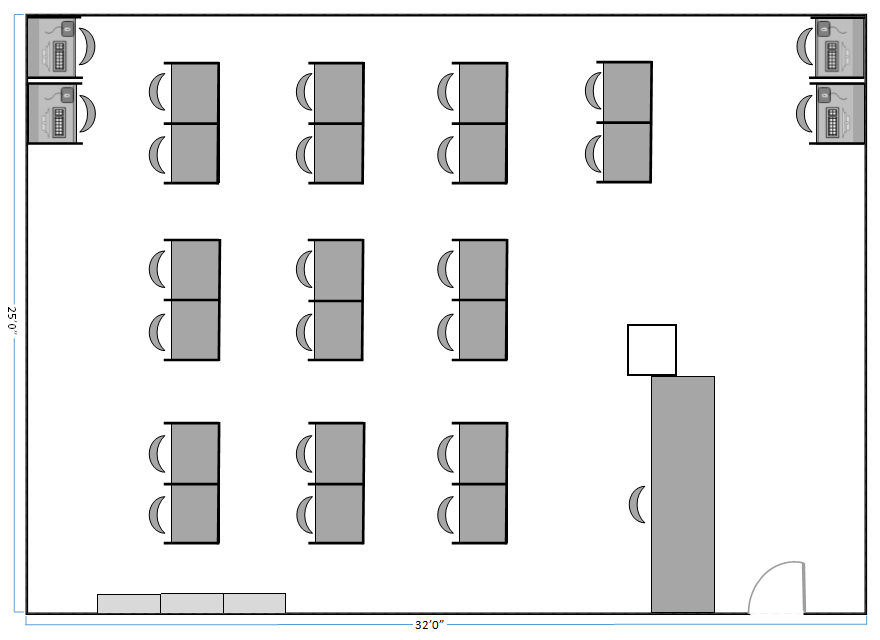 Porter Hall 217
Description
The Porter Hall lab is located on the second floor of Porter Hall, adjacent to the Social and Decision Science offices. This flexible lab space contains 10 tables and 20 chairs, all capable of nesting and are on wheels for easy relocation. Easily adjustable privacy dividers for the tables can separate seating into 20 private workstations
The lab space is accessed by CBDR-programmed Andrew ID tap.
Equipment
10 nesting tables and 20 nesting chairs, all on wheels
Reception/research assistant desk with desktop PC
8 dedicated laptops with monitors, mice, and keyboards to create workstations
Mini-refrigerator
Wall mounted whiteboard 
Tepper Quad Behavioral Lab
Description
The Tepper Quad Behavioral Lab is located on the ground floor of the Tepper Quad. The lab consists of a lobby area, 14 testing rooms, and control room. Each of the rooms in the lab are equipped with a ceiling-mounted camera capable of audio and visual recordings accessed through the control room. Six of the testing rooms feature a large monitor, also controlled from the control room.
The lobby area features a large monitor capable of displaying schedules, reminders, and participant instructions. Please note: this lab does not feature computers; please consider another lab for computer-based studies, or arrange to borrow laptops by emailing cbdr-lab@andrew.cmu.edu.
Rooms and Equipment
Lobby with reception desk, large display, waiting area seating for 4

Room A, G, H, I, J: 4 chairs, small round table, large display

Room B, C, D, E, K, M, N: 2 chairs, small round table

Room F: 8 Chairs, large rectangle table, large display

Room L: Currently closed

Control room