Adipose tissue engineering
There is a critical need for monitoring physiologically relevant, sustainable, human adipose tissues to:
study normal adipose metabolism
create disease models in vitro (obesity, type II diabetes)

replace soft tissue defects 

in vivo

In the Abbott lab, human adipose microenvironments are being developed and tested for responsiveness to stimuli hypothesized to alter disease mechanisms (i.e. the transition of obese tissues to insulin resistant type II diabetic tissues) and metabolic behavior. The long term goal is to use these adipose tissue systems to inform preventative and therapeutic measures for patients affected by the metabolic syndrome. The lab focuses on integrating tissue engineering with biomaterial engineering.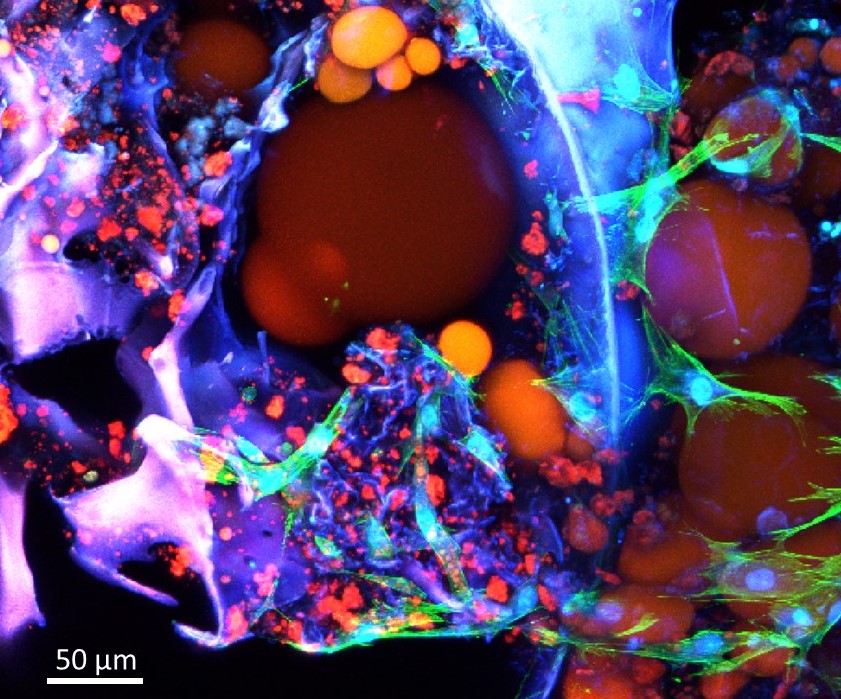 Silk
is a natural biomaterial used to support long term culture of adipose micro-environments 

in vitro and in vivo

is a versatile biomaterial with tunable mechanical properties, biodegradability, and biocompatibility making it well suited for a wide range of tissue engineering applications
In the Abbott lab, structural changes caused by silk processing techniques are being explored to determine how they affect the biocompatibility and degradability of the biomaterial.
Long term goals include enhanced control over crystallinity, biocompatibility, and host tissue interactions.
Non-invasive assessments

Only recently has adipose tissue been considered a highly dynamic organ, with highly specialized metabolic pathways that regulate energy storage and release affecting local and systemic outcomes.
In the Abbott lab, non-invasive, dynamic measurement systems are being developed to track:
metabolic pathways over time

evaluate long term development, growth, and differentiation within the same tissue engineered construct 

in vitro

The long term goal is to improve accuracy of physiological readouts and reduce overall costs/time in comparison to more traditional destructive methods such as biochemical and immunochemistry assays.