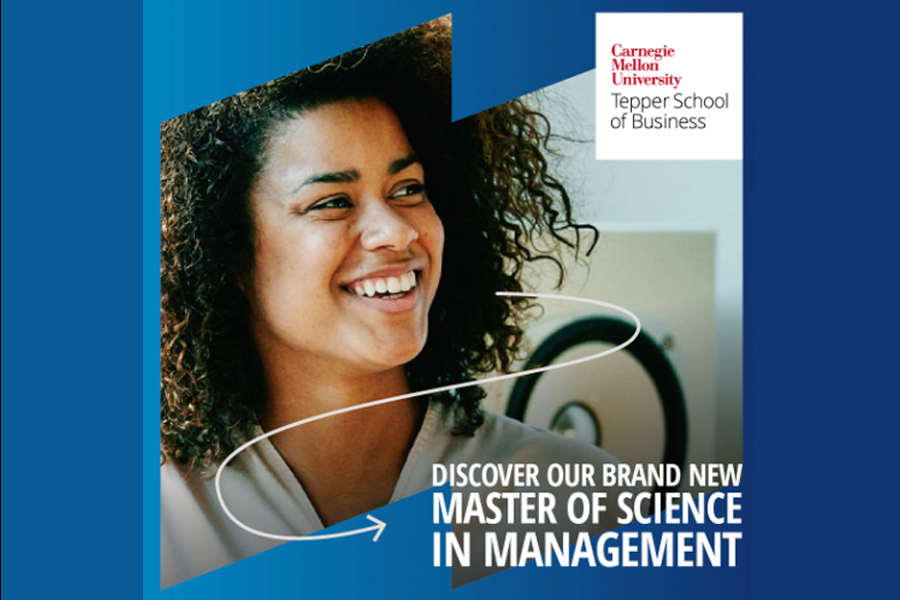 September 05, 2023
The Tepper School to Offer New Master of Science in Management Degree
Recent college graduates who have career aspirations in the field of business now have an option for a full-time, two-semester Master of Science in Management (MSM) program at the Tepper School of Business at Carnegie Mellon University. The new 10-month STEM-designated program is designed for students to specialize in Finance, Operations, or Marketing, and will begin in fall 2024.
"With strategic planning and collaboration at Tepper and throughout the university, we designed a unique curriculum that helps ambitious, high-potential students prepare for successful careers in business," said Kate Barraclough, Associate Dean of Masters Programs and Teaching Professor of Finance at the Tepper School. "We want to use the same teaching style that made Tepper a top school in higher education to attract a diverse group of smart students who are eager to excel and learn."
A notable feature is the program's flexibility. With a focus on business fundamentals, analytics, and behavioral skills – all of which are essential to succeeding in today's complex business landscape – students can tailor their curriculum to their specific areas of interest. In addition to the core courses, students have the freedom to take elective courses outside their specialization, encouraging a well-rounded educational experience. 
The new STEM-designated MSM program is open to high-potential individuals with a variety of undergraduate degrees, a quantitative skill set, and minimal work experience. These students may be looking to pivot or upskill, desire a career change, or need additional skills to complement their undergraduate studies.
Students graduating from STEM programs may apply for a 24-month extension to their post-completion OPT, providing up to 36 months of temporary employment in the U.S.
"The Tepper School wants to provide the best education to students at different stages in their career," said Willem-Jan van Hoeve, Carnegie Bosch Professor of Operations Research and Senior Associate Dean of Education at the Tepper School. "Our MSM program focuses on students with little or no work experience and gives them a competitive edge in the job market. It also primes them for an MBA program if they choose to pursue one in the future."
Once students complete the MSM program and enter the workforce with their newly acquired skills, they will gain valuable work experience and will be primed to return to complete their business education with the Tepper School's Accelerated MBA. 
The program will formally launch on September 5 and begin recruiting for its first class of students in the fall of 2023. The program will follow the standard recruitment cycle protocol with four rounds of admission, with the inaugural cohort beginning coursework in August 2024 and graduating the following May.