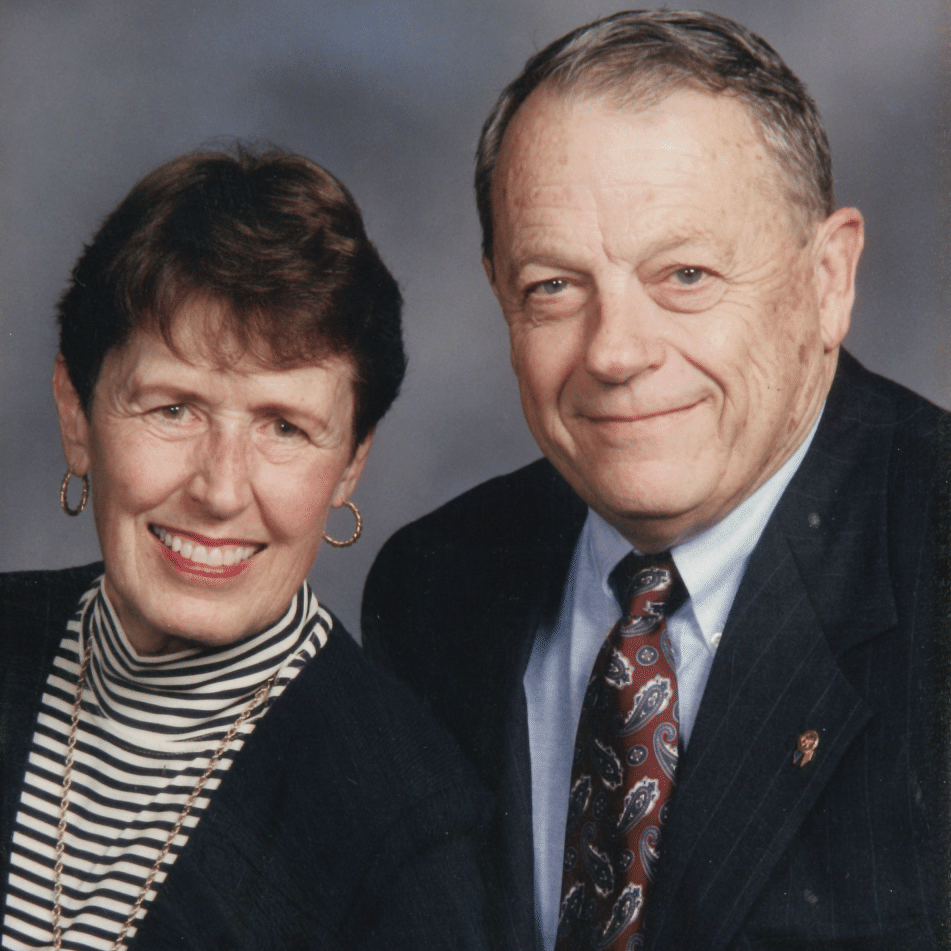 September 26, 2023
Gratitude to Match
Wilson "Bill" Sick, Jr. (CIT 1955, GSIA 1957) and Mary Lou Sick's (MM 1957) life together began at Carnegie Mellon University. And through the years, the couple remained dedicated to their alma mater, committed to supporting the institution that had given them an invaluable education and so much more. Most recently, the Sick family quietly and generously funded an 'endowed fellowship challenge,' hoping to inspire other appreciative alumni to make their own much-needed fellowship gifts.
Today, through the Sicks' generosity, every new $50,000 endowed graduate fellowship at the Tepper School will be matched by an additional $25,000 (maximum of 20 new funds).
Bill and Mary Lou met at a fraternity/sorority mixer in 1954, he a junior-year electrical engineering major, she a freshman at then-Margaret Morrison Carnegie College. Three years later, the pair married and Bill completed his Master of Science degree at the Tepper School (then GSIA) while Mary Lou finished her undergraduate degree. "It was a great way to start married life," recalled Mary Lou, "with lots of friends in a familiar place," many of whom remain valued, lifelong relationships.
Mary Lou, raised in Cleveland, had followed her alumnus father to Carnegie Mellon. Bill, however, had a different story. From upstate New York and modest means, the young man's family couldn't send him to college. Fortunately, he had an astute guidance counselor who recognized his considerable talents. With the counselor's help, Bill secured a scholarship that allowed him to attend Carnegie Mellon. It was an educational dream that despite working from the age of 16, he couldn't have managed otherwise – and something the couple never forgot. "To Bill, this meant so much," Mary Lou stressed. "He vowed that if he was able to help anyone in his circumstances later, he would do so."
Following graduation, Bill's varied and successful career began in Michigan with Ford Motor Co. As the Sicks raised their three children and Mary Lou lent her skills to volunteer endeavors, Bill became the youngest plant manager of a major facility, eventually running multiple plants, and then a division VP in engine development. "He was not a show-me guy; life was never about him that way." his son Bob related with a smile, "So when he he'd come home with a 720 horsepower Lincoln that sounded like an aircraft coming down the road, or a Mustang so jacked-up you couldn't imagine, we'd laugh and say, 'Who took Dad?'"
Bill then moved on to a number of senior finance and operations roles, including VP Finance at the Allen Group in New York; EVP/CFO of Bell and Howell in Illinois; Chief Financial and Administrative Officer of American Motors back in Michigan where he orchestrated the company's sale to Renault; and VP/Group Executive at Teledyne responsible for 15 of their companies. The Sicks' final move was to Jacksonville, FL, where Bill ultimately purchased Jacksonville Sound and Communications, continuing his work until shortly before his passing. The company remains a family business. "Bill was always honest, fair, and treated people with dignity…expecting the best at all times, and always behaving with integrity," Mary Lou noted. "Work was more about doing a good job than making money."
Through the years, the Sicks remained appreciative for the critical educational foundation they'd received, demonstrated through support that included annual giving, establishing the Wilson W. and Mary L. Sick Scholarship at the Tepper School, and gifting a room in the Tepper Quad. Before Bill passed in late 2021, he and Mary Lou made plans for another major (and modestly unnamed) gift – the funds to establish an endowed fellowship challenge. "We just hope that others feel the same and that the endowment challenge will nudge them to participate," explained Mary Lou.
"Great minds don't just come from the families who have the money to afford the educational opportunities needed in our society," she continued. "We have been blessed because of someone else's generosity to have the means to carry Bill's gifts forward and share them with the next generation and hopefully beyond." 
Thankfully, the Sicks have managed to bring new and heartfelt meaning to the phrase "the gift that keeps on giving."
If you would like information on the establishment of an endowed graduate fellowship, please contact Jonathan Stern, Tepper School Associate Dean of Advancement at jsstern@andrew.cmu.edu or 412-268-2942.