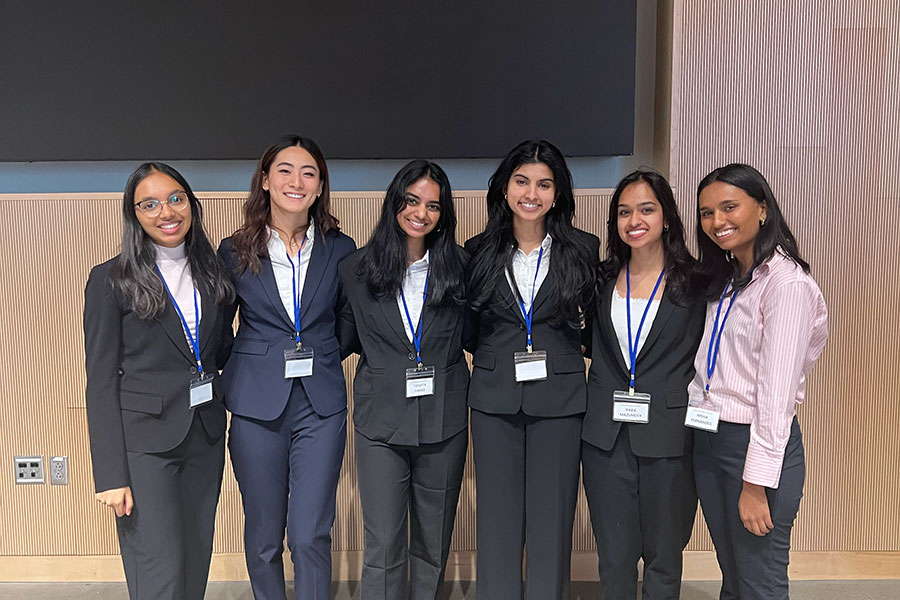 May 26, 2023
Rising Tepper School Senior Shows Gumption, Initiative, and Leadership Skills
The future of business is bright with women leaders like Nisha Fernandes on the case — the case competition, that is. The rising senior in the Undergraduate Business Administration program at the Tepper School is studying Statistics and Business Administration with a concentration in Business Analytics and Technology and a minor in Decision Science. Taking initiative, she cold emailed several companies to see if they would participate in a case competition focused on social impact, sponsored by two Tepper School Clubs, 180 Degrees Consulting and Women in Business (WIB). Fernandes was intentional about reaching out to woman-owned businesses to seek participants.
"Churn Homemade Ice Cream and Coffee was the first company I contacted and theirs was the first response I got," says Fernandes. "Their prompt was the most interesting and the CEO, Kelley Costa, was super receptive to having the collaboration for the social impact competition."
Alcohol-infused ice cream was the focus of the winning Churn case competition proposal and Fernandes and her student colleagues (Raka Mazumder, Koko Sagae, Tanisha Kota, Sriya Putta, and Yashita Nakka) looked at the market, did research, and prepared strategies for Churn. 
"We focused on whether Churn should enter the market and what they needed to do. There were a lot of technical and interesting factors," she says, "and it was a challenge. There were so many things to consider!"
"I've worked on client projects before, but this was the most client-involved project we've had. We're a team, and it wasn't just us presenting to Kelley: She was implementing our ideas as we presented them to her."
The semester-long project encompassed several deliverables, including a halfway and final report, and the partnership is now an ongoing 180 Degrees project. 
"Churn is currently working on the ice cream, but Kelley needs some social media help too. So, we're pivoting and working on a social media strategy and doing some consulting for the company too." 
The team presented their project at the WIB spring conference on February 25.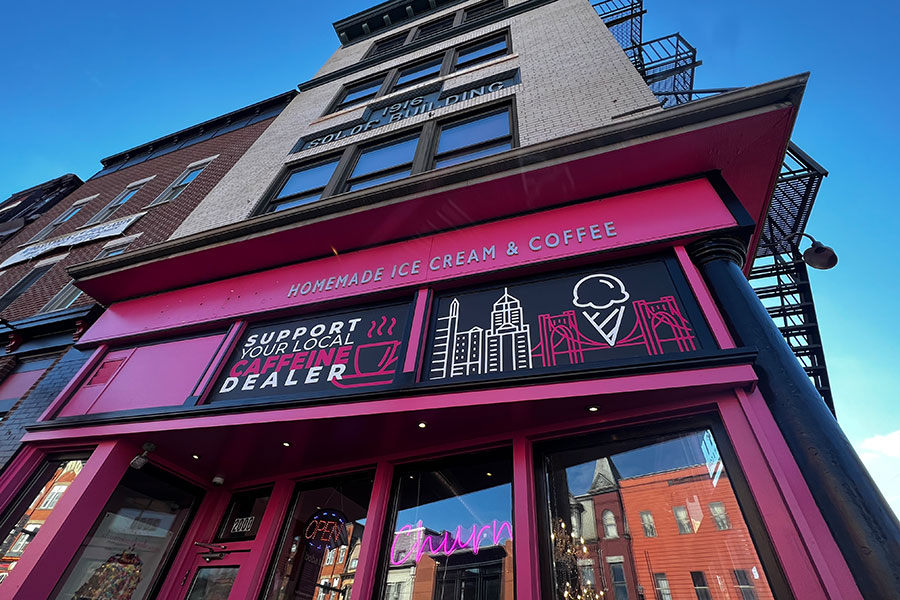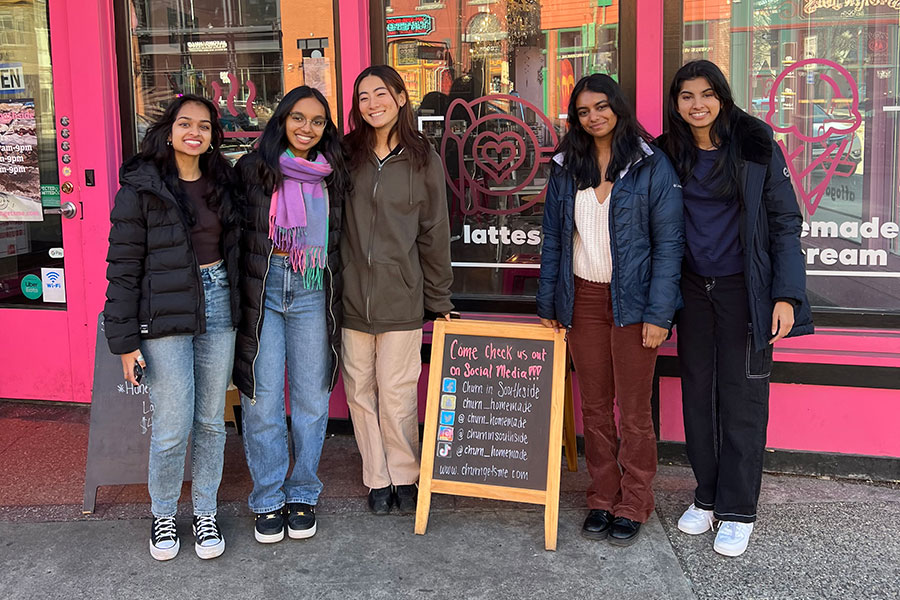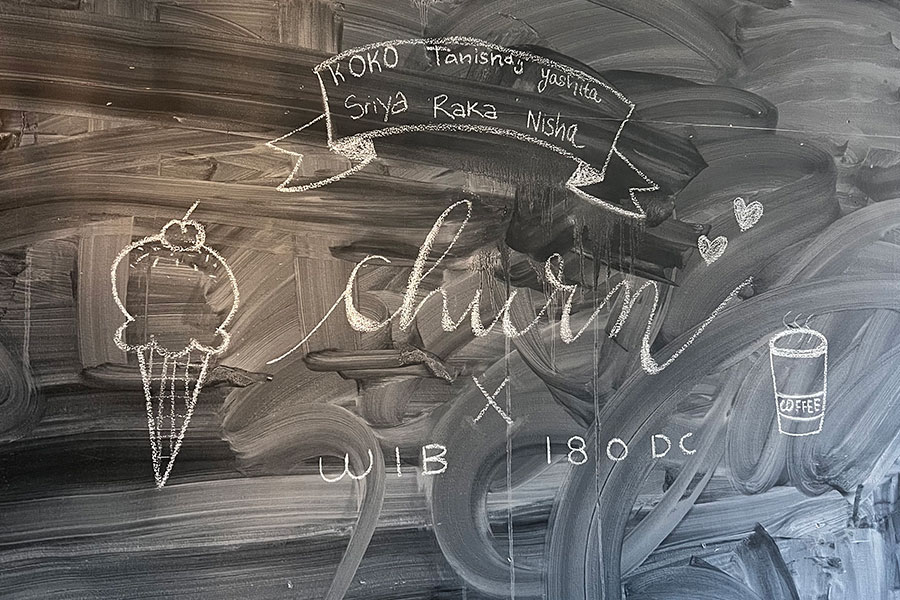 Kelley Costa opened the first Churn Homemade Ice Cream and Coffee store in 2015 and now has three locations in western Pennsylvania. With more than 1,000 flavors, Churn has become a popular destination for ice cream and coffee lovers in the Pittsburgh area — and they are now announcing their newest addition, alcohol-infused ice cream.
Experiential Learning in Real Time
WIB advisor Carla Bevins, Assistant Teaching Professor of Business Communication, specializes in social media, and is helping the team devise posting schedules, a mock-up branding kit, and assessments of Churn's organizational structure, all aimed at streamlining posting and marketing responsibilities. The collaboration includes biweekly meetings with Costa to present updates and hear feedback as plans roll-out.
Fernandes has been involved with WIB in various capacities over the past couple of years but hosting a case competition was a major responsibility. 
"Case competitions are competitive, and I was intimidated," she admits. 
"But the WIB and 180 initiative provides an opportunity for undergrad women to be introduced into consulting and case competitions. I ran the competition for WIB and was involved with both clubs and able to encourage students to participate. It was the perfect collaboration and intersection." 
With her career goals pointed to consulting work, Fernandes learned a lot by being the lead for this competition, including hosting the case competition in November. The ultimate goal was to have a campus wide case competition and to partner with a company. There were 13 teams and the top five teams made presentations to Costa. 
"Our 180 Degrees consulting team ended up winning the case competition. You really learn so much when you teach other people, and I enjoyed working with the other students. They taught me so much, too."
"Data is only important if you can drive insights from it. Data has to be connected back to the company and the human component. You need to ask why things are important and present that to your client. My classes helped me understand the 'why' and to build a good example from that." 
Successful Outcomes and a Foundation for Career Growth
One of the most valuable aspects of the work with Churn was creating a supportive space for students, including giving and getting feedback. 
"We had regular office hours and helped all the students — even those who didn't win got feedback. It was learning how to create slides and how to think about different problems." 
Last summer, Fernandes worked on a technical-based project during an internship with Deloitte, and she says that experience informed her work with Churn. 
"Learning how to speak with a client is so important. [Before the Deloitte internship] I didn't realize how important building a relationship in the beginning is to making meetings go well," she says. She used that awareness in her work with Costa, adding, "I have to speak and create conversation to build the relationship."
The human component is key, and Fernandes credits her Tepper School coursework on decision science and behavioral decision making as extremely helpful. Though much of the feedback she gave to the winning Churn team was heavy on data analysis, she adds, "Data is only important if you can drive insights from it. Data has to be connected back to the company and the human component. You need to ask why things are important and present that to your client. My classes helped me understand the 'why' and to build a good example from that. In creating customer personas, for example, you need to ask 'What does this data actually mean? What does an average 20-year-old do? Why is it important?'"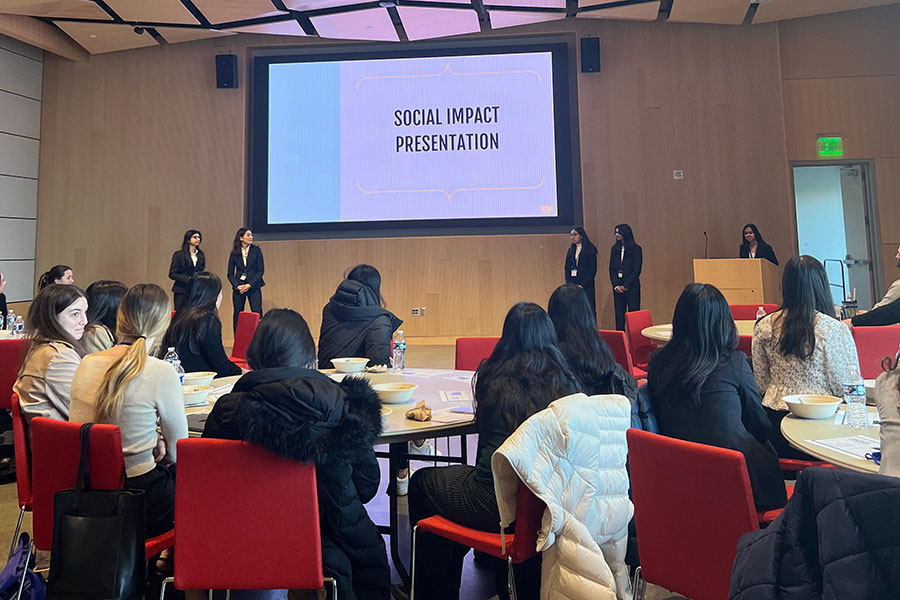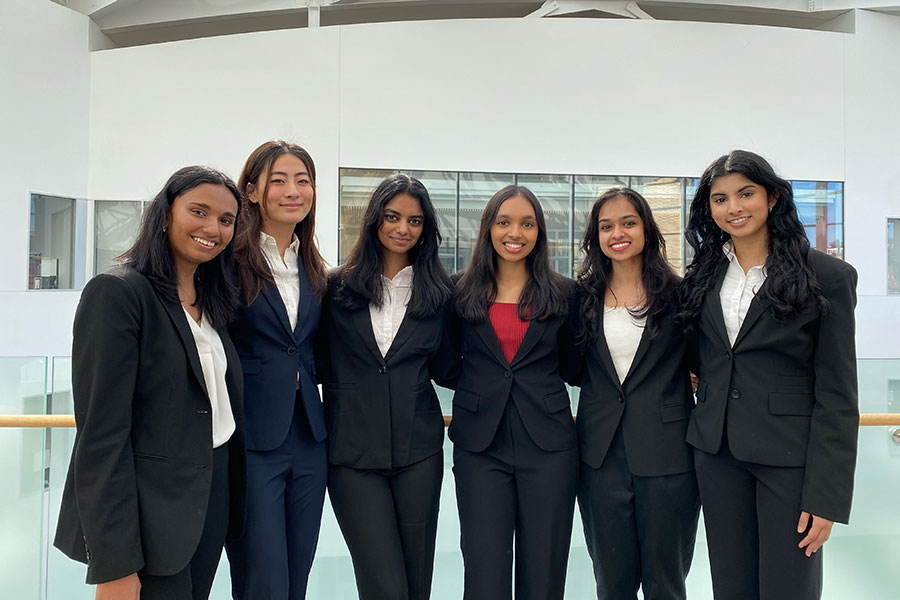 Mentorship is Key for Women to Succeed in Business
Fernandes says one important core of the WIB organization is creating opportunities for women to find mentors, and the President of WIB, Sunny Sun, has been a mentor to her. 
"I was intimidated by everyone at CMU," says Fernandes. "Everyone is so impressive. Their resumes are impressive. Sunny was supportive in every step I made, even when I struggled with certain clubs, classes, or decisions. She taught me how to put myself first and that I was valid, too. I could be friends with the women at WIB even if we weren't all on the board together," she says. 
Tepper School alumna Lynn Fernandez (BS 2022) has also been a mentor to her. 
"She's like an older sister," says Fernandes. Fernandez graduated last year and is now working at Bank of America. 
"Women empower other women to speak up," Fernandes adds. "I have been the only female in many environments and found that people spoke over me or that I spoke less, but it's different in a woman-led environment. Female mentorship [helps improve the situation] but there are still microaggressions that make women feel their voices shouldn't be heard in their workspace."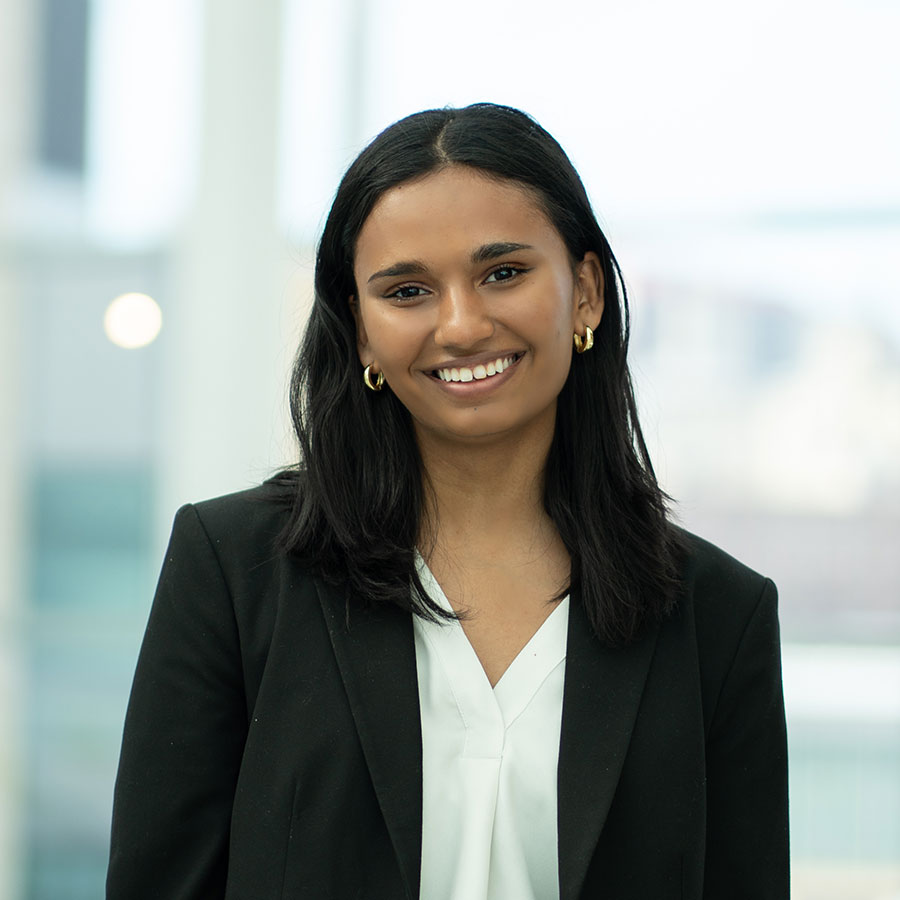 Nisha Fernandes
Undergraduate Business Administration Rising Senior
"I love hanging out with my friends and I love to bake — my favorites are bagels and banana bread — and I believe a meal is not finished until I have something sweet with it. I love a good political comedy and like to laugh while I'm being informed: Jon Stewart and The Daily Show was a big part of my life, and I also love Ted Lasso, John Oliver, and Succession."
Social Impact Consulting and Volunteering
This summer, Fernandes will be working at the Strategy& department in PriceWaterhouseCooper (PwC) in New York City, and she credits the experiences she's had at the Tepper School with her successful placement. 
"Both 180 Degrees and WIB connected me with the folks at PwC. I'm interested in consulting and excited to be involved in these clubs. Women's Consulting Experience is how I got into PwC and I got to apply as a sophomore for a junior year internship." 
"Social impact work for a consulting company would be my ultimate goal," she adds. "My dream career would be focused on how businesses can make more of an impact in social good." 
A previous 180 Degrees project Fernandes worked on with George Mark Hospital targeted pediatric palliative care. 
"That was an experience I never thought I would have, and I was very lucky to have that opportunity to make an impact," she says. 
George Mark provides a home place for terminally ill children to live and the goal with that 180 Degrees consulting project was to pass legislation in California to have Medicaid reimbursements for the hospice units. Fernandes says it was important work that gave her much to reflect upon. 
"I felt I was making a difference. My main work stream was to interview legislators and researchers to figure out how to make a bill pass in California," she says. 
"180 Degrees gives you an opportunity to create an impact and contribute to society. In classes, we are given hypothetical problems but in real life, I was able to make a difference. [The George Mark experience] helped me learn how to do research, and I did the same thing with Churn." 
With volunteering as one of her major interests, Fernandes loves to help out various organizations in the Pittsburgh community. She has worked with Community Kitchen, an organization dedicated to connecting participants to culinary employment opportunities through training and mentorship. 
"I love to volunteer because I get to be an observer and hopefully a participant of the strong Pittsburgh community: Pittsburgh people are really nice and supportive," she says. 
Food insecurity is an issue she cares about and she has worked to get more people invested in helping. 
"My favorite volunteer event is Rise Against Hunger at CMU. This year more than 300 people participated and we packaged 77,000 meals for the organization. It was great to see the CMU community come together, and we hosted a really fun event."
With compassion as her motivator and technical knowledge from her internships and Tepper School courses providing the know-how, there's no doubt that Fernandes will continue to make a difference and be a changemaker among the business world post graduation. The Intelligent Future of Business is bright with students like her leading the charge.