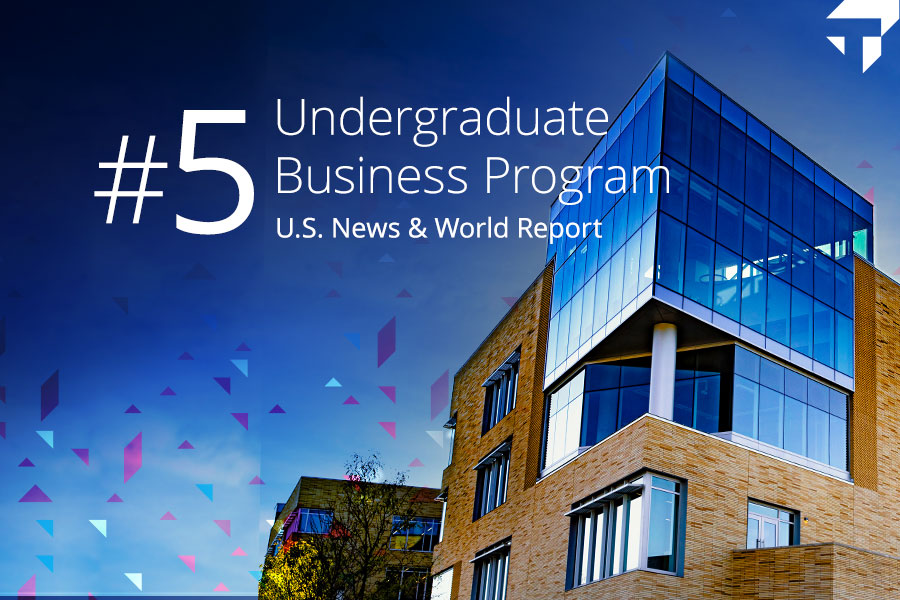 September 12, 2022
U.S. News & World Report Ranks Tepper School of Business Undergraduate Program No. 5
In the newly released 2022-2023 Best Colleges ranking of undergraduate programs, U.S. News & World Report announced today that Carnegie Mellon University (CMU) Tepper School of Business's undergraduate program is ranked  No. 5 Best Overall Business Program in America. The program that propels the world's next-gen business leaders into The Intelligent Future® climbed two spots from its No. 7 ranking last year.
"We are honored to be recognized as one of U.S. News & World Report's top five undergraduate programs because of our unique and multi-faceted approach to business education," said Tepper School Dean Isabelle Bajeux-Besnainou. "With our focus on The Intelligent Future, we strive to stay on the cusp of the ever-evolving business landscape and equip our students with the tools they need to leverage technology and analyze data by imparting behavioral skills that focus on emotional intelligence."
The Tepper School undergraduate business curriculum is designed around core courses that include business, economics, mathematics, and statistics. Eight concentrations allow students to dive deep into their specific business area of interest. Courses build on leading business practices, while being inspired by the innovative research of the faculty.
"We are so proud of this prestigious acknowledgment of our undergraduate program," said Jennifer Wegner, Assistant Dean, Undergraduate Programs. "The Tepper School's quantitative curriculum prepares students to access the full power of data through cross-disciplinary classes from across Carnegie Mellon. We help students build quantitative and analytical skills so they gain the social, economic, and political context to make data-informed business decisions in an ever-changing global environment."
For the methodology of the ranking, U.S. News & World Report asked deans and senior faculty members at the 516 undergraduate business programs accredited by AACSB International to rate the quality of programs with which they were familiar on a scale from 1 (marginal) to 5 (distinguished). This survey took place in the spring and early summer of 2022.
Carnegie Mellon University, a top-ranked university focused on student success and innovation, received 23 top 10 rankings in the newly released U.S. News & World Report Best Colleges Rankings.
CMU ranks No. 1 in eight disciplines that train the next generation of innovators to solve real-world problems and improve the way people live and work. They include:
Artificial Intelligence (Computer Science)

Computer Engineering (Computer Science)

Cybersecurity (Computer Science)

Management Information Systems (Business)

Mobile/Web Applications (Computer Science)

Programming Languages (Computer Science)

Software Engineering (Computer Science)

Quantitative Analysis (Business)
These rankings are the result of CMU's increased commitment of financial resources to support educational expenses. This includes increases for instruction, student services, academic support and institutional support for research.