November 22, 2022
Supporting Alumnae Entrepreneurs: Shop CheerNotes
A core mission of Tepper Together is to build an inclusive community. We support our alumni entrepreneurs and their small businesses because shopping small can create a big impact in our — and other — communities.
Asha Banks (MBA 2020) established CheerNotes in 2020 during her second year of MBA studies at the Tepper School. She'd already stepped away from a seven-year career as a chemical engineer and was ready to act on her lifelong desire to own a business.
"Since I was a child, I've always loved entrepreneurship," Banks admits.
"My desire to create CheerNotes — which I'd been lightly working on for three years — was really rooted in a personal frustration. And, as I did consumer research, I discovered a lot of people were feeling the same challenges for different reasons. Maybe instead of wanting to see more Black and brown representation, they wanted to see a sobriety anniversary card or make another kind of connection. That opened my mind up to more of what was missing [in the greeting card sphere] and built my desire for channels that could help that grow."
Diversity and a Desire to Serve
Banks brings indie designers together into one place to amplify their diverse designs and messages so people could discover and buy from them. Her business has grown to include 300 distinct cards, and she's created her own CheerNotes line featuring custom designed cards and other stationery items.

"Our artists are creating from a deep desire to serve others and they're trying to create something they're not seeing [in the existing marketplace] to help people feel seen," she said.

"We started as a curated shop and have evolved into being a producer, distributor, and retailer. It's so crazy. In our first year, we sold 1,111 cards and this year already we've offered more than 15,000 cards."

A true mom and pop internet storefront, Banks relies upon her real-life parents for order fulfillment and shipping: Her mom retired just before the pandemic hit and her dad in spring 2020.

"They have time on their hands, like being busy, and they're having fun, too," she said, adding that her team includes contractors for marketing and other tasks, and has in the past included Carnegie Mellon interns. "I know how important my internships were for me during undergrad and at Tepper."

"I really wanted to build a business model with a consistent focus on working with diverse creatives, to be a part of normalizing diversity for every type of work environment. Tastes are changing and people want cards that make them feel like 'I would say this. This messaging feels authentic and more personal.' Supporting small businesses helps us to support other small businesses with a ripple effect."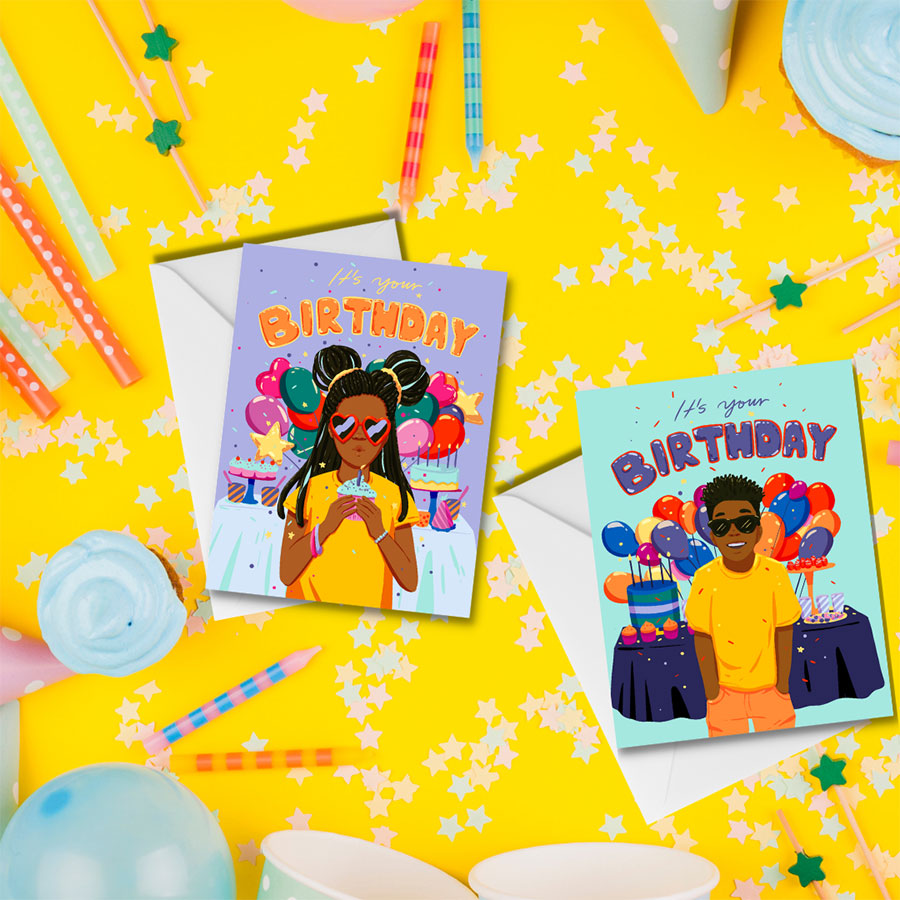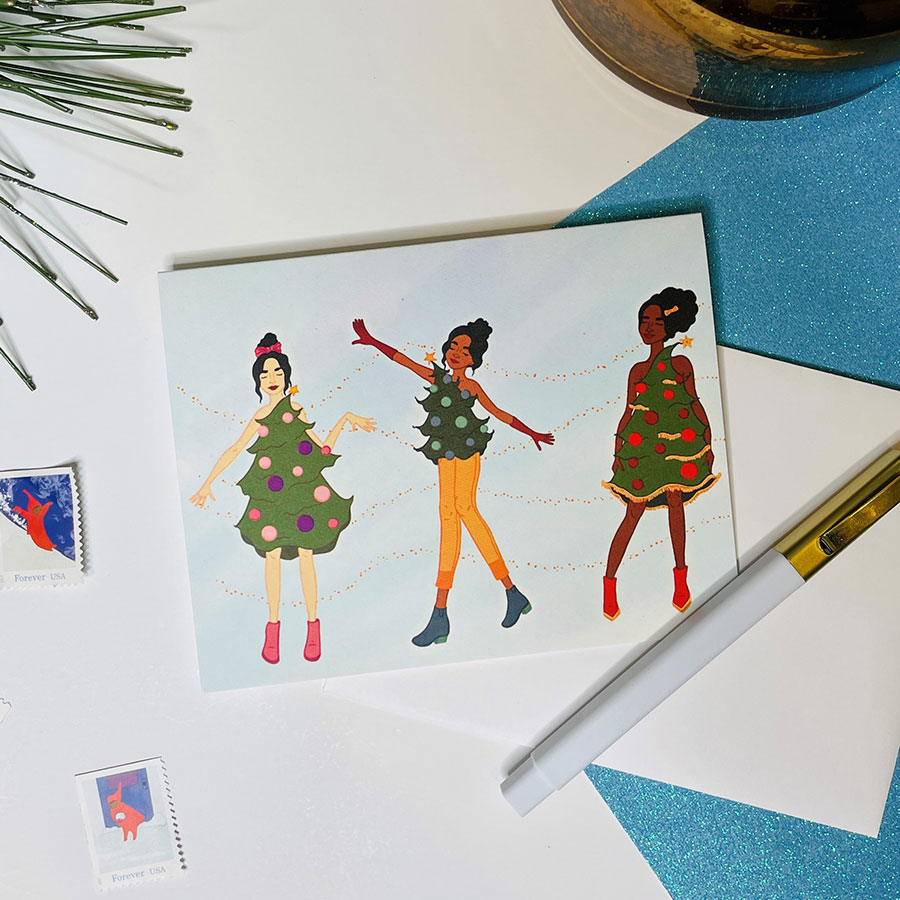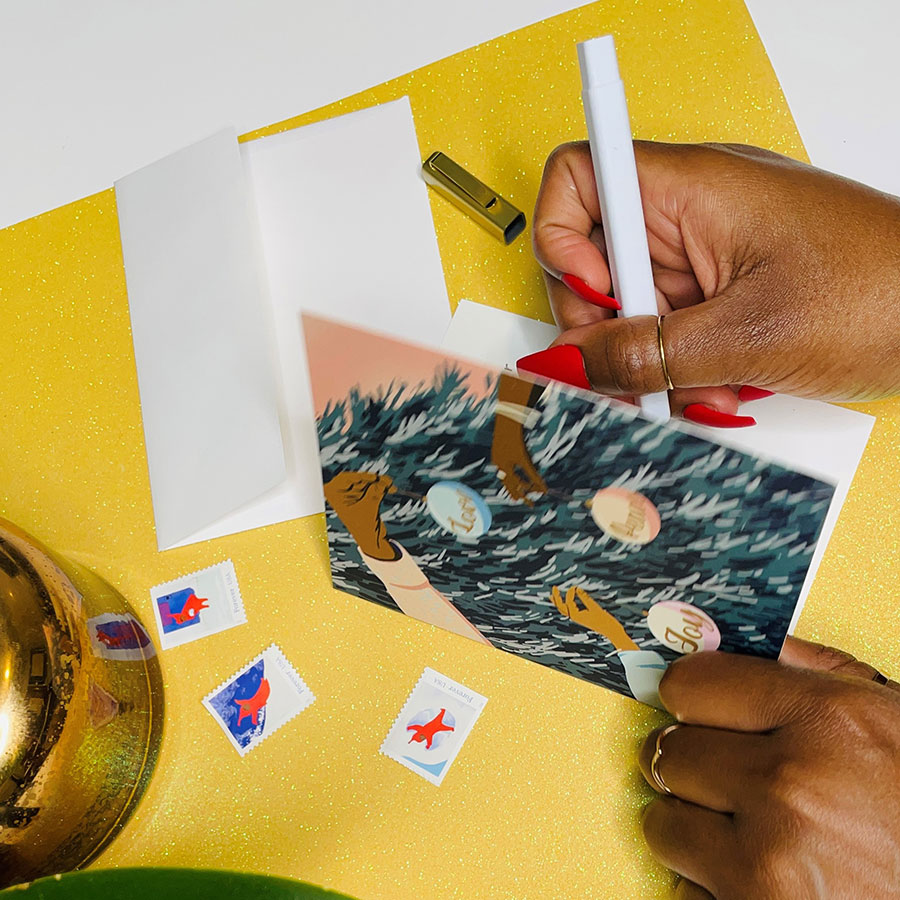 Building Neighborhoods, One Card at a Time
Banks says it's important to support small business owners because they're also your neighbors.
"People in your communities are producing something for you, and responding to niche desires, needs, and aesthetics. The big guys only focus on what the masses want and leave so many people feeling left out. Now, with the internet, you have access to a small shop in Nevada, for example, one you might not ever know about, but they offer something that's perfect for you, all year round, not just on Small Business Saturday or in a month celebrating some type of cultural representation."
Her advice to others who wish to start a business? 
"Just start by creating something. It's a very intimate learning experience running a small business. All your struggles are amplified, including imposter syndrome and limiting beliefs, and you have to deal with it all. If you have an inkling or desire that keeps coming to your mind, it's better to pursue it than wish you had years later. And ask for help — Tepper helped me get more comfortable with that. People want to see you succeed, and it might be that you have a zone of genius others really need too. Putting yourself out there is a great step."
When facing challenges as a new business owner, Banks says her customers keep her going.
"People send email messages and reviews to share stories about how important a card they bought was for their relationship or how perfect a message was for a specific person or how it really helped them break the ice on a topic they didn't know how to talk about. I realize that what I'm trying to put out there is something people want — help with making connections."
Shop for inclusive and representative greeting cards (for all seasons and reasons) on the CheerNotes website.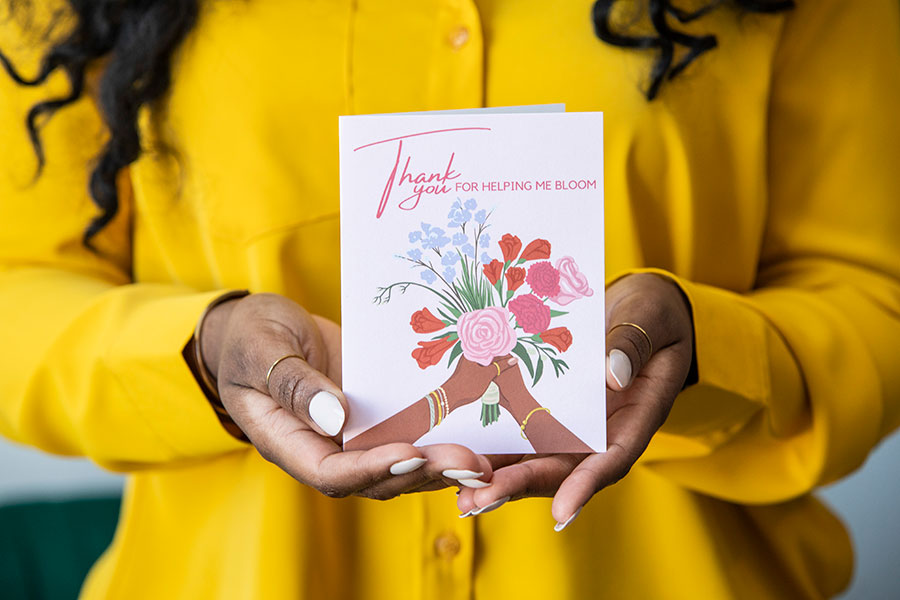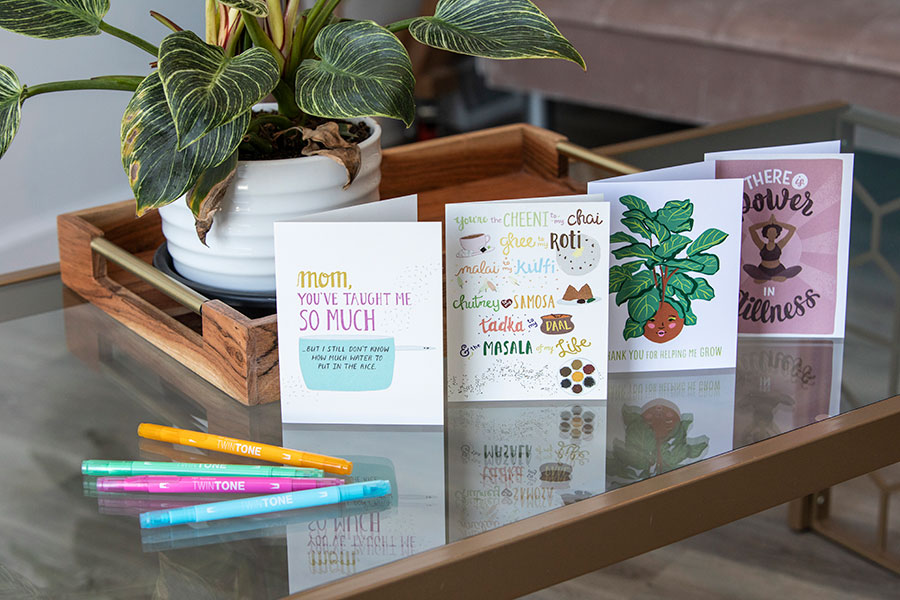 Reasons to Shop Small
We asked our alumni entrepreneurs why it's important to shop small throughout the year. Here's what they had to say. Please consider supporting local businesses and creating long-lasting change within your own communities.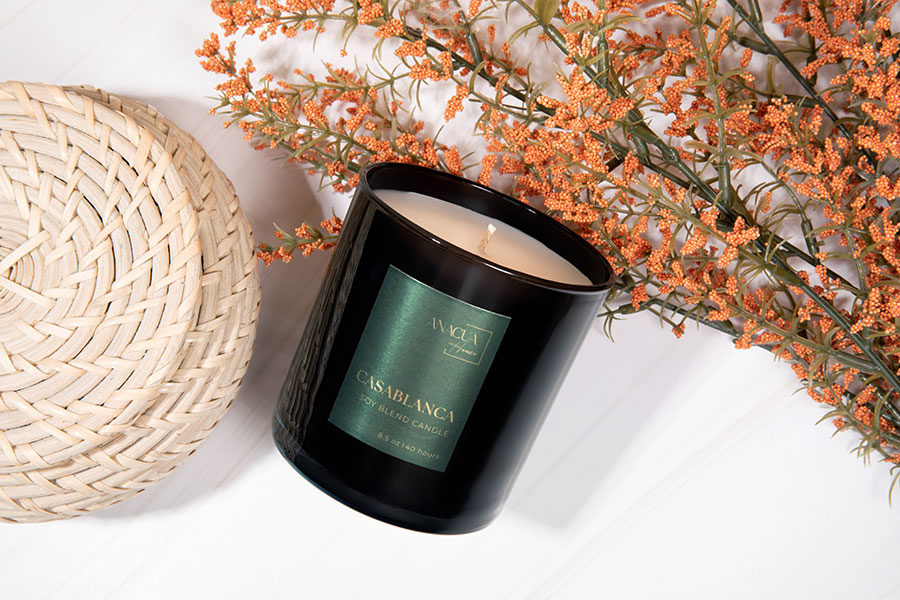 "Small businesses are the lifeblood of capitalism...(and) every large business started out as a small one. It's certainly a way to get things that are more unique than you would find elsewhere."
Angela Bodnar (MBA 2016)
Owner, Anacua House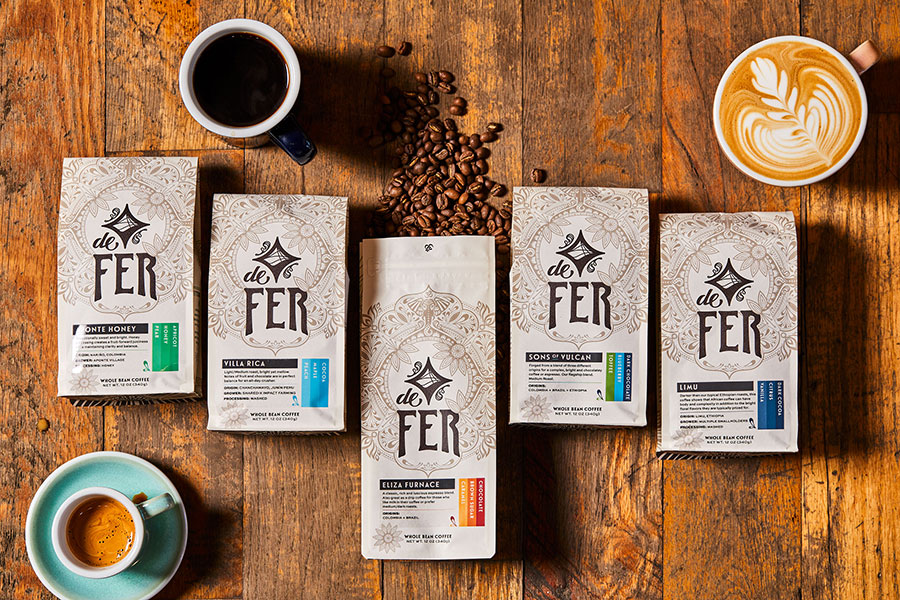 "We understand we're asking you to pay a bit more. But hopefully, every time you make that decision to support us, you know your dollars help support investments in our community, locally and abroad."
Matt Marietti (MBA 2010)
Owner, Atelier De Fer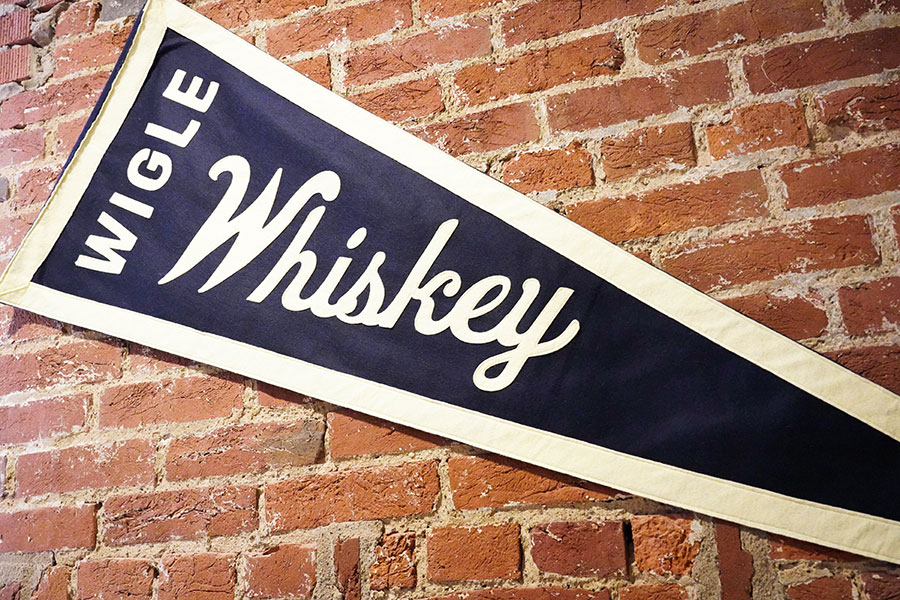 "Over the past decade we've worked to develop our local supply chain so when you're drinking our products, you're supporting our local farms and all the farmers' families that work so hard to grow food in our state."
Meredith Meyer Grelli (MBA 2010)
Founder, Wigle Whiskey and Threadbare Cider & Mead
Learn more about Tepper Together — our commitment to diversity, equity, inclusion, and belonging —  and find resources for how you can create and sustain change in your own community.