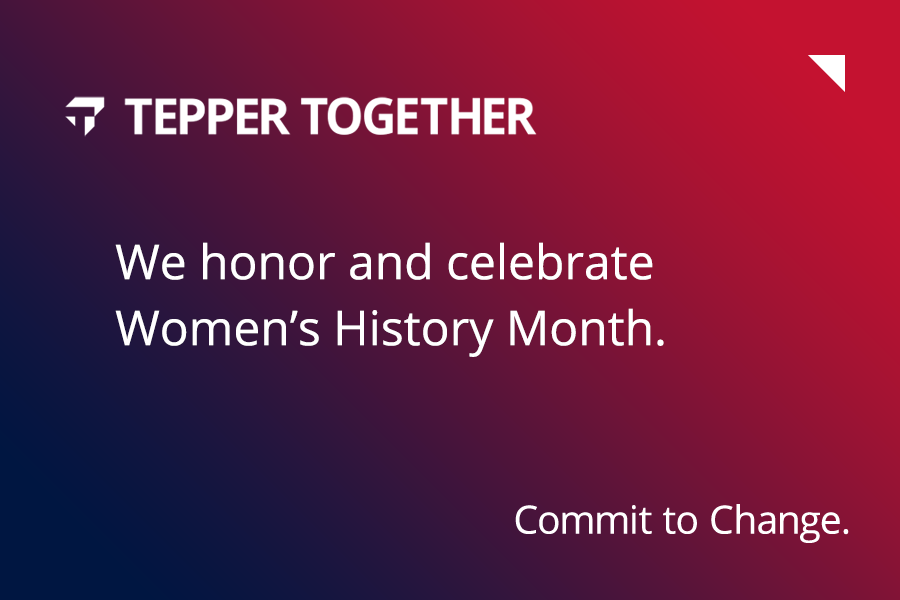 March 01, 2022
Celebrating Women's History Month
March is Women's History Month, a time to commemorate the impact women have had on history, while continuing the push for women's equality around the world.
The Tepper School and Carnegie Mellon communities are hosting events and workshops throughout the month to celebrate. Be sure to check out the official Tepper School social media channels for event updates and stories from our community.
Join the conversation and share your story with #teppertogether and #womenshistorymonth.
Women's History Month Events
Tuesday, March 1: Activism at Carnegie Mellon
The Center for Student Diversity and Inclusion and Student Leadership, Involvement, and Civic Engagement (SLICE) are partnering to provide a workshop on activism: "Activism at CMU: from the Fence to the Frontlines." Join for an opportunity to learn more about the history of activism at Carnegie Mellon: what has happened, what is currently happening, and what you can do to let your voice be heard. Learn more about SLICE and civic engagement at Carnegie Mellon. 
Monday, March 14: My15 Stories
"My15 Stories: Women Experiences" is a night of storytelling where three students will share their life experiences with their peers. This event is hosted by Tepper Women in Business and registration is available to students; seating is limited. 
Wednesday, March 23: Women's HERstory Panel 
Carnegie Mellon's Center for Student Diversity & Inclusion and the Office of Title IX Initiatives are hosting a panel discussion in honor of Women's History Month to talk about whose narratives have been ignored or silenced, and how we can give voice to diverse experiences from the past, present and future. 
Saturday, March 26: Tepper Women in Business Club Leadership Conference
Hosted by the Tepper Women in Business (TWIB) club, this annual leadership conference provides opportunities for future women leaders and allies to participate in leadership workshops, hear from accomplished Carnegie Mellon alumni, network with Pittsburgh entrepreneurs and executives, and build a community. Guest speakers will share their career journeys, including how they navigated their careers, uplifted members of their communities, and how they broke the glass ceiling to chart their own path. The theme for this year's conference is "Building a Community while Celebrating Ourselves and Our Communities." 
Continuing Education & Professional Development 
Carnegie Mellon Libraries DE&I Book Display: Women's History Month
In honor of Women's History Month and International Women's Day, the libraries' diversity book displays will focus on all women, from struggles to achievements, from biographies to general histories, and all things in-between. A physical book display is available at the libraries with the selection rotating weekly. Some e-books listed also have a physical listing. Please check the availability.
View the exhibit and check out a book from the library
Tepper Executive Education: Strategies for Advancing Women in Business
Designed for senior leaders of all genders who are interested in advancing women in business, the Executive Leadership Academy: Strategies for Advancing Women in Business program will address the challenges specific to women in business. You will craft your leadership brand for both individual and organizational success while leveraging your unique strengths.
Learn more and register for the Strategies for Advancing Women in Business program 
Graduate Business Association Book Club
The Graduate Business Association (GBA) and Tepper Women In Business / Men as Allies are partnering to bring students an exciting book club in mini 4 featuring "What Works for Women at Work" by Joan Williams and Rachel Dempsey. 
There will be open conversation about how certain types of actions can play a part in contributing to gender inequity in the workplace. This book is fit for all genders, as discussions will take place around how to be a better advocate for your peers and future employees. While this book club is officially only open to students, all faculty and staff are encouraged to read along and discuss.
Discussion topics include:
Recognize gender inequity and various techniques and tools to use to combat it.
Analyze the way actions (or inaction) contributes to gender inequity at work and how we can all play a part in reducing the disparity. 
Learn how to recognize and avoid the pitfalls that put women in situations related to gender disparity.
Organizations to Join 
Carnegie Mellon Women's Association
The Carnegie Mellon Women's Association (CMWA) seeks to give women of the Carnegie Mellon community the opportunity to meet and interact with other women across the campus.
Learn more and join the organization
Tepper Women in Business (TWIB) and Men as Allies MBA Student Clubs (Masters Students)
Tepper Women in Business and Men as Allies are committed to supporting all genders in their development as confident, successful and inclusive leaders; promoting gender equity in the Tepper School community and beyond; creating a supportive environment in which women and allies can thrive through programming on professional development, networking, and educational workshops; and strengthening and growing networks. 
Smart Woman Securities (Undergraduate Students)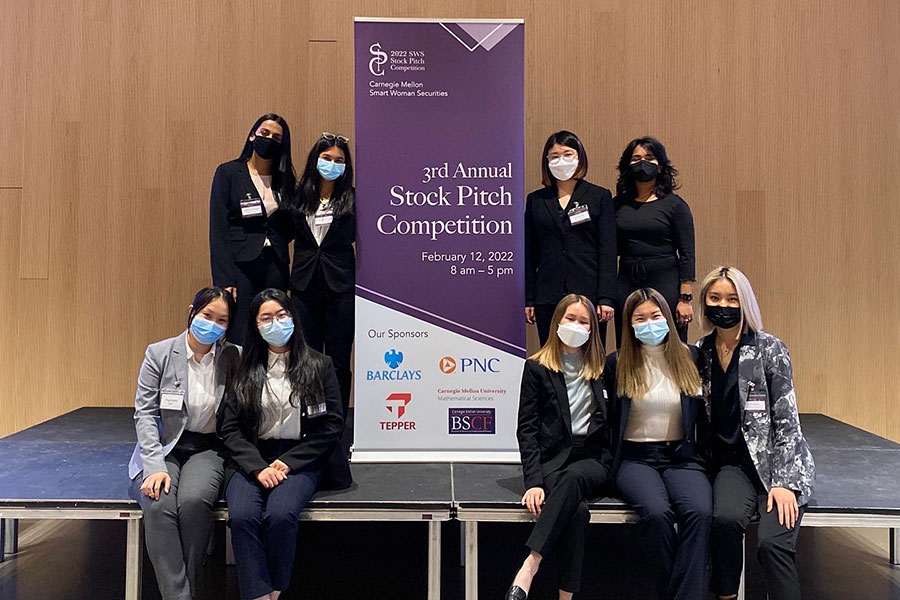 Smart Woman Securities (SWS) is a not-for-profit organization focused on investment education for undergraduate women. Through instructive seminars, mentoring initiatives, and meetings with successful investors, SWS provides resources upon which women can build greater knowledge of the financial markets.
Women in Business (Undergraduate Students)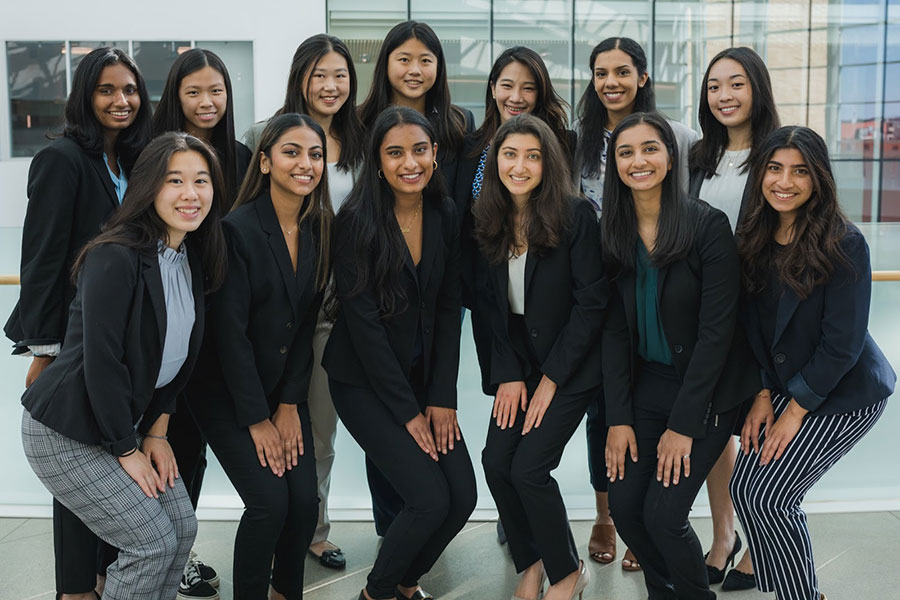 The mission of Women in Business is to empower women to become confident and successful leaders by creating a supportive community of members. Women in Business hosts engaging professional development and gender equity workshops, as well as other exciting events featuring guest speakers and panel discussions throughout the year.
Equilibrium: Women in Economics (Undergraduate Students)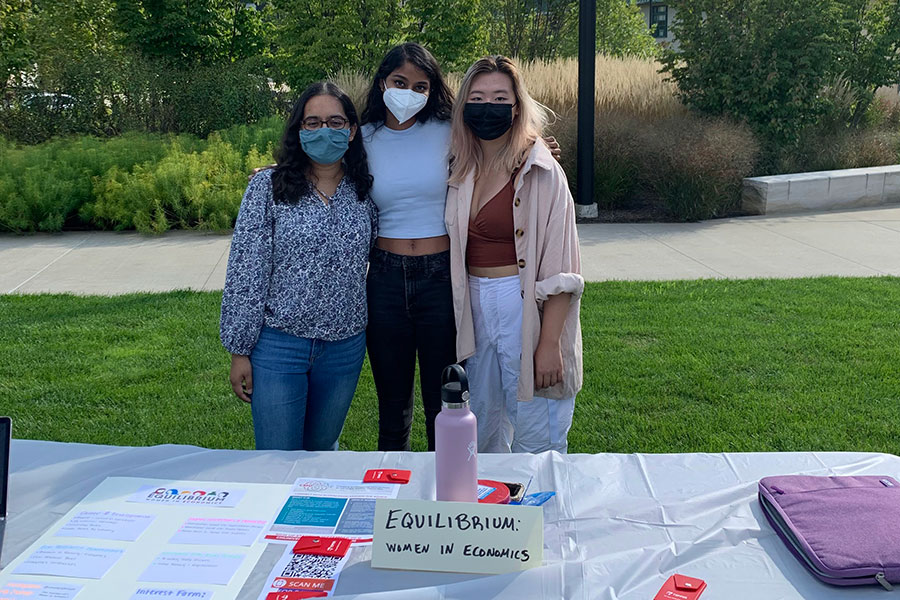 Equilibrium: Women in Economics is an organization aiming to build a strong and inclusive community of women in economics where we empower, advise, support, and advocate for one another in our field. 
A Message From Dean Bajeux
Celebrating Women's History Month
What started as a week-long celebration in California in 1978 has grown into a nationally-recognized month of education and celebration. Signed into law by Congress in 1987, Women's History Month is celebrated every year throughout the month of March.
The month coincides with International Women's Day, which is observed on March 8. The United Nations General Assembly declared sponsorship of the day in 1977, citing the following reasons:
"To recognize the fact that securing peace and social progress and the full enjoyment of human rights and fundamental freedoms require the active participation, equality, and development of women; and to acknowledge the contribution of women to the strengthening of international peace and security."
For women around the world, this recognition symbolizes the journey in seeking equality and women's rights, while also providing an opportunity to unite and create meaningful change.
The ongoing fight for women's equality continues; women's rights and opportunities for achievement are at a greater risk today than in recent history in the United States (and around the world):
Women have been disproportionately and negatively impacted by the ongoing coronavirus pandemic;
ongoing challenges in the workforce, including in academia and STEM fields, are ever-present as representation remains low;
and gender and race pay gaps continue to exist.
While we have made history over the last century and achieved great strides in the women's rights movement, the ongoing systemic and racial inequities must be addressed, especially in higher education and the business world.
As a woman serving as Dean of the Tepper School of Business, I recognize this ongoing challenge on a personal level.
I am committed to improving diversity at the Tepper School by increasing the number of women enrolled in our degree programs and growing the representation of women faculty and staff.
Throughout the month, we will be sharing stories of women student leaders, researchers, and alumni on the Tepper School website and on our social media channels. I encourage all members of our community to read and share these stories to celebrate Women's History Month and champion our collective achievements.
The future is ours. Together, we can design an intelligent future where women are equitable leaders and history-makers. To the next generation of business leaders who will transform society and advance people of all genders: Happy Women's History Month.