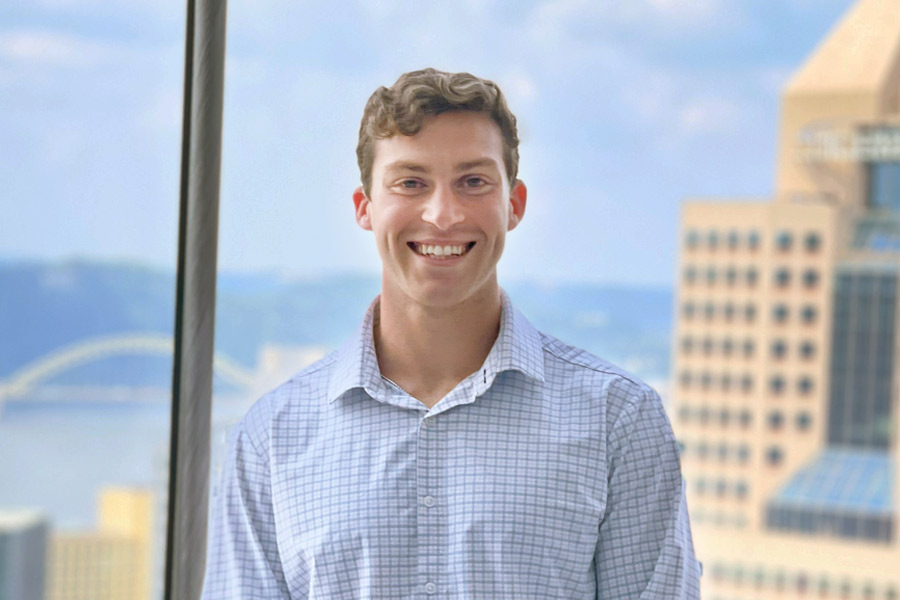 June 10, 2022
The Intelligent Future of Tech: From Tel Aviv to Pittsburgh
Undergraduate Business Administration alumnus Jordan Loev (BS 2022) used his passion and community involvement to bring awareness of high tech opportunities to Tepper School students through the Israeli High Tech Conference.
The first major investment Jordan Loev (BS 2022) made was purchasing stock in Sirius XM radio; he was 13 and used his bar mitzvah money.
"I still have it, actually," he said with a laugh. "So I didn't do too badly."
It was just the beginning of Loev's journey to investment banking. Loev, who graduated this spring with a bachelor of science in business administration (with a double concentration in finance and accounting), is starting this July as a generalist at JMP Securities, a middle-market investment bank that is part of Citizens Financial Group.
During his time at Carnegie Mellon and the Tepper School, Loev played on the varsity football team (he was recruited to Carnegie Mellon from his hometown in Houston). He also participated in the Investment Banking Academy, was a member of Alpha Sigma Phi fraternity, the Blockchain Club, and the Tepper Finance Group, and held a fellowship role through Tikkun Olam Makers Global (TOM Global), a movement of communities that creates and disseminates affordable solutions to the neglected challenges of people living with disabilities, the elderly, and the poor. As a fellow, Loev founded a TOM Global community at Carnegie Mellon.
"In Hebrew, 'tikkun olam' means "repairing the world." It encourages every person to contribute toward improving themselves, their community, and the world," Loev explained.
Loev exemplified this vocation through all of his busy campus involvement, but especially as the founder and president of Tartans4Israel, the Israeli cultural and professional organization of Carnegie Mellon.
"I wanted to continue my career as a student athlete, go to a good business school, and still have a social life outside of those two things as well. I came to Pittsburgh for a visit and just really liked the people who went to school here and were on the football team, and found that Carnegie Mellon offered me a balanced experience in terms of everything I wanted to do, including on the religious side," he said.
At the Intersection of Business and Technology
His time as president of Tartans4Israel was perhaps his most influential role as an undergraduate. It's through this community that Loev planned and executed the Israeli High Tech Conference in coordination with the Edward and Rose Berman Hillel Jewish University Center of Pittsburgh.
The conference, which was held in late winter at the Tepper School, provided an opportunity for Carnegie Mellon students of all backgrounds, ethnicities, and religions to learn about different industries within the Israeli high-tech world (including FinTech, CleanTech, MedTech, and more), network with top executives and entrepreneurs, and develop an understanding of how Israel is positioned to be a leader within the high-tech industry.
"Carnegie Mellon has such a large focus on technology, including the intersection between business and technology. Israel, especially Tel Aviv, has become one of the largest tech hubs not only in the Middle East, but in the world. A lot of incredible technological disruption in a lot of different industries is happening in the Israeli market. I thought it would be valuable to organize an event where all students are exposed to all of these great technologies and innovations that are coming out of Israel," Loev said.
The conference included industry panels, networking windows, and breakout sessions with CEOs and leaders from over a dozen tech companies.
"I wanted students to not only gain exposure and learn about these technologies but to have an opportunity to network and start building relationships with these tech companies, maybe even intern or work in this industry in the future," he said.
"I would say that one of the most valuable things, even for me, was being able to speak directly to CEOs of tech companies, venture capital firms, and startup incubators to start building those relationships and pick their brains to learn from them about how they got to the point they are today."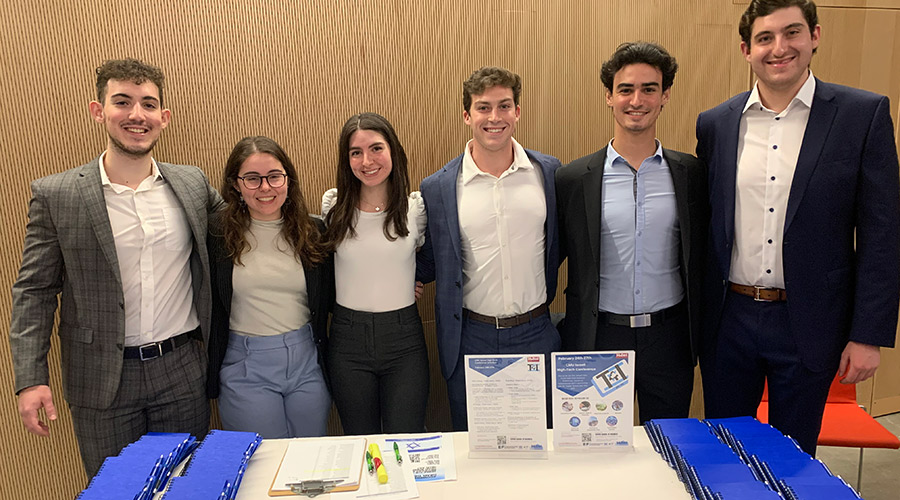 Tartans4Israel board members
Using Business Expertise to Give Back
Loev also made sure that the conference had an altruistic component. Through his fellowship with TOM Global, Loev organized a case competition/make-a-thon to be a major focus of the conference. Attendees had the opportunity to partner with Special Olympics Pennsylvania to work on two different challenges: to create a solution for Special Olympics Bowling League members that would enable them to bowl without assistance, affording them the agency they may lose by needing volunteers to place the ball on the lane, and to develop a specialized floatation device for beginner swimmers so that they are able to remain upright safely in water without assistance from a volunteer.
"We introduced the idea during our opening ceremony, and then created two teams, one to work one each challenge. Teams then competed during the make-a-thon portion of the conference to create these designs and prototypes, as well as a business plan, and then TOM Global aggregated and hosted the open source code so anyone can access it and benefit from it," Loev said. "Hopefully, it will benefit the Special Olympics community here locally as well as anyone else in the world who may have similar accessibility challenges."
Cross-Campus Collaboration and Teamwork at Carnegie Mellon
Although Loev led the charge to plan and implement the conference in connection with the Hillel Jewish University Center, he couldn't have done it without the help of his fellow Tartans4Israel board members and undergraduate classmates.
"The conference wouldn't have been a success without the whole team," Loev said.
"My Undergraduate Business Administration classmate, junior Nathan Dekhovich, who is the co-president of Tartans4Israel with me, shared a similar vision for the conference and really helped to carry that vision all the way through. Second year Dietrich College of Humanities and Social Sciences student Jeremy Nichols helped to organize the make-a-thon, and really, assisted in the organization of the entire conference. Nofar Katzav, second year Undergraduate Business Administration student, was responsible for getting us in front of the dean of the Tepper School and recruiting a couple of the speakers, and Alec Bender, who is a junior at the College of Engineering, helped organize and develop partnerships with other universities and departments within Carnegie Mellon. And last but not least, our board and conference advisor, Zoe Hertz, helped to make this conference a success. She guided our partnerships, overall organization of the conference, kept track of the finances, and ensured that everything ran smoothly. My vision for the conference wouldn't have become a reality without their support, help, and contributions. It's why the conference was a success."
Loev and the team also collaborated with multiple Carnegie Mellon and Tepper School student groups.
The Jewish Business Association, the Undergraduate Entrepreneurship Association, the Carnegie Mellon Blockchain Club, Scottie Ventures, the Tepper Finance Group, the Introductory Finance Society, the Business and Technology Club, the Energy and CleanTech Club, and the Tepper Real Estate Club all participated in the conference.
"These organizations helped to lead and moderate seven different panels with over 25 Israeli industry experts and business leaders," Loev said. "We covered everything from clean tech to med tech, blockchain to business development."
Additional partners included 412x972, the Jewish National Fund, and the Entrepreneurship Forum of Israel.
Loev also managed to have Dean Isabelle Bajeaux give a welcome speech, while Alan Scheller-Wolf, Richard M. Cyert Professor of Operations Management, moderated one of the panels.
"We basically set up a meeting with her and tried to pitch our vision and what we wanted to accomplish during the conference," Loev said.
"She was receptive to it and gave an awesome speech. It was nice because the Tepper School's idea of The Intelligent Future embodies the same kind of entrepreneurial mindset and vision of Israel, and Dean Bajeaux connected those ideas for us."
Coming off his successful senior year, Loev reflected on his journey and all that he had accomplished during his tenure at Carnegie Mellon. When asked if he had any advice for prospective or first-year students, Loev thought quietly for a moment, then laughed.
"Find the things that you're interested in, and follow your passions, but don't try to follow too many at the same time," he said.
"College is a great time for exploration, especially when you come in as a freshman. Expand your knowledge, try different things, but then whittle down your passions and create balance as you go. You'll learn a lot about yourself and I would say, do it purposefully. Put a lot of time and energy into what you care about, and success will come naturally. You'll be able to look back and be proud."
Tikkun olam, indeed.