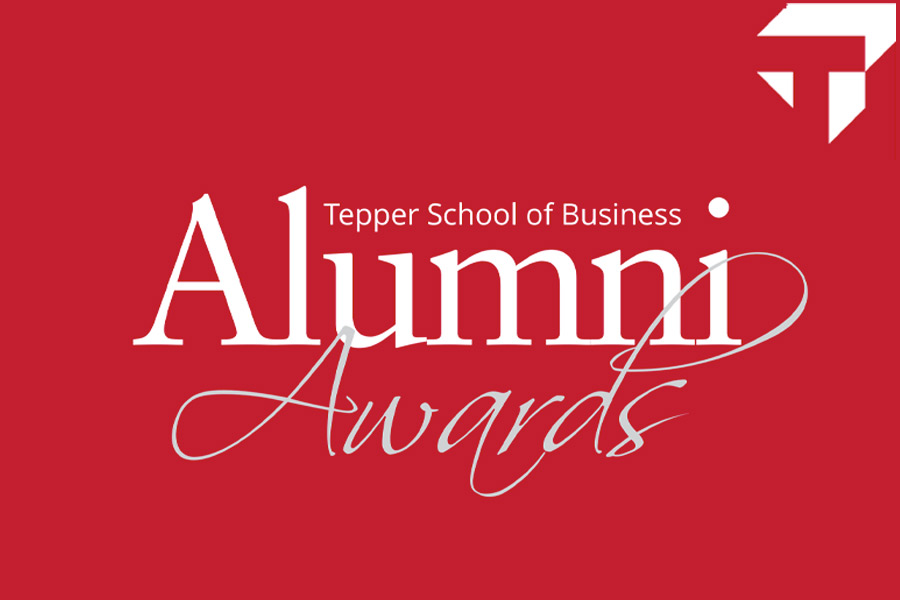 June 14, 2022
Tepper School Alumni Awards 2022
On May 21 of Reunion Weekend 2022, after two years of virtual gatherings, the Tepper School community came together to celebrate the Tepper School Alumni Awards, recognizing extraordinary alumni for their professional achievements and outstanding service to the Tepper School. This year, six such individuals were honored, with three accepting their awards in person, and three via video.
"Since we first launched the Tepper School Alumni Awards in 2013, it has been a joy each year to be able to publicly recognize our alumni," said John Sengenberger, Executive Director of Alumni Relations.
"I am always amazed at these impressive alumni who are high achievers in their fields and incredibly dedicated volunteers. They are true role models for our current students and outstanding ambassadors for the Tepper School family."
"I love my role on the awards committee because it lets me learn about the incredible things our alumni have accomplished in their careers and the many ways they have given back to the Tepper School," said Susan Smith (MSIA 1996), Alumni Board Vice President and Chair of the Awards Committee.
"I'm awestruck and thankful. Had it not been for remarkable alumni like these supporting the Tepper School and Carnegie Mellon — some for many decades — we would not be where we are today. They exemplify the deep connection our alumni feel with the school and its students. It's a huge testament to Tepper and its graduates that our alumni continue to invest so strongly in its success, and it's a privilege to honor them with these Alumni Awards."
Henry J. Gailliot (UBA 1964, MSIA 1965, Ph.D. 1973)
Tepper Alumni Lifetime Service Award
Gailliot was honored with the Alumni Lifetime Service Award in recognition of his long-standing volunteer leadership and philanthropic support of the Tepper School, Carnegie Mellon University, and numerous other Pittsburgh-area organizations, as well as a lifetime of outstanding career achievement.
As Smith pointed out, "In 2002, President Cohon said, 'Dr. Gailliot embodies the mission and spirit of Carnegie Mellon. His business success, his generosity and commitment to his alma mater, and his contributions to society have set the standard for all of us to replicate.' Twenty years later, Dr. Gailliot is still highly engaged in giving back to Carnegie Mellon and Tepper."
Gailliot holds an undergraduate, master's degree, and Ph.D. from the Tepper School. The longtime chief economist and former President and Chairman at Federated Investors has served on the Carnegie Mellon Board of Trustees since 1989. Among his many charitable contributions to Carnegie Mellon, he established undergraduate business scholarships, MBA fellowships, and funding for the Tepper Quad Gailliot Classroom.
"I have a long, long-time relationship with Carnegie Mellon and the Tepper School and this is really something that pleases me a great deal," said Gailliot.
"I cannot describe how great it was to work with the tremendous people at the Tepper School and Carnegie Mellon over a long period. I invite all of you to think about giving back for the amazing education that you received, the amazing contacts, and the incredible relationships with faculty members. It will be one of the most exciting parts of your life. You will get more out of giving back to the Tepper School and Carnegie Mellon than they will probably receive."
Kevin Willsey (MSIA 1989)
Tepper Alumni Achievement Award
Willsey was awarded the Alumni Achievement Award for his noteworthy career as a leader in the financial services industry, as well as his dedicated volunteer service to the Tepper School community.
He currently serves as Chairman of Global Capital Markets at JPMorgan Chase and is a member of the company's Investment Banking Management Committee and JPMorgan Chase Executive Committee. Willsey's capital markets career has spanned service to clients from the U.S. and Europe to Asia and Latin America. An active Tepper School speaker and recruiter, he has been a member of the Tepper School Business Board of Advisors since 2006. As a regular and generous Tepper School supporter, he recently funded and named a Tepper Quad MBA Collaboration Space.
"I can say with absolute certainty that that one decision [to attend the Tepper School] changed my life," said Willsey.
"My experience here laid the foundation for an entirely new and very rewarding career and for that I'm eternally grateful. It gave me the confidence to pursue tough challenges and not be afraid of digging through data and analytics to really get to the heart of the matter. I can't thank former Dean of the Tepper School, Bob Dammon, enough for getting me engaged and giving me a sense of mission and purpose around supporting the Tepper School now and in the future."
Homaira Akbari (MSIA 1996)
Tepper Alumni Achievement Award
Akbari was recognized with the Alumni Achievement Award in recognition of her accomplished corporate leadership.
She is currently president and CEO of AKnowledge Partners, LLC, a global strategy advisory firm providing services to leading private equity funds and large corporations. She has held senior executive roles in Fortune 500 companies that include Microsoft, Thales, SA, and TruePosition, a subsidiary of Liberty Media Corporation. Akbari served as president and CEO of SkyBitz, Inc., a leading provider of remote asset tracking and security solutions; early in her career, she was a senior scientist at CERN – European Center for Nuclear Research. She is a board director for several organizations, including Banco Santander, and serves on the Tepper School Business Board of Advisors.
"Over the years I have become increasingly more appreciative of my association with Carnegie Mellon and the Tepper School," said Akbari via video.
"Carnegie Mellon and the Tepper School proved to be the bedrock of my career – they are best in class when it comes to technologies that I focus on. I'm thankful to the entire community of Carnegie Mellon and the Tepper School for encouraging me to re-engage with the school. It has created a sense of purpose in me and I plan to continue contributions evermore."


Michael A. Smith (MSIA 1995)
Tepper Alumni Service Award
Smith was awarded the Alumni Service Award for his exceptional volunteer leadership and dedicated service to the Tepper School alumni community.
A passionate Carnegie Mellon advocate with a CMU undergraduate degree and Tepper MBA, Smith has been a leader of the Tepper Seattle Alumni Chapter, a class reunion volunteer, and a member of the Tepper School Alumni Board from 2012-2019, culminating as Board President. He is also a long-time member of the Carnegie Mellon Admission Council and an active recruiter, speaker, and mentor. He currently is Vice President, Coupa Travel & Expense Software.
"For me, service has not been work," said Smith.
"Giving was the other side of the coin from receiving. The more I gave as part of the service process the more I got back out of it – not only a great education but also lifelong friends and opportunities to do things I never would have had. When I meet Tepper School alumni, I tell them to get involved – because what you will get in return is so much more than you give."
Christopher Gassman (MBA 2012)
Tepper Recent Masters Alumni Award
For his service as an outstanding alumni connector, advocate, and servant leader, Gassman was named Recent Masters Alumni Award winner, given to alumni graduating within the past 10 years.
A joint JD/MBA graduate and active leader in the Tepper School New York Alumni Chapter, Gassman has hosted events and regularly engaged his alumni colleagues as well as students and new graduates. He has been involved in organizing his class reunions, spoken to both student classes and clubs, and fostered an inclusive alumni community. He currently serves as Associate Director for the University of Pittsburgh's Center for Sustainable Business.
"I always knew I wanted to inspire others," said Gassman.
"Every time I've put together a new business model for doing well by doing good, worked up an ESG decision dashboard, or framed a strategy for networking with star performers, I credit my experiences with my classmates, my colleagues, and the team at the school. I thank the Tepper School community for the amazing family that keeps pushing each other in building a more intelligent future for all."
Troy Witt (UBA 2016)
Tepper Recent Undergraduate Alumni Award
Witt is the inaugural recipient of the Tepper Recent Undergraduate Alumni Award, given to alumni graduating within the past 10 years. Witt was honored in recognition of his rapid career success and passion for developing young professionals in the sports and entertainment industry.
At just 27 years of age, Witt has worked in the NBA, MLB, and NFL, as well as for a global sports and music agency, a renowned event management organization, and as a key decision-maker in the exponential growth of a Pittsburgh-based sports marketing company, dealing with some of the most recognizable sports leaders in the world. A former All-Conference running back at Carnegie Mellon, he has been a speaker in Tepper School business leadership and marketing classes.
"It is one of my greatest honors to have been selected as the inaugural recipient of this award and very meaningful recognition," said Witt.
"I feel so incredibly blessed to have graduated from this prestigious university and for the very transformative professional experiences that I've had so far in my career. I really look forward to continuing to make the Tepper School alumni community proud as my career in life continues."