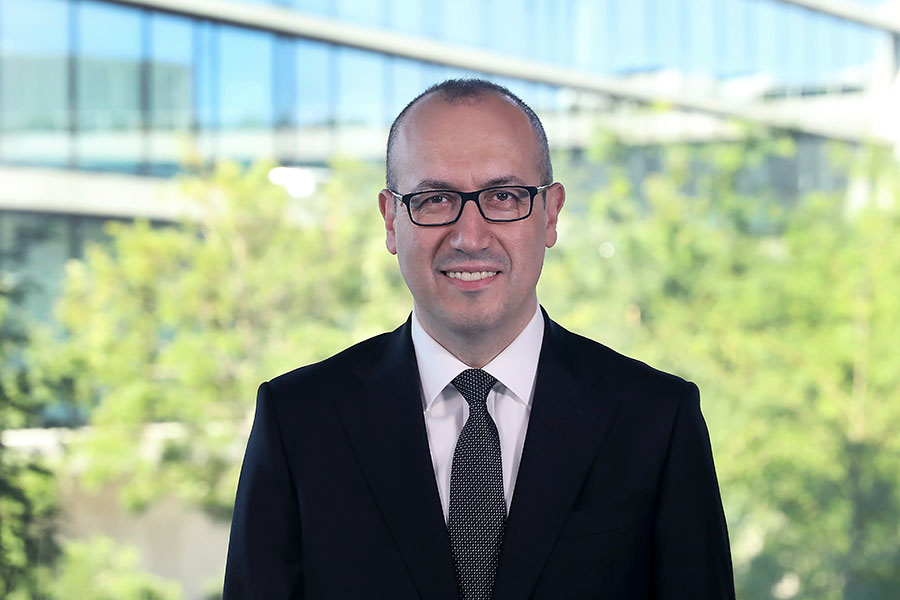 February 01, 2022
W.L. Mellon Speaker Series: Onur Genç Discusses Trends in Financial Services
Onur Genç (MSIA 1997), Chief Executive Officer, BBVA Group, spoke on Nov. 4, 2021, as part of the W.L. Mellon Speaker Series at the Tepper School of Business.
Genç is a man of action — a visionary leader whose organization is a pioneer in financial services digitization and sustainability. He leads BBVA, one of the largest European banks in the EU, established in Spain and now an international power. He recently joined the Tepper School community to share his views on a rapidly changing industry landscape and answer student questions.
Immediately, Genç highlighted digitization as a primary industry shift.
"We are seeing a huge digitalization trend in every single part of the value chain we are in," he said. "It is a huge revolution on how we interface with our customers for servicing and for sales."
He characterized this change as driven by both technological advance and consumer demand but noted that branches will still play a role.
"For topics that are not intuitive such as mortgages and wealth management, the human interface, at least at the moment, is absolutely critical," he said. "For those things, we will have our people in the physical branches."
While digitization is accelerating faster in developed economies that rely less on cash, it is, nonetheless, expanding everywhere. Genç commented on the reality that retail banking is increasingly a scale business, as a large revenue base is necessary to dilute digitization's fixed cost investment.
Genç described demographic aging as impacting the industry tremendously. "You see an accumulation of savings and less need for credit where typically banks make money. You see asset and wealth management becoming very important."
Regarding BBVA's reaction to fintechs, he enthusiastically replied, "Embrace them! Fintechs bring really good stuff to our business. They bring focus and a lot of talent."
Genç admitted that BBVA had quickly discovered buying a bad fit while investing/partnering produced excellent results.
"We learned our lesson," he explained. "When you buy a fintech and integrate it within the big machine of BBVA (with 113,000 people you have to create certain standardization) you kill a bit of the innovative nature. When we invest, we leave them alone and we see amazing financial returns and learn a lot from them."
On blockchain and cryptocurrencies, Genç stated, "We again embrace this. Blockchain, the underlying technology, is at the core of what banks do, so how can we ignore it? That is why we have been involved in blockchain and DeFi applications."
Not surprisingly, BBVA invested in Coinbase and provides cryptocurrency custody and trading services through its Swiss bank.
On other topics, Genç didn't mince words regarding failure to achieve sustainability goals.
Rather than simply eliminating carbon-emitting clients, however, BBVA works to assist them in reducing CO2 emissions. Ever forward-thinking, he described future investment required to reach UN goals as "an opportunity to do something good and do good business." "We see this as an opportunity, to eliminate those consequences, you need 5-7 trillion dollars in investments every year to be able to get to the UN goals," Genç explained.
Genç counseled students to find balance, noting he gives "full concentration," whether with work or family. He stressed finding the right colleagues — "ethically spotless, hard-driven, goal-oriented, decent people that can help you learn and develop. If you don't have those people around you, I would recommend you change that environment," he declared.
He recalled learning much from his own Tepper School experience, including the value of entrepreneurial action ("acting is always better than thinking"), teamwork ("in business, you don't do anything by yourself"), accountability, and empathy — qualities he strives to maintain as a leader.
"The Tepper School is unique in bringing problem-solving and an analytical approach to business problems. And what we do in business, in my view, is solving problems every day," Genç added.