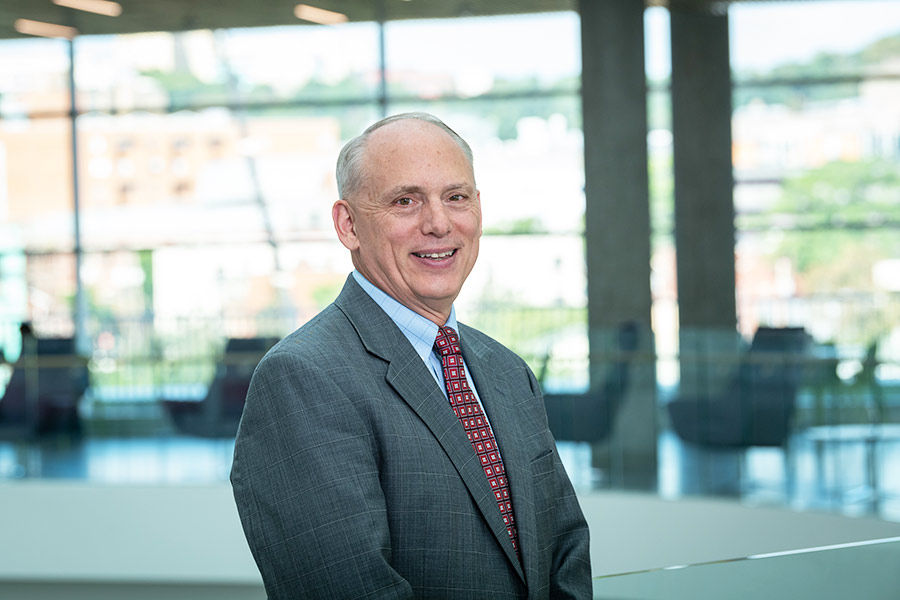 February 17, 2022
Cheers to 20 Years: John Sengenberger Celebrates a Career Milestone
John Sengenberger, Executive Director of Alumni Relations, recently celebrated his 20th anniversary as a Tepper School staff member. 
In this Q&A, he reflects on his most memorable experiences and highlights from the past 20 years. His quotes have been edited for length and clarity.
Before joining the Tepper School, what were some of your career highlights?
I began my career as a high school social studies teacher in upstate New York where I coached football and led a youth ministry program. I taught at the large public high school that I had attended so it was a unique experience teaching alongside teachers I had as a student.
After attending the Franciscan University of Steubenville, Ohio, I was active in several non-profit organizations before transitioning into higher education and university relations. Highlights from this stage of my career included organizing and leading conferences for tens of thousands of adults and youth, and organizing my first international travel program with 1,000 travelers to Israel and Italy.
Just before starting at the Graduate School of Industrial Administration (GSIA), now known as the Tepper School, in 2001, I had branched out of academia for a brief stint with an internet start-up in the web automation space. It set the stage for leading alumni relations at the Tepper School.
What were the first few years like at the Tepper School? Standout projects, trips, alumni encounters?
I consider my first years at GSIA as the start-up years. It was a season for laying the foundational stones for a strong alumni network. The university and business school were a bit late to the game in alumni relations and we had to work hard to create connections and programs.
I was honored to serve initially under Associate Dean Jean Eisel, who was a fireball of activity and energy, overseeing admission, career services, and alumni relations. I traveled with her to participate in admissions fairs, corporate recruiting visits, and alumni receptions all over the U.S. and London. This gave me an understanding of the life-cycle of our alumni in various stages of their education, careers, and networking.
We launched our first online directory for graduates, started regional chapters in our key markets, and began holding alumni receptions and reunions. I still have all the emails from those first years and recall the amazing alumni who stepped up to take leadership roles in our fledgling chapters, such as Jeff Meckler (IM 1989, MSIA 1990) in New York and Brian Olsavsky (MSIA 1989) in Seattle, who have had stellar careers yet always made giving back to the Tepper community a priority. I learned firsthand about the incredible Tepper School alumni we had who just needed the school to take the lead in reconnecting them to one another. 
"Forging strong relationships and connecting alumni with the school have always been at the heart of my mission."
What were some of the objectives you had for the Tepper School and the alumni that you were able to focus on in your early years?
Forging strong relationships and connecting alumni with the school have always been at the heart of my mission.
The first goal was to begin reaching out to activate the alumni community and build an expectation of a life-long relationship with the Tepper School among our alumni. We committed to holding annual reunion weekends on campus for classes celebrating five-year milestones and one-year reunions to bring our newest graduates back to campus and imbue them with the reunion tradition. We created opportunities for students to connect with alumni on student career treks to New York, Silicon Valley, Boston, Seattle, etc., and organized summer welcome receptions hosted at alumni homes across the U.S. and internationally. I am grateful to have had Janice French, our Associate Director, join me early in my tenure. Her hard work over the years has been an invaluable part of our success.
In 2008, with a solid foundation of alumni engagement in place, we launched our Tepper School Alumni Board to take it to the next level. Now, a cohort of 24 of our most passionate volunteers, the Alumni Board began our annual Tepper School Alumni Awards program in 2013 which was a long-overdue opportunity to honor our outstanding alumni for their impressive career achievements and service to the school.
What have been some of the most gratifying experiences over the past 20 years?
I have too many fond memories to even count and too many amazing alumni to thank. Some of my most special experiences:
It has been a joy for me to travel around the globe with our deans and world-class faculty. To this day, I cherish the opportunities I had to travel with some of our most beloved professors such as intellectual giants Lester Lave, Allan Meltzer, Marvin Goodfriend, and Tom Kerr.
Being at an evening outdoor alumni and student dinner reception on the Kalpataru rooftop in Mumbai hosted by Parag Munot (MSIA 1993). The delicious Indian cuisine was prepared fresh for us by local chefs and as our alumni panel spoke about their experiences at the Tepper School, you could see fireworks going off behind them!
Sitting in the cockpit of Dean Ken Dunn's Citation X jet while flying into the Napa Airport for our annual summer reception at the Napa vineyard owned by alumnus Bart O'Brien (MSIA 1981). The view of the Pacific ocean was spectacular and of course, the wine at O'Brien Estate was magnificent!
I was able to be a part of two historic events: The naming of the Tepper School and the opening of the Tepper Quad.
Standing on the stage at Heinz Field looking out at over 500 alumni and guests who were celebrating their all-class reunion and realizing that all the late nights and long hours were worth it. Seeing alumni hugging each other with such exuberance, whether it had just been one year or 50, always made me smile with a deep sense of satisfaction. Mission accomplished!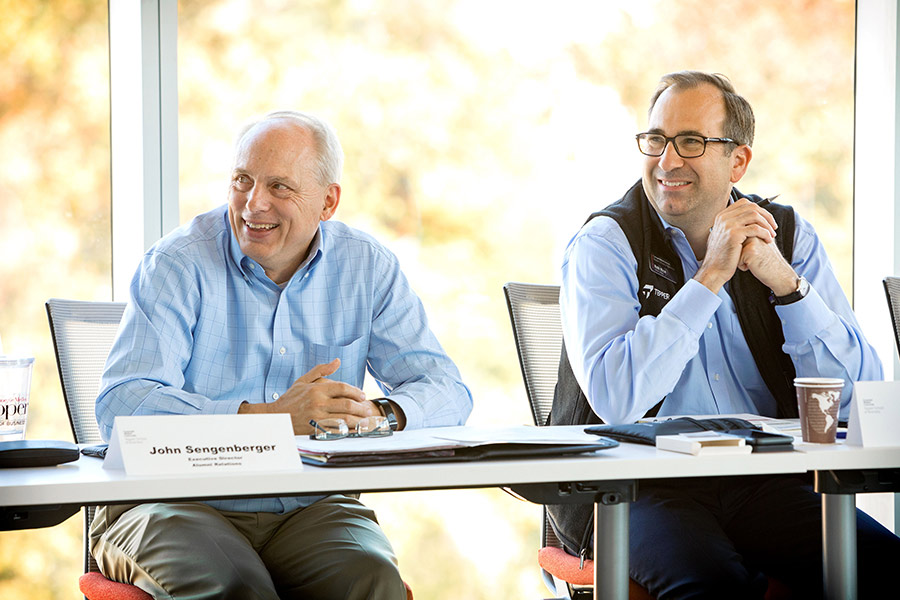 John at an Alumni Board meeting in 2019.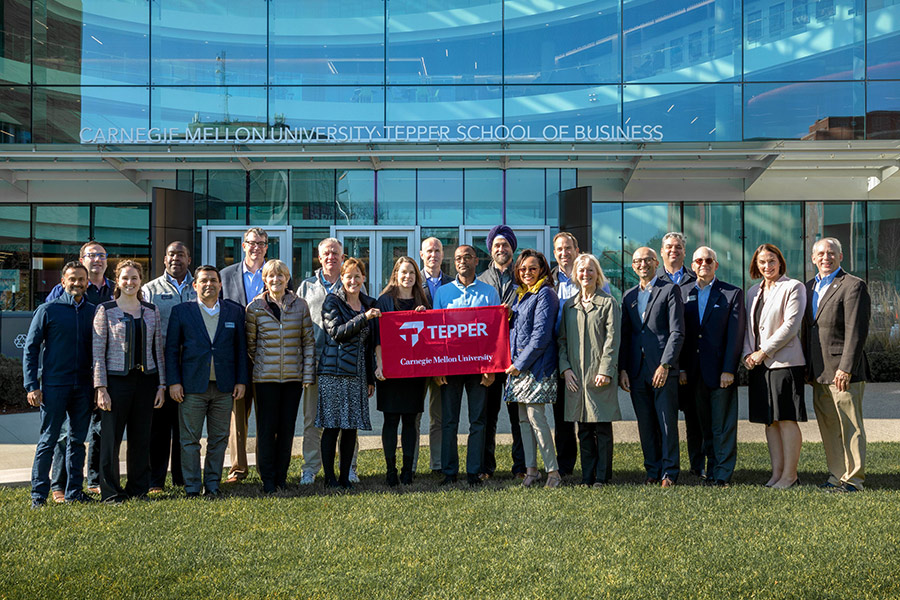 John with the Alumni Board in 2019.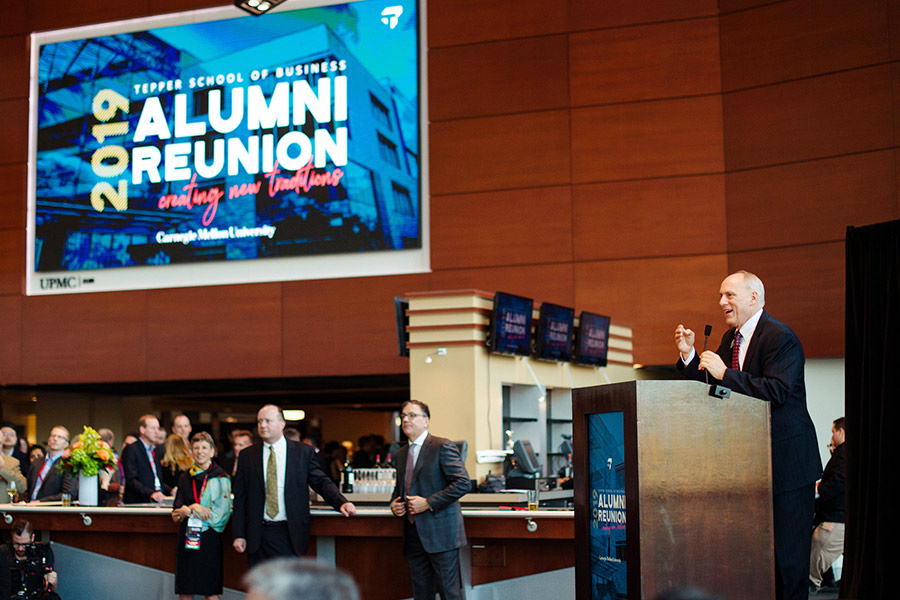 John at Alumni Reunion in 2019.
John with his family in 2021.
With 20 years of working with Tepper School alumni, what are some of the most consistent attributes you have observed? How have alumni changed over time?
When people ask me what I love most about my job, my first response is, "The alumni!" I never cease to be amazed by our talented alumni and I love hearing their stories and connecting them with each other. They are highly accomplished leaders in their fields, yet humble, and easily approachable. They light up when they talk about their classmates, former professors, and experiences at the school.
From the start, I could sense the closeness that was forged with their classmates in the crucible of the rigorous coursework, the intensity of Management Game, the laughter at Follies, and of course, Friday b**rs and bar crawl. Certainly, the Tepper School created a unique bonding experience for students that we were able to rekindle through our alumni efforts. 
If there were a bloopers reel assembled from the past 20 years, which moments would make the cut?
There have certainly been awkward moments, failures, and situations which have made me both laugh and cry. I must humbly apologize for all the alumni names I have mispronounced over the years. I recall hearing a cell phone ringing loudly while I was on stage speaking at an alumni event only to realize to my embarrassment that it was mine! I inadvertently pressed accept rather than off and whoever was on the call got to hear me speaking to alumni!
However, we always try to keep an eye out for the silver linings, even in our less-than-perfect moments. I recall in 2020, the intense disappointment at having to cancel our in-person summer receptions. Unable to travel or hold in-person alumni events, student treks, and alumni reunions, our team was able to rapidly pivot to virtual programming. Now virtual and hybrid programming is here to stay as part of our offerings even as things open again around the world.
 What is your current focus and what are you most keen to achieve?
Among our many initiatives, I am excited about engaging more of our graduates in volunteer opportunities with the school. We have an outstanding array of alumni volunteers serving as corporate recruiters, on Management Game boards, on class reunion committees, with regional chapters, and as mentors to other students and alumni. These volunteers are among our strongest supporters who make our alumni community the strong network that it is today.
One new initiative from our Alumni Board is our Tepper Alumni Admissions Ambassador program in which over thirty selected volunteers reach out to our MBA applicants to share stories about their experiences at the Tepper School. I am also committed to increasing the engagement of our undergraduate alumni and bringing them more into the heart of the Tepper alumni community.
Any final thoughts?
It is said in our field, that one rarely goes into alumni relations directly as a career aspiration. We just end up in it over the course of twists and turns in our lives. I agree. However, I am grateful to God for the opportunity to serve at the Tepper School and Carnegie Mellon University, and to be a part of its journey to a more intelligent future. It has been wonderful to know so many amazing and talented alumni and I consider it an honor and a blessing to have worked with such outstanding colleagues not only in alumni relations and advancement but across the school and campus. I'm inspired by the whole community and its commitment to a new approach to business that brings human empathy to the forefront.

To our graduates who read this, I will say what I share with our incoming students each year: "You are students for a few years, but you are alumni for a lifetime!