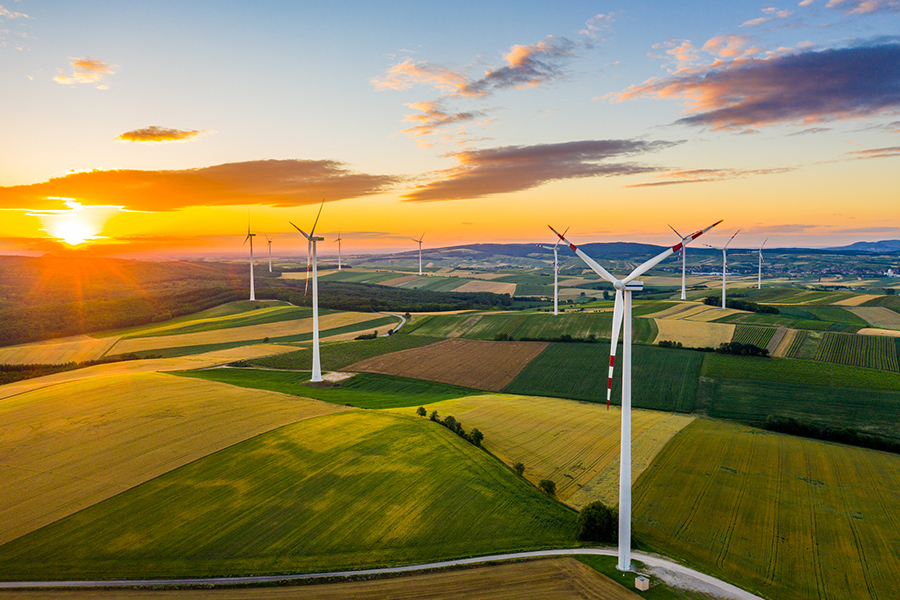 April 21, 2022
The Intelligent Future of Sustainable Business
In celebration of Earth Day on April 22, we are featuring the latest in sustainability thought leadership from our Tepper School faculty experts.
By Nicholas Z. Muller, Lester and Judith Lave Professor of Economics, Engineering, and Public Policy
At the Tepper School, we are continuously working toward a data-informed, intelligent future by preparing our students for the ever-evolving business landscape. We know that our actions today have outcomes tomorrow. One of the most important examples of this way of thinking is sustainability.
Many modern businesses operate in an environment in which customers, investors, competitors, and policymakers evaluate firm performance beyond conventional metrics. These stakeholders are becoming increasingly aware of the impact that firms have on the environment. As a result, firms must now consider and measure the implications of their operations for pollution and other dimensions of sustainability. In some cases, regulatory constraints require measurement and reporting. The recently proposed rule for carbon disclosure set forth by the Securities and Exchange Commission is an example. Some firms have made ambitious public commitments to reduce their adverse social and environmental impacts.
Business schools have been tasked with the responsibility to prepare the next generation of leaders in the private sector. Since business is moving toward a more sustainable future, business schools must now train future leaders to be well-versed in matters related to sustainability.
The Tepper School Takes Initiative
At the Tepper School, we have established interdisciplinary initiatives on current transformative topics: blockchain, health care, inclusive growth and prosperity, and sustainability. These initiatives unite researchers, students, donors, and industry to advance our understanding of important topics and reimagine how they shape business and society.
The sustainability initiative provides students with an opportunity to pursue scholarship, coursework, and career opportunities in this ever-growing field and exemplifies the Tepper School's desire to be a leader among business schools in forward-looking and forward-thinking education.
Thanks to generous funding from Tepper School alumni and the hard work of our students supported by this funding, we are now exploring various aspects of sustainability and business through research.
Together with students at the Tepper School, I have developed a novel approach to scoring firms' environmental impact covering firms on the S&P 500. This work shows that a broadly-based index covering multiple pollutants is a stronger predictor of key financial outcomes than scores based solely on carbon dioxide. Recently, I presented this new index at Harvard University and Imperial College in London.
Together with Professor of Accounting Pierre Liang, and two Tepper School graduate students, I am working to demonstrate how disclosure of environmental performance affects both firm behavior and regulator behavior. We find that simply requiring firms to report their emissions results in significant emission reductions, especially for public-traded firms. In addition, we find that voluntary disclosure increases the likelihood of subsequent regulatory actions.
All of our students need to recognize that customers, investors, and policymakers are increasingly paying attention to performance in terms of sustainability and that business fundamentals are related to these issues. That means that, as a business student, sustainability is a priority. These issues matter for real financial outcomes for firms. This new research initiative has allowed us to give some of our students the hands-on experience that will set them apart from the competition after graduation.
How You Can Support Sustainability?
There are many things that you as an individual can do to support the environment. For one, consider the effects of your choices on others. This involves thinking about where the products that you consume come from and where the wastes from consumption end up. These are the life cycle impacts of the products you use. An example is thinking about batteries in electric vehicles and where those materials come from and how they are ultimately disposed of.
Sometimes our regulatory structures adequately manage these supply chain and disposal concerns. But sometimes they don't. As consumers, we need to make informed choices if we want to continue to make progress toward a sustainable future.
And, if you're interested in evaluating the performance of firms in terms of sustainability, you can look at official data sources such as financial filings, shareholders' reports, and data from government monitoring of emissions.
Ongoing Education
For someone new to learning what sustainability means and how societies are thinking about sustainability, a good place to start would be exploring the 17 United Nations Sustainable Development Goals.
These goals, according to the website, "are an urgent call for action by all countries — developed and developing — in a global partnership. They recognize that ending poverty and other deprivations must go hand-in-hand with strategies that improve health and education, reduce inequality, and spur economic growth – all while tackling climate change and working to preserve our oceans and forests."
Another way to continue to educate yourself about sustainability is to pay attention to the information that is around you. Major media outlets like the Wall Street Journal, The New York Times, and the Financial Times consistently publish material related to sustainability and business. You can do a lot to educate yourself simply by keeping up with these outlets.
Here at the Tepper School, we are committed to a more sustainable future and we pride ourselves on being a leader in the space. Relevant research topics, to name a few, include: 
I encourage you to continue to explore ways that you can join our journey towards a more sustainable future as we celebrate Earth Day, and every day.