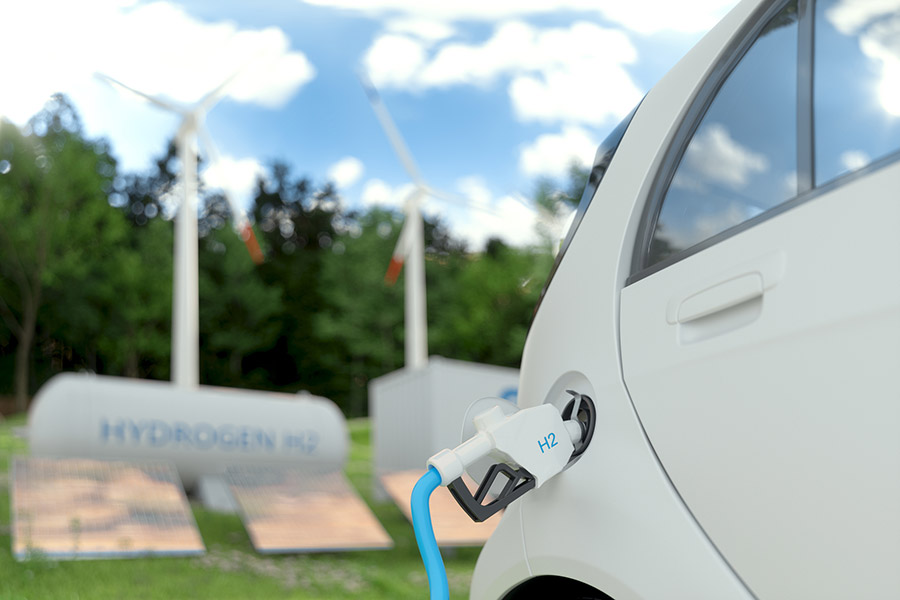 April 06, 2022
MBA Energy Business Track Students Explore Green Hydrogen with Honda
The Tepper School partners with corporations to sponsor MBA tracks that provide exposure to real-world business challenges and enable students to gain experience in applying classroom fundamentals to business problems.
The students who enroll in the MBA Energy Business track "are passionate about clean energy," stated Chris Telmer, Associate Professor of Financial Economics. This elective curriculum track allows students interested in careers in the energy space – either directly or more often, via related activities in fields from consulting and tech to financial services and project management – to gain greater expertise in the area.
Course topics include energy finance, energy policy, risk analysis, and more. Significantly, a culminating capstone experience gives the students the unique opportunity to synthesize what they've learned by tackling a real-world business issue faced by a Tepper School industry partner.
"'Capstone' is the right word," said Telmer. "The students take the skills they've learned and bring them all together to solve an integrated, comprehensive business problem. It's not just finance and accounting, it's working in teams, project management, presentation skills, writing a report, and much more."
Going Deep Examining Green Hydrogen Feasibility
This year's students were fortunate to work with Honda, creating a business model to explore the delivery of 24/7 green power to an industrial electricity user, a key issue with respect to renewable energy, as it is typically intermittent (think wind and sunshine). This consistency would be achieved through the use of hydrogen.
Honda has been involved in hydrogen technologies since the late 1980s with fuel cells and fuel cell vehicles – with the larger view that hydrogen is a key ingredient in realizing a carbon-free society. The corporation is now committed to carbon neutrality for all Honda products and activities by 2050, including broadening the range of electrified products and enabling infrastructure-linked smart power operations.
The student team – comprised of Vijay Adipudi, Zachary Blustein, John Crelli, Brian Farrell, Andrew Gollach, Sheldon Pei, Francis Smith, and Erik Steeb – worked under the guidance of the track coordinators Telmer and Jay Apt, Professor and Co-Director of the Carnegie Mellon Electricity Industry Center. Initially, the group gathered to choose a timely topic of interest, which Telmer and Apt then developed in conjunction with Honda.
"Honda has been partnering with researchers at CMU for several years," noted Duane Detwiler, Chief Engineer and Research Unit Lead for Honda Development and Manufacturing of America. "The capstone projects offer Honda direct access to highly trained, intensely motivated students who apply their skills and expertise, under faculty supervision, to explore topics of interest for us."
"Green hydrogen is probably the biggest energy topic right now," said Steeb, "and the Honda capstone allowed us to spend four months going very, very deep as well as broad on the topic."
More specifically, Honda asked the students to examine the feasibility of capturing the excess power generated by wind farms during high-wind periods and particularly at lower-priced hours. This excess power would be used to generate hydrogen through electrolysis, which could then be transported and stored, ready for later use in powering low-carbon fuel cells. A key benefit would be the ability to provide resiliency for a sustainable energy system, in this case, to provide backup power in the event of power outages. Importantly, this backup would be provided through hydrogen power, cleaner than the status-quo use of diesel generators and longer-lasting than batteries.
In developing their business model and forecasting the cash flows associated with the proposal, students analyzed complex quantitative data such as the capital required for equipment like wind turbines, electrolyzers, trucks to transport fuel, and fuel cells, while also considering potential governmental support. In addition, they examined key issues that included strategic partnerships, the ability to leverage existing pipeline networks for hydrogen transport, and supply chains.
"We help our students, most of whom have engineering backgrounds, to become businesspeople, learning to articulate a comprehensive business model," Telmer pointed out. "Cash flow is at the core but there are many qualitative considerations, such as regulation, the changing nature of customer demand, and societal attitudes toward decarbonization."
Capstone Provides Demonstrable Work Experience
In preparing their business model, the team worked regularly with Honda representatives Detwiler, Rajeev Chhajer, and Ryan Hardy. They attended frequent working sessions, periodic team meetings, all culminating with their final presentation at the project's conclusion, a day-long event held at Honda's facilities in Ohio.
Noted Detwiler, "We were extremely pleased with both the process and outcomes related to this capstone project."
To everyone's surprise, the team's conclusion to Honda's proposal was a qualified no. The reasoning: the excess wind originally assumed and the supposed opportunity presented by price swings and grid curtailment was small in reality, unable to offset capital costs and inefficiencies.
"It wasn't cost-effective in its current state," Telmer explained. "However, the hydrogen economy is still growing. Demand is increasing for low carbon, sustainable energy and there will be greater scale economies in production, transportation, etc. It may be feasible in the future."
"Technologies do improve and it's very much a non-linear process," Steeb concurred.
"The student team produced several valuable new insights for us to consider for future exploration," Detwiler stated. "Equally valuable for us they were able to determine that an existing hypothesis we had developed was not worth additional investment to pursue."
Added Telmer, "You can't have experiential education without partners like Honda who provide the experience. Our sponsors play very valuable teaching roles, as well as mentoring roles. They have a great deal of experience in clean tech and are very receptive to advising and mentoring our students."
Moreover, many of the students have specific and passionate career goals related to clean energy and the projects allow them to more easily enter their fields of choice with demonstrable work experience.
"The world is going through an energy transition and that just provides enormous business opportunities," stressed Telmer. "It's very important for a business school like Tepper to reflect this increasingly large part of the economy with a strong and growing energy footprint."
Steeb, in fact, came to Carnegie Mellon and the Tepper School primarily for its Energy Business curriculum.
"It was the big draw for me, said Steeb. "Tepper has been the most clearly focused on the renewable space and the energy transition. As Professor Telmer puts it, 'It's one of the only industries that is going to look completely different in 2050 than it did in 2000' and all of that change is happening for a clear and specific purpose."
He credits the Tepper School and the Energy Business track with helping him to achieve his goal. "The curriculum gave me firm grounding and direction as to where I want to be in this area."