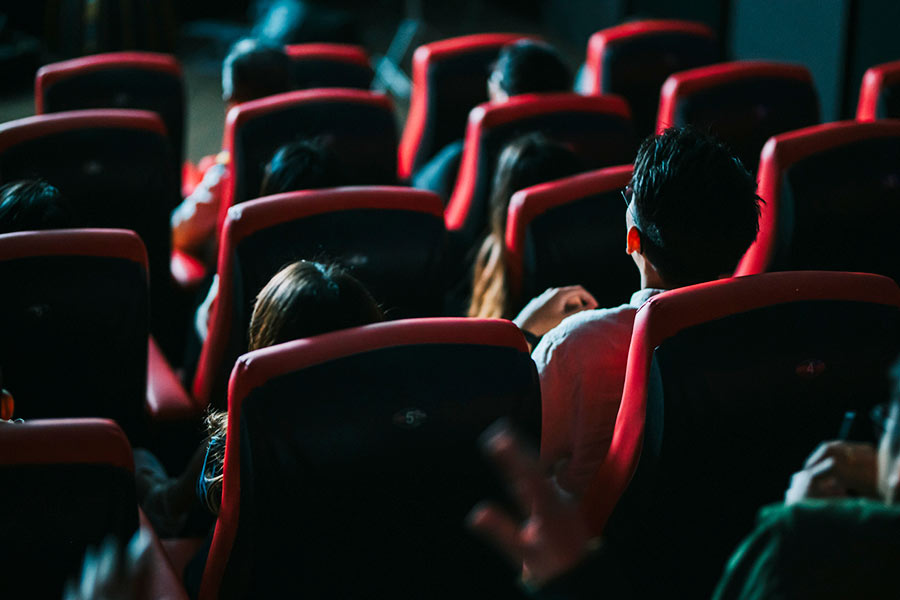 April 05, 2022
Box Office Blues: Economics Students Tackle Impact of COVID-19 on Movie Theaters
Students partnered with the National Association of Movie Theaters for their senior project capstone course to put their classroom foundations to the test in an experiential learning, real-world application.
Movie theaters, en masse, were one of the first global businesses to be impacted by the coronavirus pandemic, and as COVID-19 continues to evolve and impact society, theaters also are one of the businesses that, collectively, have yet to recover.
Prior to COVID-19, the movie business was big business. But with ongoing safety concerns from the general public and a changing model of how and when movies are released by production companies, the future path to success for movie theaters is unclear. Combined with changing viewer demographics, oversaturation, and the rise of on-demand alternatives, such as day-of-release streaming services, theaters have a challenge in recouping lost business while repositioning for future success.
Through a sponsored senior project capstone course, Tepper School Undergraduate Economics students endeavored to solve this timely and ongoing challenge.
The Intelligent Future: Using Data to Inform Decisions
The National Association of Movie Theaters (NATO), a trade group representing the interests of movie theaters, sponsored the senior project course. NATO provided data that captured the current movie-going experience, as well as how it evolved during the pandemic. Students then broke into groups, and using the data provided, were able to analyze and pitch initial research topics for further exploration. 
Zeroing in on the ultimate focus was the first opportunity for innovative thinking.
"Our first challenge was narrowing down to a single problem. I was lucky to be in a team that brainstormed brilliant ideas," said Georgios (George) Vlastarakis, a senior economics major with concentrations in strategy and markets, and global markets and finance. 
"Two ideas intrigued us the most: one which involved the possible effects of streaming services and online releases on box office performance of films, and another which explored the relationship between diversity in movie casts and film profits."
However, due to limited data availability, the students had to commit to only one of their ideas to continue their data analysis.
"One of the most important learning experiences for the students during this senior project was realizing that it is really hard to get good data and that the data collection methods from clients may not be the most amenable to economic analysis," said Serra Boranbay Akan, Assistant Teaching Professor of Economics, who led the course.
The students continued to refine their research topics by working closely with NATO to align the data they had to NATO's long-term goals. In doing so, the student groups narrowed down the focus to three timely research topics:
How diversity in movies affects movie profitability.

How the length of release windows impacts movie profitability.

Post-pandemic, what opportunities movie theater owners have to increase viewership based on demographic trends and geographic information.
Student groups then prepared surveys to enhance their depth of data on the above topics. Surveys were distributed by NATO to both movie-goers and movie theater chains. Quantitative questions regarding demographics, such as age, gender, and race, were asked, as well as more qualitative inquiries meant to assess the acceptance of risk of COVID-19 exposure in a theater setting and overall film preferences within these demographics.
The students used these survey results to create data models in which to extrapolate trends and possible impacts on profitability for theaters. The results then informed the students' final marketing strategy presentations, which were presented directly to NATO.
From Classroom to Consultancy: Students Apply Principles to Client Relationships
"By giving the students the opportunity to work directly with a client in a consulting role, they have more options for how to do the research, collect data, change the methodology, and rephrase questions, in order to best serve their goals," said Akan.
The foundations taught in the classroom paved the way for these successful interactions.
"Translating classroom insights into something that is actionable with a client is part of the learning process," said Laurence Ales, Associate Professor of Economics. "The students have to learn to transform data into action items, and in consulting with clients, they are able to see a glimpse of what a real consulting job will look like."
This application of research and experiential learning opportunities in a classroom setting is a crucial step for preparing students for their careers post-commencement. 
"The students simulated a real working environment with a client, while collaborating in teams and within a larger group. It's a double-laying of learning for them," said Akan. "It's also a testament to the need for good economists and data scientists in every sector."
"I really enjoyed working with the students on the project," said Phil Contrino, Director of Media and Research at the National Association of Theater Owners. "The insights they brought to the project helped me look at our industry in different ways and it will infuse a lot of the work I do going forward."
Data-Defined Results: Making Impact on Real-World Business Problems
Several recommendations that the students made during their final presentations are already being put to use by NATO, and the organization will continue to develop new strategic direction based on the students' findings as they reassess the movie theater experience now, and in a post-pandemic world.
"These kinds of experiences show that the students are not only good at taking exams and doing their homework but that they can take their work and learn how to use it outside of the classroom," said Ales. 
"Convincing the students of the applicability and empowering them to share what they've learned is crucial for their long-term success. It is key to our overarching vision within the school and the department to say, experiential learning occurs here."
For Vlastarakis, this was one of the most rewarding takeaways. 
"One of the most exciting elements was trying to align different aspects of our approach to the scope of the analysis in conversations with our assigned representative. It became, at times, tricky and was a new dimension unlike what we had faced in prior academic projects," he said. 
"This new dimension seems like what can be expected when stepping into a higher-level academic engagement or industry problem-solving environment. We definitely had, as a team, and as individuals, the opportunity to develop the tools for moving ahead. This opportunity was great for enhancing our level of confidence. We have, at the end of this project, reached a checkpoint, where the next stage feels more like a step forward rather than a giant leap."