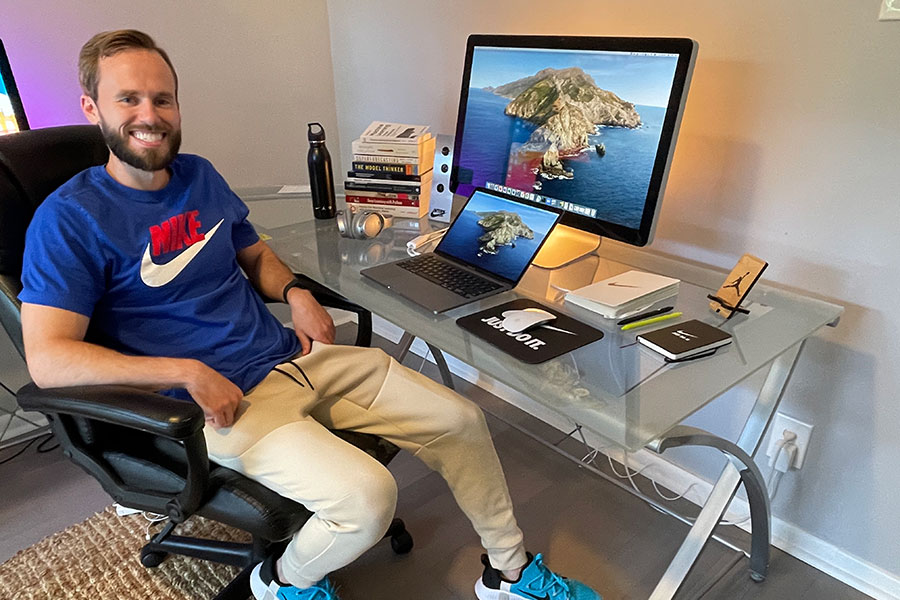 September 16, 2021
Student Spotlight: Jon Holman (MBA 2022)
Last summer, second-year MBA student, Jon Holman, took on a dream internship at Nike that met his desire to gain experience in technical data science and machine learning, among other areas.
Despite being remote, Holman had a stand-out experience with the company and felt a strong connection with his manager and colleagues. Jon took full advantage of the learning opportunity at Nike and values the real-world experience he gained during the internship.
We caught up with Jon after he returned to the Tepper School this fall to find out how his internship went and where he hopes the future will take him next.
What led you to be interested in this internship?
First off, the Nike brand has always been in my life. I've always been a huge fan of their products and storytelling in addition to sports in general. Naturally, I was drawn to the company. Furthermore, I've had a burning passion to work at the intersection of analytics, machine learning, corporate strategy, and consumer behavior. Nike offered an internship role that seemed like a great fit for me.
How did you learn about the internship?
When I started to consider grad school, I saw that Nike hired a lot of MBA graduates and heard high praise about their graduate internship program experience. When my first semester began last year, I monitored the company website for internship postings.
What made the internship right for you?
I had a very niche vision for my ideal internship. I really wanted to find a hybrid role that required hands-on technical data science/machine learning skills not typically associated with MBA programs but also required the big picture strategic thinking and executive story-telling skills that are typically associated with MBA programs. I wanted to get my hands dirty with advanced analytics and work with data scientists but also translate insights into recommended strategies for non-technical executive decision-makers. It was challenging to find such a role. Amazingly, Nike provided this opportunity!
How did your courses at Tepper prepare you for this internship?
The Tepper courses really helped ground me in strategy while adding an analytics lens to everything. Tepper emphasizes how to use analytics to make better decisions, which is critical. This helped me tell strategic stories rooted in analytics as well as research. I found Management Presentations quite helpful as well since Nike tremendously values storytelling.
Additionally, I think what really separates Tepper from the other business schools I considered was the openness to taking non-Tepper courses as electives. I really wanted to soak up as much technical knowledge from the Carnegie Mellon ecosystem as possible, especially with AI/ML. Fortunately, coming in with a CPA, I was exempt from some required courses which added more room in my schedule. Some of these courses included Applied Machine Learning, Data Science for Product Managers, and Software Engineering for AI-Enabled Systems.
Working with non-MBA students helped me navigate Nike quite well as I needed to collaborate with both data scientists as well as corporate strategists.
What was your favorite thing about your internship?
My favorite aspect was my manager and the design of the project. The project was carefully crafted to focus on an area where I could potentially add significant value but also extremely ambiguous and open-ended at the same time. There wasn't much direction on how to tackle it but that was intentional by design, which I appreciated. I prefer this type of challenge.
My manager was also great to work with. He encouraged me to pursue innovative ideas that questioned the status quo. He provided a great balance of mentorship and creative freedom with the direction I took with the project, which I believe is critical to corporate innovation. As far as least favorite things, honestly, nothing comes to mind. It was a 10/10 experience!
Did you have to switch locations for the summer?
No, the internship was remote. With that being said, I still felt quite connected to the Nike culture and thoroughly enjoyed my experience this summer. I found it very welcoming.
What are your future plans? Would you be interested in continuing to work at Nike or in the commercial analytics field?
I would certainly be interested in continuing to work at Nike. Retail is going through so many disruptions, which have been significantly accelerated by the pandemic. It's quite exciting to be at the forefront of this change, driven by shifting consumer expectations and behavior as well as digital technology and predictive analytics.
Anything else you'd like readers to know?
Overall, I'd say that I was really impressed by the resources and planning that go into Nike's internship program. All projects I came across were clearly designed to solve pressing business problems and gave interns an opportunity to question company and strategic norms.
Furthermore, from a social perspective, so much effort was made to connect interns and employees throughout the remote 10-week experience which was greatly appreciated.