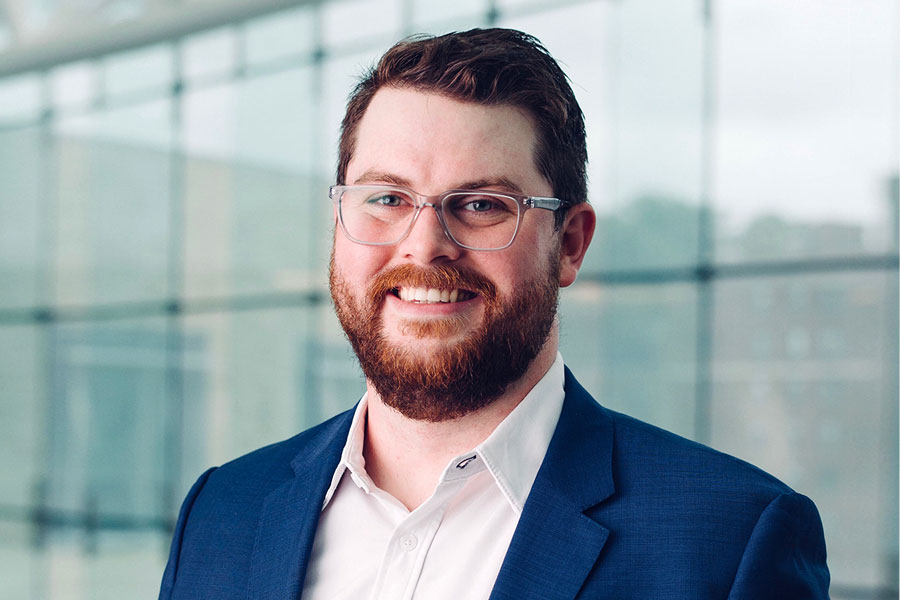 November 03, 2021
A Conversation With MBA Student Jake Carlson
After a summer internship at Search Fund Accelerator and Iris Solutions, Jake Carlson is back at Tepper to complete his MBA. Once Carlson learned about Entrepreneurship Through Acquisition (ETA), he knew he found a path that would suit him for a future career. He learned about Search Fund Accelerator through a combination of a guest lecture and Tepper alumni, and he didn't hesitate to take the opportunity for an internship.
We caught up with him to hear about how his internship went, where he hopes to go next, and how he plans to achieve his future goals.
What led you to be interested in this internship?
When I was considering attending business school, I heard of a growing trend where recent MBA graduates were foregoing the typical corporate path to buy and lead small businesses after graduation. The concept of becoming an entrepreneur but skipping the incubation phase sounded interesting and more suited to my prior experience in finance and operations. During Basecamp an alumni guest speaker spoke about the successful search fund he had raised and used to acquire a small software business, and I couldn't believe I hadn't heard of this concept of Entrepreneurship Through Acquisition (ETA) before.
How did you learn about the internship?
I decided to take the ETA Strategy and Workshop courses in Mini 1 and 2, and the amazing faculty, mentors, and network of searchers (those who have raised capital to search for and acquire a business) convinced me to seriously consider interning with Search Fund Accelerator. I was able to get to know SFA when Tim Bovard (CEO of SFA) was a guest speaker in class. He made time to meet with students one-on-one for coffee chats. I also learned more by speaking to an alumnus currently searching with SFA, Refael Klein (MBA 2020).
What made the internship right for you?
The SFA internship was unique in the ETA model in that interns work in an SFA portfolio company, hand-in-hand with the CEO and their management teams for 10 weeks. I had another very generous offer, but after speaking with mentors and building a close relationship with Reggie Stevens, CEO of IRIS Solutions, I knew this was a risk-free opportunity to see if this was a career I wanted to pursue for the rest of my life.
Could you tell us about SFA, IRIS Solutions, and their business model?
SFA hires searcher-CEOs to search for, acquire a great small business, and become the CEO. As an SFA searcher-CEO, you join a cohort of five entrepreneurs and a team of experts in acquisitions and operations to help you find the right business to buy, all while making a competitive salary. After acquiring and assuming the leadership role at your business, you, as the CEO, can earn a substantial equity stake in the business while getting paid a great compensation package. For those entrepreneurs who are phenomenal operators, this is an incredible opportunity where you don't necessarily have to put your own capital at risk.
IRIS Solutions, the SFA portfolio company that I interned at, is an IT managed services provider. IRIS helps clients in the health care industry leverage best-in-class technologies like cloud computing and unified communications and keeps client networks secure through 24/7 cyber security services.
"I highly encourage prospective MBA students to use their internship to take a risk. In ten weeks, I discovered that with hard work, a network, and the humble confidence to ask for help, I have what it takes to be a leader and entrepreneur."
Jake Carlson, Tepper MBA student
How did your courses at the Tepper School prepare you for this internship?
The Entrepreneurship curriculum at Tepper truly is second to none. We have one of the more advanced and structured Entrepreneurship Through Acquisition course programs in the country, and our instructor, Len Caric, is an incredible supporter and mentor for Tepper students. After taking Len's courses, I felt comfortable speaking to most topics related to searching for and operating a small business. I also leveraged concepts taught through other courses like Professor Sunkee Lee's Corporate Strategy course and Craig Markovitz's Lean Entrepreneurship course.
What was your favorite/least favorite thing about your internship?
During my internship, I was able to work with a small team of cloud engineers to launch a new open-source product on AWS, the first of its kind in the industry to be cloud-based. Working alongside the engineers to help them achieve a major milestone was gratifying and learning how large of an impact that had at a small business was eye-opening. I also couldn't have asked for a better mentor in Reggie Stevens, IRIS's CEO who took a sincere interest in helping me grow as an entrepreneur, take smart risks, and teach me what it's like to be the leader of an organization.
The most challenging part of the internship was building relationships with my colleagues in a hybrid work environment (in place due to COVID-19). Remote work can be great, but it's difficult to get to know your colleagues and design innovative solutions when it's still new to many people.
Did you have to switch locations for the summer? If yes, what was it like moving to a new place/environment?
It's hard to learn how to be a CEO without doing it in person, so I moved to IRIS's location in Charlotte, North Carolina for the summer. I was lucky in that my time in Charlotte coincided with the retreat of COVID-19 cases, right before the Delta variant began to rise. I love learning about new places, and I had some mutual friends in Charlotte that I built stronger relationships with. The only tough part about moving to Charlotte was being apart from my wife in Chicago, who was studying in her own master's program and missing another Chicago summer. There's nothing like a Chicago summer!
What are your future plans? Would you be interested in searching or working in a small business?
I learned that I am capable of owning and operating a small business, and I am planning to search a little later in my career. For now, I am planning to enter the technology industry again, this time from the industry side instead of consulting, and I'm working towards becoming a commercial leader in business development or strategy. Eventually, I'd like to use my experience in these areas to either run my own business, either through search or as an early-team member in high-tech startups.
Anything else you'd like readers to know?
I highly encourage prospective MBA students to use their internship to take a risk. In ten weeks, I discovered that with hard work, a network, and the humble confidence to ask for help, I have what it takes to be a leader and entrepreneur.
Ask yourself: what is the job you are the most interested in that your MBA experience is giving you access to? It's only twelve weeks (paid, mind you!) to find out if this is the career you would be happy pursuing for the rest of your life. And if it doesn't work out, it's not final. You owe it to yourself to honor the investment you are making in your education and career to have no regrets.