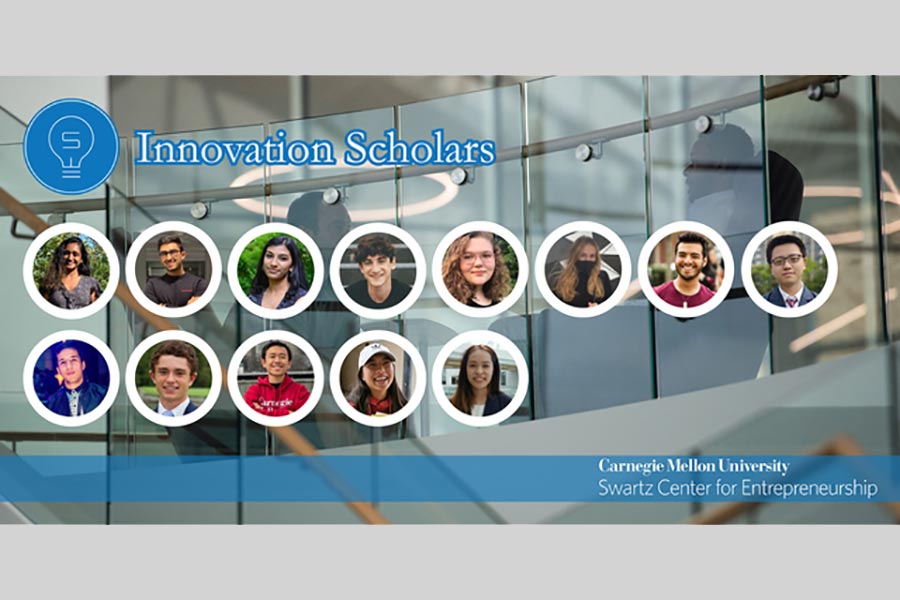 May 05, 2021
Innovation Scholars Named by the Swartz Center for Entrepreneurship
Three Tepper School students were named to the list of 2021-2023 Innovation Scholars. Each year, the Swartz Center for Entrepreneurship accepts applications from undergraduate students across Carnegie Mellon to be part of the Innovation Scholars Program.
The program was created to foster innovation and entrepreneurship and seeks to increase the number of successful startup companies initiated by or involving Carnegie Mellon University's undergraduate students. Selected scholars participate in a two-year program that integrates academic coursework, experience working in a startup, networking, and mentorship. The undergraduate Innovation Scholars Program was created through an endowment from the McCune Foundation in 2013.
Benefits of participating in the program include a $6,000 stipend for 12 weeks of summer work on the students' own startup, a $1,200 grant to explore startup companies during a Silicon Valley Trek, special invitations to events, Spark Grants for specific projects, and community building with current and alumni Innovation Scholars.
This year, Alex Garcia, John Winters, and Ishgun Singh Arora, all students of the Tepper School, were selected to be part of the 2023 cohort.
Ishgun Singh Arora is studying business analytics and technology, finance, statistics, and machine learning at Carnegie Mellon. He is extremely passionate about blockchain's role in providing a foundation for a new generation of transactions that establish trust and transparency in businesses. He is particularly fascinated by the untapped education market in developing countries. Following his interests, Ishgun co-founded NextGenTutors last year, a new-age business that utilizes e-learning tools to digitize India's economically unorganized high school tuition market. Ishgun is extremely excited to join the Innovation Scholars cohort of 2023 and is looking forward to connecting with past, current, and future innovation scholars.
John (Jack) Winters is an entrepreneur pursuing a bachelor's degree in business administration with a data analytics concentration. Jack is passionate about exploring emerging technologies, specifically AI and augmented reality, virtual reality, and mixed reality, and their positive impact on society. Jack currently works at PostReality, an augmented reality company revolutionizing information delivery and educational presenting. He is also pursuing a new venture with fellow Carnegie Mellon students leveraging AI and American Sign Language. Jack aspires to grow as an entrepreneur, learning from others' experiences and bonding with all the Innovation Scholar cohorts and the greater CMU entrepreneurial community.
Alex Garcia is founder and CEO of AGIS Media. He helps scale direct-to-consumer brands around the world using leading digital marketing strategies. Alex is a rising junior at Carnegie Mellon, pursuing a business major and an entrepreneurship minor. In the future, Alex hopes to be one of the leaders in the digital marketing industry and eventually found his own venture capital firm/studio.

Read more about the new Innovation Scholars cohort on the Swartz Center site.