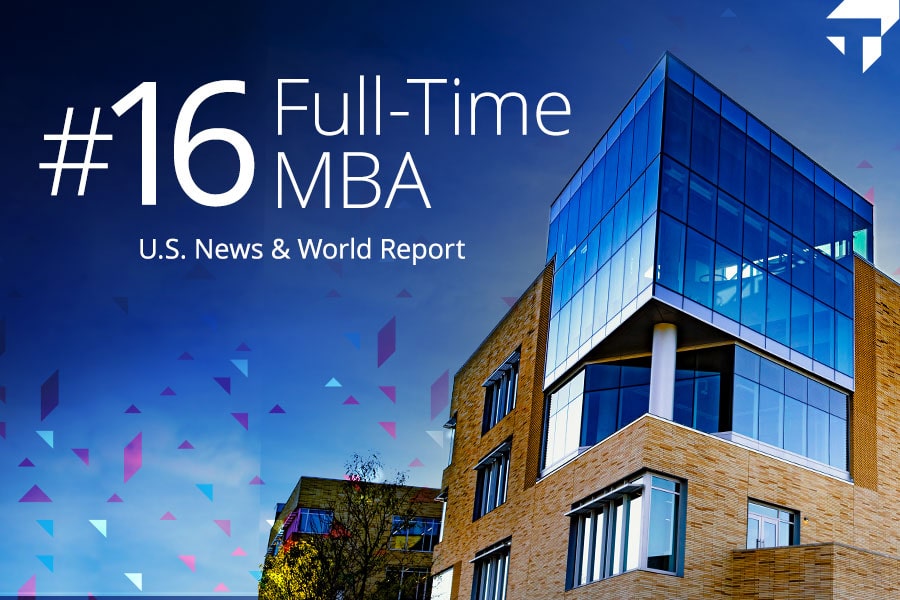 March 29, 2021
Tepper School MBA Programs Jump Ahead in U.S. News & World Report 2022 Ranking
The full-time MBA now ranks #16 and the part-time MBA #7.
The Tepper School of Business Full-Time MBA program ranked #16 in the 2022 U.S. News & World Report list of Best Business Schools, up three spots from #19 last year. 
"Given the current climate, we have shown our commitment to overcoming obstacles and continuing our mission to provide a quality education to our students. These rankings are a powerful endorsement of the hard work and dedication of our program's faculty, staff, and students," said Isabelle Bajeux-Besnainou, Dean of the Tepper School.

For this year's Best Business School ranking, the scoring included 40% for quality assessment based on a peer assessment score and recruiter assessment score, 35% for placement success tied to mean starting salary and employment rates for graduates, and 25% for selectivity as measured by mean GMAT and GRE scores, mean undergraduate GPA, and acceptance rate for the class entering in fall 2019.
U.S. News & World Report also publishes rankings of specialty subcategories, and the Tepper School ranked as follows:
#1 in Information Systems (#2 last year)
#2 in Business Analytics (no change from last year)
#2 in Production/Operations (no change from last year)
#6 in Supply Chain (#7 last year)
In January 2021, the U.S. News & World Report ranking of Best Online MBAs listed the Tepper School as the #1 Online MBA program in the U.S. (tied with the University of North Carolina at Chapel Hill). In 2020, the University of North Carolina at Chapel Hill and the Indiana University Kelley School of Business were tied for #1; the Tepper School was #3.
For more details about the full ranking and its methodology, please visit usnews.com/grad.
About the Tepper School of Business
The Tepper School thrives at the heart of Carnegie Mellon University and is guided by a mission to transform the business world by educating future leaders and innovators to excel at the intersection of business, technology, and analytics.
The Tepper School is ranked among the world's top business schools by leading international business publications for its delivery of advanced analytics training and the latest in leadership development. To meet the complex challenges of tomorrow's world, we offer a STEM-certified MBA program in three formats: full-time, part-time and online.
Additional programs include master's degrees in Product Management, Business Analytics, and Computational Finance; undergraduate degrees in business administration and economics; a doctorate program for Ph.D. candidates; and Executive Education programs.
The Tepper School presents opportunities to collaborate with the brightest minds in business, robotics, AI, design, and the arts, on campus and around the world.