March 18, 2021
Students Carve Out Creative Recommendations for Companies and Nonprofits in Innovative Capstone Course
Etched into a majestic northern corner of the Rocky Mountains, Whitefish, Montana, is noted for its unspoiled nature, mountain resorts, and a spectacular glacier-carved lake. It's also an expanding and sprawling community, covering over 100 square miles despite a population of less than 10,000 people. This means that roughly 1,400 structures—mostly private residences—are located more than five miles away from a fire station. And with the recent wildfires, that's become a growing problem.
Capstone Projects With Positive Social Impact
"Being located near a fire station not only offers better response time but can also provide a more favorable property insurance rate," explained Whitefish Fire Chief Joe Page. "During an emergency, the timely arrival of properly trained and equipped first responders improves the chances of a more favorable outcome."
Most insurance companies define adequate fire protection as being located within five miles of a fire station. Residents who live beyond this demarcation either find themselves with exceedingly high premiums or no coverage at all.
This is where the Tepper School of Business comes in. In 2007, Joe Raudabaugh launched the Kearney Student Lab, which includes the capstone course Strategic Management of the Enterprise. The course is taught by Sunder Kekre, Vasantro Dempo Professor of Operations Management, and challenges student teams to work with clients on a wide array of problems spanning strategy, operations, technology, and marketing. Recent projects involved two nonprofits: Whitefish Fire District and Reading Power.
According to Kekre, "These project engagements were unique since the teams got to work closely with these two nonprofits and created positive social impact. Participating in town hall meetings in Whitefish and sharing with the community their technical analysis of the costs and benefits was an experience the students shall never forget."
In the other project with Reading Power, the team had to immerse themselves with the tutor volunteers and observe firsthand the challenges of online learning education in underserved communities in Chicago.
Kekre views such experiential learning as a win-win for all involved in the capstone. The students saw first-hand the impact of their recommendations while the managers got a fresh perspective on the problems they were facing.
Increasing Fire Protection Through Fact-Based, Data-Driven Solutions
"I think this project is a fantastic framework," said Jaece Stokes, a 2021 Master of Information Systems Management Candidate at the Heinz College of Information Systems and Public Policy, who led the team of five students for the Whitefish project. Along with Stokes, the team included Heinz student Rakshanda Rajput (Master in Information System) and Tepper School second-year MBA students Richie Ibsen, Jay Park, and Julia Penkal, as well as coaches from Kearney and relevant parties from Whitefish.
They first employed a public data source to identify opportunities to build additional fire stations and then conducted a survey and used insurance brokerage data to establish what factors were determining insurance premiums. Finally, they calculated the economic effects and estimated insurance premium savings, cost implications, and location feasibility before providing a suggestion that maximized area coverage while making economic sense.
"[Our solution] outlines several different pathways to success, all supported by data," said Stokes. "It could be used directly, illustrating the economic viability of any area impacted by adding a station in the vicinity, or it could be used indirectly as supporting evidence to other communities seeking similar solutions. It provides options and adaptability for a community to come to a solution that best fits their situation."
Chief Page initially had slight reservations that the students could manage the bureaucratic entanglements that such a project would entail. "I was a little worried because of the somewhat dysfunctional political atmosphere surrounding fire protection in the Whitefish area," he said, though those concerns were put to rest almost immediately.
"The students did a great job avoiding the political landmines and provided us a fact-based, data-driven solution exceeding my expectations. I only hope I can do them justice and see this project through to completion."
The experiential course offered students a hands-on opportunity to learn how to handle ambiguity, perform a persuasive analysis, and understand how organizations deploy technologies and existing structures and processes to leverage synergies across a range of disciplines.
"I was very impressed with the students' ability to quickly grasp our issues," said Chief Page. "This was demonstrated during their first public presentation where they were able to field questions from the general public."
Beyond gleaning insights into the inner workings of an emergency service provider in a rural community, Stokes was especially taken by what the course revealed about group dynamics. "If there were five of me on that team, it would have been a disaster," Stokes said.
"It's essential to have a diverse team with an eclectic array of skills and abilities. The push and pull of dynamic groups drive breakthrough ideas, which could be the idea that ties it all together. The Heinz/Tepper/Kearney combination is something special, and I was honestly surprised how well every piece melded together to create one unique course."
COVID-19 Accelerates Online Learning at Reading Power
An Illinois-based nonprofit called Reading Power was also among the course sponsors. This organization, lead by professional educators and powered by volunteers, provides one-to-one, individualized literacy tutoring to students in underserved elementary schools in Lake County, a populous region just north of Chicago.
Going into 2020, the work was already substantial. More than 4,000 students have benefited from the program since 2003, but the COVID-19 pandemic and its swift and devastating disruption to education only accelerated Reading Power's mission.
Observing activities at Reading Power provided firsthand learning experiences of challenges of on-line learning in underserved communities at Reading Power.
"The students we serve were already behind in literacy achievement, and new research suggests that average loss among all students due to COVID-19 school closures is seven months to a year for minority and low-income students," said Kathy McFarland, Chairman and CEO of Reading Power. "Without our one-to-one tutoring efforts, our students risk never achieving grade-level proficiency."
However, COVID-19 restrictions also created an obstacle for in-person tutoring sessions. Like many others, the nonprofit had to quickly transition to remote learning and volunteer training despite limited resources to facilitate doing so.
"As a small nonprofit, we had never contemplated undertaking a project like this until we were offered the opportunity by Joe Raudabaugh," said McFarland. "Our original thoughts were that we were too small and overburdened with work to even manage a case study. However, the need was so great we felt we must move forward."
And move forward they did. Once assigned, the team of students, including second-year MBA students Noreen Fischer, Eleanore Marsh, Katie Li, and Eliana Rabinowitz, along with Heinz student Han Jiang (Masters in Information Systems Management), quickly set out to develop a virtual model.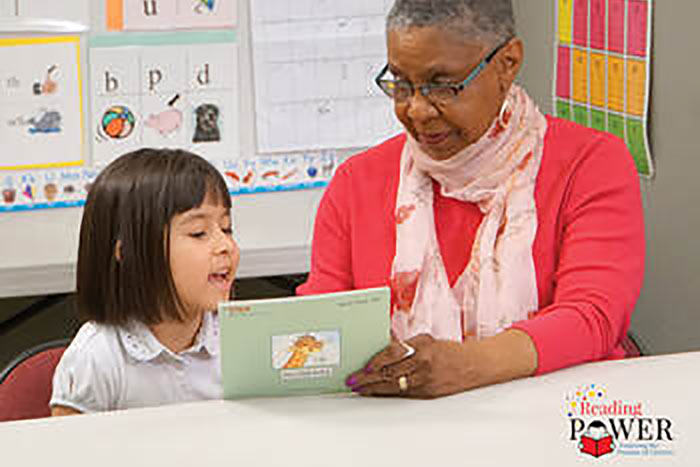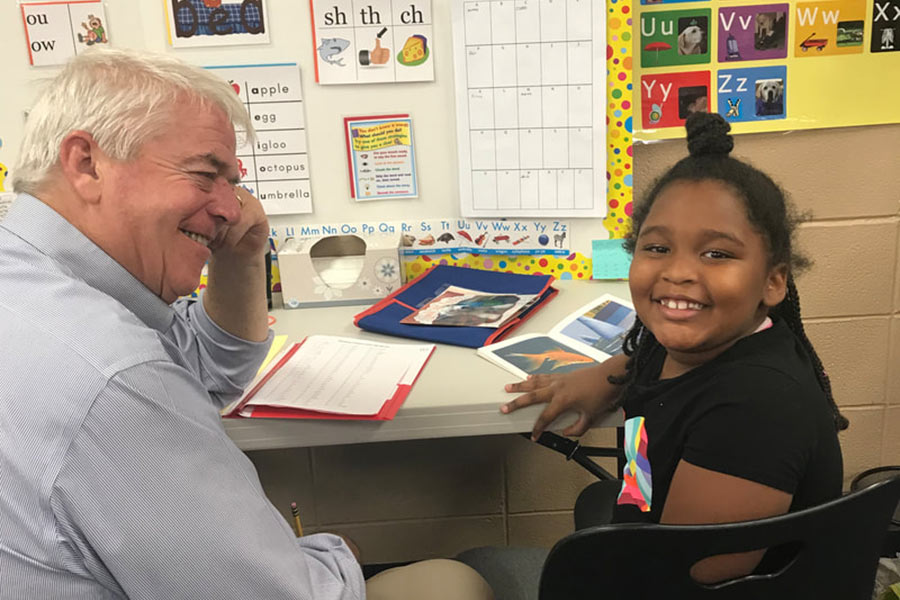 "The nature of this particular project allowed for timely and efficient collaboration with the decision-makers behind Reading Power," said Fischer, who led the project. "The solutions that we discussed during weekly meetings were able to be implemented and tested the following week. Not all projects are able to say that."
The student team took a systematic approach to their recommendations, incorporating a standardized learning kit for training tutors, a digitized documentation method to improve accuracy, automated cataloging, and an interactive online library complete with digital stickers for the young students. The outcome not only enables Reading Power to effectively reach struggling readers during the pandemic but to grow and expand its mission.
"Without this case, our virtual program might not have been sustainable and most certainly would have been difficult to offer to even the same number of students that we had during in-person tutoring," said McFarland. "The project work exceeded our expectations in a way that we could never have imagined."
For the students it was a novel project experience. "I am grateful that I not only got an opportunity to contribute to such a good cause during my MBA journey, but it also felt great to see our solutions put to use almost immediately," said Li. "Since our client didn't have to go through complex procedures to implement changes, once our recommendations got their approval, we saw the impact and received feedback immediately. It was great to feel that we were really making a difference so quickly."
Fischer agreed. "We know there are many organizations that are doing good for our society that would greatly appreciate Carnegie Mellon's forward-thinking. It is important that we students never lose sight of being able to use the gifts we have been given to pay it forward to other organizations."
McFarland pointed out that students can further benefit from connecting with nonprofits via their boards. "Many board members have connections to corporations, which could help the students with networking," she said.
After attending the final project presentation for Reading Power, Dean Isabelle Bajeux commented, "I am delighted to see the effort and passion of our students and am pleased with the enthusiasm of the sponsors at Reading Power. The Tepper School is committed to training the next generation of managers to harness technology, innovative processes, and management practices to benefit society at large."
"Partnerships like this with Kearney help us immensely with our educational mission at the Tepper School," she added.