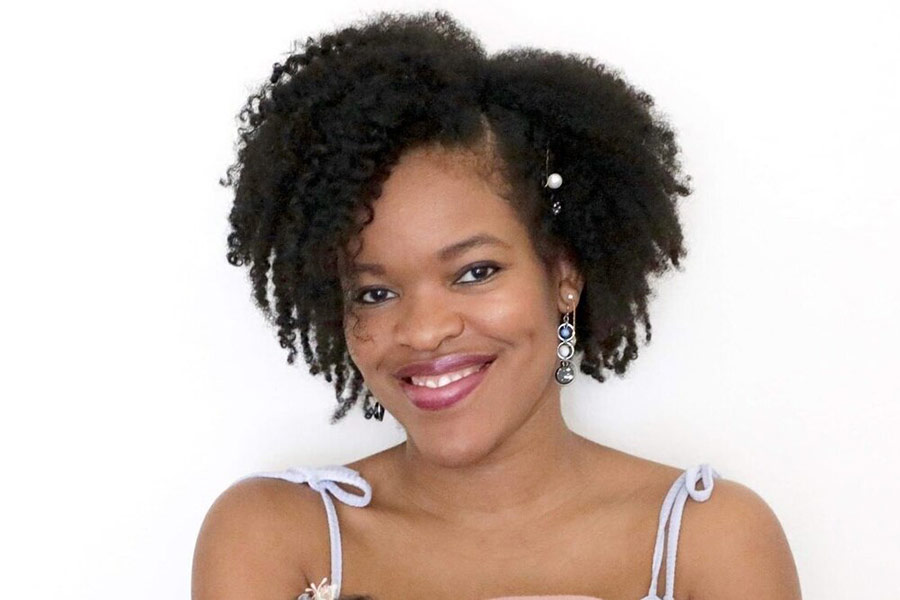 February 09, 2021
Alumni Spotlight: Markita Staples-Green (MBA 2007), Author and Illustrator of Curly Crew Books
We're catching up with Tepper School alumna Markita Staples-Green. After earning her MBA in 2007, Staples-Green went on to work at a variety of companies in procurement, consulting, and operations.
Looking for a change in direction and noting a lack of diversity in children's literature, Staples-Green got to work and published her first book during maternity leave in 2019. This was the beginning of Curly Crew Books.
She is passionate about helping babies and young children identify with diverse characters and discover the joy of reading from a young age. She kindly took the time to share her journey from MBA student to children's book author.
Tell us more about yourself.
I'm originally from the west side of Detroit. I grew up heavily surrounded by the auto industry, as so many of the adults in my life worked at the big three plants. This world of manufacturing and automotives was familiar and had so much opportunity, so I decided to study supply chain management in undergrad.
When I graduated, I got a job at Ford Motor Company in procurement. During that time, I became interested in strengthening my general business and supply chain knowledge and decided to pursue an MBA.
What brought you to the Tepper School?
I was a Consortium Fellow. My manager at Ford introduced me to the program. I really hadn't thought about applying to schools outside of Michigan, but when I learned about the Tepper School, I was really attracted to the small class size and intimate setting.
Plus, I was interested in supply chain and the combination of business and engineering, as I love understanding how things work. It was a great program in general and had one of the top programs for supply chain management. The Tepper School was the perfect fit.
Tell us about your journey to become a children's book author and illustrator.
After graduating from the Tepper School, I returned to the Midwest and worked at Deloitte, in the strategy and operations group. I then continued with a career that combined consulting and procurement work for several years, eventually working at Blue Cross Blue Shield of Illinois and United Airlines.
I met my husband in Chicago and we decided to move to Silicon Valley, where I was offered a role at Adobe in procurement.
It was very exciting to be in the tech space but not in my particular job function in procurement. So, I switched to the Creative Cloud group in product marketing. I was responsible for coordinating product managers and marketing teams to facilitate major marketing campaigns. The job was very rewarding but also very demanding.
In 2017, I became pregnant with our first daughter. Luckily, Adobe has a super generous maternity leave – six months. After my daughter was born and I returned to work, I found it very challenging to keep up with the pace of the demanding work. It was more challenging now because if I had to work late, it required a whole coordination of nannies and juggling schedules. In 2019, we had our second daughter, and I knew I was ready for a change.
When my older daughter was one, she loved books that had little black girls as the main characters, but there weren't very many of them out there.
Working at Adobe, our customers are all creative, and I was surrounded by a creative community. I happened to be a part of the team working on the software Adobe Fresco that authors use for illustration and was inspired to become an author myself. I decided to learn how to use the product through demos.
I got an Apple Pencil and started sketching. During maternity leave for my second daughter in 2019, I published my first book.
How did your time at the Tepper School influence your leadership today?
It's not the most obvious thing – an MBA that transforms into an author and illustrator! However, I am finding that the business side of the creative business is just as important as the artistic side. Once I complete a project, I have to be able to define and execute a strong marketing plan. I make operational decisions around book logistics and inventory. My knowledge of financial projections is pivotal to my business having longevity.
Because of my MBA, I know my numbers. I can look at a spreadsheet and know where I stand. I sell my books on Amazon. And I use Amazon Ads, which gives me access to tons of data. I know how to manipulate the data from the dashboard. I bid on keywords. And run the analytics.
So many authors shy away from the data on Amazon, but it's the easiest part of driving sales, and I actually find it kind of fun.
I not only know how these things work, but I'm super comfortable wearing all of these hats. And anytime I don't have a good answer for something, there's a close Tepper School buddy just a phone call away!
What is your advice to future MBAs?
The field is wide open and ripe for you to do what you are driven to do. Don't be afraid of it. MBAs get wrapped up into a path. Follow that path and chase those opportunities, but don't be afraid to pursue your own passion.