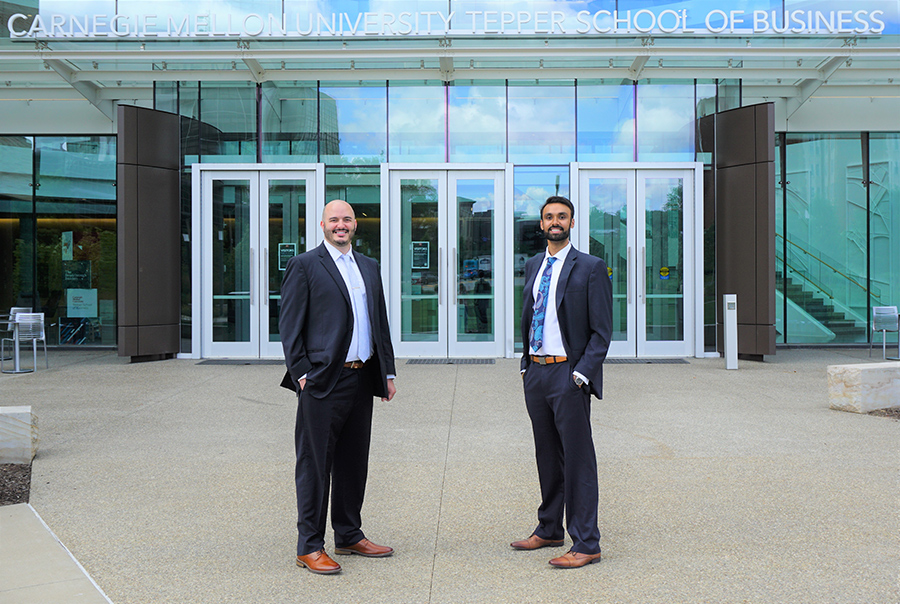 August 11, 2021
Alumni Spotlight: Brian Lash and Yogin Shroff
Brian Lash (MBA 2017) and Yogin Shroff (MBA 2016) met at the Tepper School of Business as first-year MBAs. Today, they are co-founders of Magnus Healthcare Consulting, a firm whose Member HD software helps healthcare clients address social needs.
Brian Lash, Managing Partner and CEO, is a seasoned advisor and proven healthcare executive who has held prior leadership roles at regional and national health insurers. Yogin Shroff, Senior Partner and COO, is a sought-after thought leader with deep expertise in Healthcare Quality and CMS Medicare Stars.
Brian and Yogin brought their combined skills and experiences to their new firm and set an audacious goal to improve 35 million lives by 2035. We sat down with the two alumni to discuss Magnus, how their journey led them from the Tepper School to the healthcare field and where they hope this new venture will take them.
What brought you to the Tepper School?
We attended the Tepper School for the same reason: To get a world-class education steeped in analytics and social impact, from an institution whose reputation for creating business leaders is unmatched regionally.
Please tell us about your career journey.
Our careers have followed parallel paths. We both started in healthcare on the insurer side. By the time we met at the Tepper School in 2013, we had several years of healthcare payer experience under our belts. After we left Tepper, we ended up at the same regional consulting firm, then, at the same Pennsylvania managed care organization. In a way, our decision to found Magnus Healthcare Consulting was the natural evolution of all our prior experience.
Tell us more about Magnus.
When people think about healthcare, they think about physician practices, hospital systems, healthcare insurers, and the like. These are essential, but healthcare goes beyond the four walls of a traditional healthcare setting. As much as 80% of our wellbeing is determined by social factors like availability of affordable and nutritious foods, reliable housing, and access to primary care (the so-called "social determinants of health"). Those with unmet social needs have a higher incidence of chronic conditions, exhibit lower medication adherence, and make greater use of the emergency room. This translates to an incredible drain on the healthcare system that some estimates put at $1.7 trillion annually.
At Magnus, we built our Member HD software to help healthcare clients uncover unmet social needs in the community, then address them with person-centered interventions that avoid costly care down the road. We supplement our technology with consulting services that drive adoption and scale results.
What makes Magnus unique?
At Tepper, so much of problem-solving is pattern recognition; problem B is a lot like problem A that you already saw, so you draw from A's lessons and experiences to attack problem B.
We did the same thing with Magnus. Because the social determinants are largely based on one's address, we knew to look outside of healthcare for the latest thinking in transportation and logistics. We then took those lessons and baked them into our solution from the ground up. As a single example, the Member HD application scores food insecurity risk using the same technology Uber uses to route billions of rides annually. It's a transformative approach that affords us insights that are inaccessible to those using yesterday's thinking and technology.
How did you come up with the idea to start Magnus?
While a tad cliché, the idea for Magnus really came to us. We were working for the same Pennsylvania subsidiary of a Fortune 100 insurer whose primary business is government-sponsored healthcare. Yogin led the CMS Medicare Stars program while Brian ran its Project Management Office. In those roles, we oversaw projects and programs designed to improve health outcomes for a population with many vulnerable members, including those requiring long-term services and supports. We realized that there was a better way to identify and address unmet social needs, but we also knew it would require new thinking, new tools, and the liberty to execute as we saw fit; a new enterprise was the vehicle that would afford us the most latitude to test, learn and grow, and so Magnus was born.
Importantly, our launch would not have been possible without the support of our mentors. Among them was Christopher Cynkar, Adjunct Professor of Entrepreneurship, who taught the Entrepreneurial Alternatives course we took while in the MBA program. Not only did he listen to more than one early pitch, but he also shared feedback that completely altered our strategy for the better. We would be a different business – if we were in business at all – without his gracious advising.
What are your goals for the company over the next five years?
We are focused on building our team, growing our client base, and improving our core technology, all in service of our mission to improve 35 million lives by 2035.
How did your time at the Tepper School influence your leadership/career today?
Our first response is the obvious one. We met each other at the Tepper MBA program, so without that shared experience, there would be no Magnus today.
Beyond that, what Tepper gave us was a business education founded in analytic depth, paired with the soft skills necessary to effect change. There's a prevailing belief at the program that the ability to get others to follow you is at least as important as any hard skill. Fallaw Sowell, Associate Professor of Economics, was famous for reminding us of this – he would melt your brain with derivatives and integrations, or make you cross-eyed with the Stackelberg Model, then remind you that, "This is the easy part. The hard part comes when you have to get others to buy into your idea."
Fortunately, Tepper affords myriad opportunities to sharpen your leadership skills, from dedicated courses like Management Presentations, taught by Evelyn Pierce, Teaching Professor of Business Management Communication, to the Accelerate Leadership workshops, to a curriculum that weaves leadership and presentation skills through its foundation. The MBA afforded us skills that are indispensable to our entrepreneurial journey today.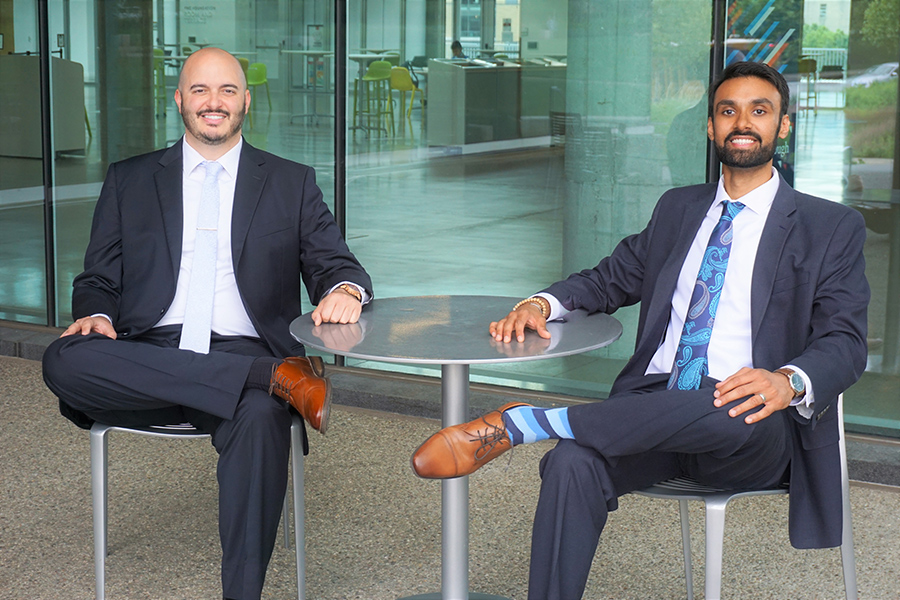 Has the pandemic accelerated your business launch or the opposite? What challenges/successes have you faced while trying to launch a startup during the pandemic?
The pandemic accelerated our business because it increased the systemic issues we address. COVID-19 didn't create new social risks as much as it brought existing risks to the fore and multiplied them. Some 42 million Americans experienced food insecurity from the pandemic. Twice as many renters were behind on payments relative to pre-pandemic levels. The list goes on.
The pandemic not only accelerated demand for our services, but more importantly, it increased our resolve to bring our solutions to market. The sense of social responsibility we feel is profound.
How does your company support diversity and inclusion?
Health equity is a central topic in healthcare. It involves the ability of people everywhere to live their healthiest lives irrespective of their social circumstances.

While social risks affect all races and creeds, they affect minorities to a disproportionate degree. Our work to uncover unmet social needs and guide person-centered interventions is therefore an effort to promote health equity, eliminate racial disparity and improve the health and wellbeing of minorities everywhere.
Do you have any advice to share with future entrepreneurs?
Focus on what you do best. A revolutionary idea that addresses an emergent need and has product-market fit may be the wrong path for you if you don't have the right skills or passion to bring it to market. Be honest with yourself about what you do best and then play to your strengths.
Second, if you have a spouse or significant other, theirs is the most important buy-in. The two of us could not have started this business without the commitment of our partners, who are not only our proof-readers and beta testers, but also, our bottomless well of enthusiasm and support. We are fortunate to have them, and our business is made better for their involvement.
Is there anything else you'd like readers to know about your company or your future endeavors? 
Readers can follow Magnus Healthcare Consulting on LinkedIn or learn more on our website magnushc.com.