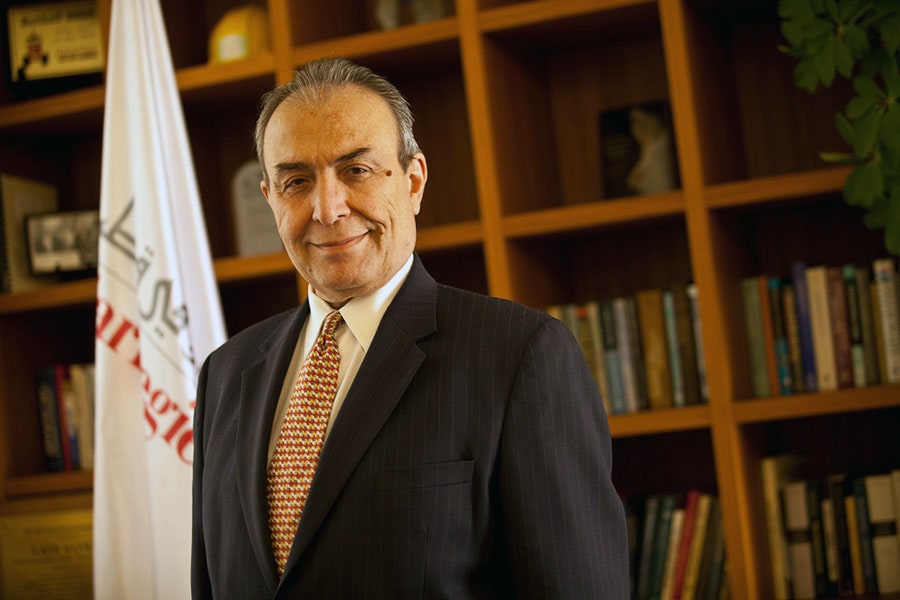 October 23, 2020
Ilker Baybars Celebrates 50 Years at Carnegie Mellon
Ilker Baybars, the George Leland Bach Professor of Operations Management, came to Carnegie Mellon University in August 1970 for the Master of Science in Industrial Administration program at the Graduate School of Industrial Administration (GSIA), now the Tepper School of Business. Over the course of five decades, Baybars has become one of the longest-serving and most-valued academic leaders of the institution.
Baybars, who is currently deputy dean emeritus of the Tepper School, served Carnegie Mellon in many roles. He was dean and CEO of Carnegie Mellon's Qatar Campus for six years; deputy dean (1991-2011) at the Tepper School; associate dean (1985-1991); acting president of the Carnegie Bosch Institute for Applied International Studies (1996-1997); director of the Tepper School's MBA program (1984-1997); and head of the Undergraduate Business Administration program (1990-1994).
A Steady Hand
"Ilker was deputy dean for almost my entire tenure as president, a time of much progress and change, notably including the transition from GSIA to the Tepper School," said Jared L. Cohon, former Carnegie Mellon president and University Professor of Engineering and Public Policy at the College of Engineering.
"Ilker's deep knowledge of the school and the university, and his steady hand, were invaluable. I am grateful for his many contributions as a teacher, an administrator, and a leader."
"My relationship with Ilker started nearly 40 years ago, first as a student and then as a mentor," said Larry E. Jennings, Jr., a member of Carnegie Mellon's Board of Trustees Executive Committee and senior managing director and co-founder of ValStone Partners.
"I fondly remember our partnership and collaboration when we set up the Qatar Campus in 2008. I'm thrilled that Ilker is receiving this recognition. His legacy has made a lasting impact on both the Tepper School and Carnegie Mellon."
Building the Foundation of the Part-Time Online Hybrid MBA
In May 1985, Baybars created and founded the highly successful part-time FlexTime MBA program, known now as the Part-Time Flex MBA, which is currently ranked #8 by U.S. News & World Report. In 1996, he created the FlexMode MBA program, which provided remote education to people in a number of locations distant from the Pittsburgh campus, laying the groundwork for the Poets&Quants #1 ranked Part-Time Online Hybrid MBA program.
"Ilker Baybars played a central role in growing a small, innovative master's program to one from which, each year, hundreds of graduates assume leadership roles in prominent companies throughout the world," said Dennis Epple, the Thomas Lord University Professor of Economics at the Tepper School.
"Having witnessed this transformation, I am still in awe of Ilker's vision for what the school could become, and his skillful management of the transformation that realized his vision."
Lifelong Leadership
"Always motivated by the best interests of GSIA and now the Tepper School, Ilker has been an innovator and important academic leader at our school over much of his career," said Chester Spatt, the Pamela R. and Kenneth B. Dunn Professor.
"He has provided institutional continuity through many leadership transitions and has been a strong boaster of the special role of our business school. At a personal level, I have always found Ilker to offer wise counsel and to be a source of wisdom and perspective."
In 1997, he was awarded the Outstanding Achievement Award of the Tepper School for Leadership in recognition of his achievements.
"For many years, I have been fortunate to have Ilker as a colleague, a mentor of mine, and even perhaps an occasional co-conspirator," said Mark Kamlet, former Carnegie Mellon provost and University Professor of Economics and Public Policy at the Heinz College of Information Systems and Public Policy.
"In his typical fashion, he doesn't seek to take credit for himself — maybe that is part of his secret for accomplishing so much. But, his many contributions to this institution have been truly exceptional. I'm so glad to see him embarrassed by this well-deserved praise and recognition! Absent Ilker, CMU would not be the university it is."
Baybars received his bachelor of science from Middle East Technical University (METU) in Ankara, Turkey in 1969. After spending a year at METU as an instructor, he then studied at Carnegie Mellon, where he earned his master's in 1972 and Ph.D. in 1979.
Baybars' research interests are in assembly line balancing; facility planning and design; telecommunications networks; as well as heuristic algorithms and graph theoretic modeling. His publications have appeared in Management Science; International Journal of Production Research; European Journal of Operational Research; Discrete Mathematics; and the Naval Logistics Research Quarterly.
He is a member of INFORMS (Institute for Operations Research and Management Sciences), Sigma Xi, Beta Gamma Sigma Honor Society, and the American Production and Inventory Control Society. He has organized and chaired many sessions and panels for these and other professional societies.
A Passionate Teacher and Mentor
Baybars has taught quantitative methods, operations research, and production management courses over the years.
"I had Ilker as a professor for my four semesters in the MSIA program and as my boss for seven years," said Robert Byrne (MSIA 1984), co-founder and former CEO of Terra Technology, LLC.
"He's a dear friend and my most valuable mentor. Ilker cares more deeply about the Tepper School than anyone else I know, which is one reason my class endowed the Class of 1984 Ilker Baybars Fellowship in 2019."
"Ilker's passion for teaching was evident from the first day I walked into his class. He brought theoretical concepts to real life in a manner that was engaging and witty," said Anne Goldhammer Moore (GSIA 1985), CEO and owner of KANDA Consulting, LLC.
"It was a joy to interact with this wonderful educator who added so much value to my professional development. I am a better person for having been his student, and so very proud not only to call him my professor but to also call him my dear friend!"
In 1981, Baybars became the first recipient of the Emil Limbach Teaching Award for Excellence in the Classroom.
Baybars has been a member of the Board of Trustees of Bilkent University in Ankara, Turkey since 1990. He has been executive vice president and board member of the Alliance on Business Education and Scholarship for Tomorrow (ABEST-21, Tokyo, Japan) since 2006. He was also a member of the governing board of the Carnegie Bosch Institute from 2011-2016.
Previously, he was a member of the Joint Advisory Board of Carnegie Mellon and Qatar Foundation (2006-2011); a member of the advisory council of the Graduate School of International Management, Aoyama Gakuin University (Tokyo, Japan, 2005-2008); and a member of the board directors of the MBA Enterprise Corps (Chapel Hill, N.C., 1990-2000).