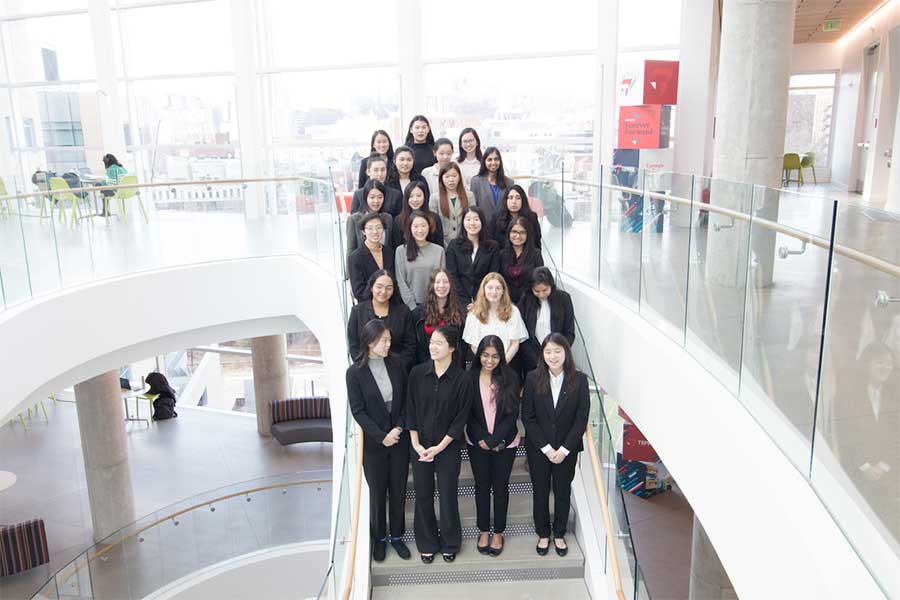 May 15, 2020
Smart Woman Securities Hosts Stock Pitch Competition
Sponsored by Principal Financial, Goldman Sachs, and Citigroup, the competition challenged undergraduate women to write a persuasive stock pitch.
On Feb. 8, 2020, The Carnegie Mellon University chapter of Smart Woman Securities hosted its annual stock pitch competition at the Tepper School.
Smart Woman Securities is a nonprofit founded at Harvard University in 2006 to help educate undergraduate women about the finance industry. The organization oversees 30 student chapters at universities around the U.S. and provides structure and resources to allow chapters to operate independently to meet the needs of their community.
At CMU, the SWS chapter hosts seminars and lectures, fosters mentoring relationships, and connects members with investors and firms to help them maintain professional networks and learn more about the industry. One of the CMU chapter's signature events is the stock pitch competition, held each year in the spring semester.
"We wished to provide an opportunity to the talented young women at CMU to showcase the skills they gained and continue to improve," said the organization's Chief Executive Officer, junior economics and statistics student Ying Liu. "We realized that many underclassmen can gain tremendously from the competition in that it would give them a platform to learn how to put what they learned in classrooms into practice and gain hands-on experience in delivering stock pitches, thus helping them gain more courage to pursue a potential career in finance."
Stock Pitch Competition
Teams of two to four undergraduate CMU students — primarily women in their first or second year at the university — were challenged to write a stock pitch for a single U.S. equity valued at a minimum of $500 million. Entries included an investment thesis, a company overview, competitive analysis, valuation metrics, and risks. Teams applied to participate in December and were able to work together on their entries in advance.
"Our competition allows students to apply the finance knowledge they have learned to actual corporations," said Angela Wu, sophomore business administration student and SWS event liaison. "This provides opportunities for the students to answer thought-provoking questions and receive feedback from the judges. As a result, students build their teamwork, presentation, and critical thinking skills."
On the day of the event, participating teams gave 10-minute presentations to the judges, followed by 10 minutes of questions. Judges included faculty members such as Bryan Routledge, Associate Professor of Finance, as well as representatives from sponsoring organizations.
In the preliminary round, teams were randomly assigned to one of four competition groups, from which one finalist was chosen to advance to the final round. Each team in the final round earned a cash award.
Thorough Valuation Models
The winning team, CLLW Street, consisted of junior business administration students Christina Li and Wenyi Zhu and junior computational finance students Laura Li and Lily Qiao. They pitched Mastercard to the judges. "They had the most thorough valuation models with well-researched assumptions to support," said Lijing Yao, SWS chief research officer and a junior majoring in business administration and statistics, with a computational finance minor.
"All of the finalists had engaging and comprehensive presentations and great communication skills," Yao said. "The best teams remained composed and confident throughout and took this opportunity to expand upon their initial pitch and demonstrate their knowledge of the company and the industry."
In addition to the pitch competition, the event included a networking session and a panel discussion from women in finance. Wu said, "The event not only helps students to build meaningful relationships with professionals and one another, but it also empowers them to build a career in a male-dominated industry."
The competition was sponsored by Principal Financial, Goldman Sachs, and Citigroup, which sent representatives to judge the competition. Sponsors also included the Tepper School, the Bachelor of Science in Computational Finance program, and the Department of Mathematical Sciences.