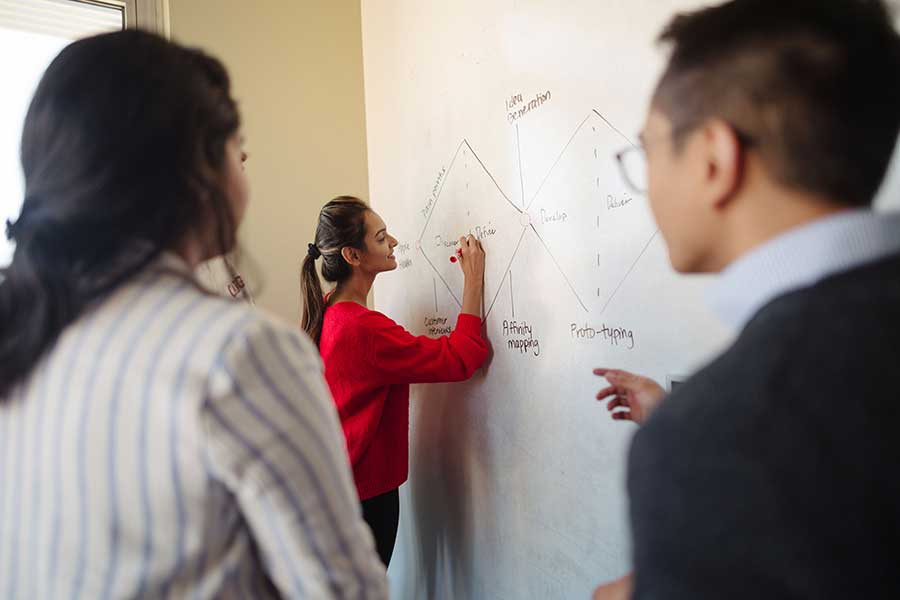 May 14, 2020
MSPM Students Gain Practical Experience in Capstone Projects
The Master of Science in Product Management program culminates in a real-world product challenge with a company sponsor.
Demand is growing for skilled product managers to fulfill roles that bring together technical skills and business acumen to bring technology products to market. To help meet this demand, the Master of Science in Product Management degree program at Carnegie Mellon University offers a hybrid curriculum from the School of Computer Science and the Tepper School of Business.
The MPSM curriculum culminates in a capstone project, in which students are paired with a participating company to provide fresh insights on an actual product the company is seeking to introduce or optimize. Through participation, companies also realize the benefit of assessing talented product managers as potential new hires.
Sponsoring companies approach the MSPM program with a specific product challenge for a team of students to consider. "MSPM students gain critical skills working on a capstone, applying their academic knowledge and leadership learnings to an actual product challenge, learning from executives and a diverse set of leaders at a sponsoring company, project skills as they manage the process from start to finish, practicing problem-solving, strategy, and more," said Greg Coticchia, Executive Director of the MSPM program. He emphasized that the skills that set apart good product managers don't rely domain knowledge as much as they do management skills like collaboration and leadership.
Practical Experience
"The skills you need to succeed as a product manager vary a lot across consumer and enterprise products. They also differ significantly based on product and organizational maturity," MSPM student Neal Iyer said. Iyer worked with The Home Depot Inc. on its online shopping experience. "The skills I developed getting buy-in for product initiatives across a large number of teams at Home Depot prove very valuable in my current role and will serve me well across my broader product management career."
Iyer's team summarized 89 ideas to enhance the online shopping experience for consumers and help them find what they need. "Our product team is leveraging the proposed features and experiments from the capstone project to inform our roadmaps, iterating on our current experience based on the project findings to help our customers more easily shop for their projects," said Jessica Metz, Senior Product Manager of Core Browse Experience for Home Depot. "The project findings are helping us both validate assumptions about our current plans and open up new paths to test and explore."
Pendo — co-founded by Eric Boduch (BSIM 1996) and Todd Olson (E 1997) — asked the student team to explore opportunities to build new software products to expand its user base beyond product managers to those in customer success roles. Pendo's Chief Product Officer Brian Crofts said, "It was a key input into our annual planning which includes our product direction and strategy."
Dick's Sporting Goods Inc. came to the student team with a project focusing on its product catalog. "The most rewarding aspect of the capstone project was the opportunity to understand the intricacies of product management in a large retail company undergoing digital transformation in the age of e-commerce," MSPM student Kanav Goyal said of the Dick's project. "I gained valuable practical experience in product management during the capstone, especially around user interviews, stakeholder mapping, and design thinking to solve real-world problems." Goyal and his teammates offered recommendations for the company to improve its cataloguing process, including standardized data requirements and coordination with product vendors.
"The bottom line is, we are in a crisis of PM talent," Coticchia said. "Product managers are in demand. It's the No. 4 most sought-after role in technology, and climbing."