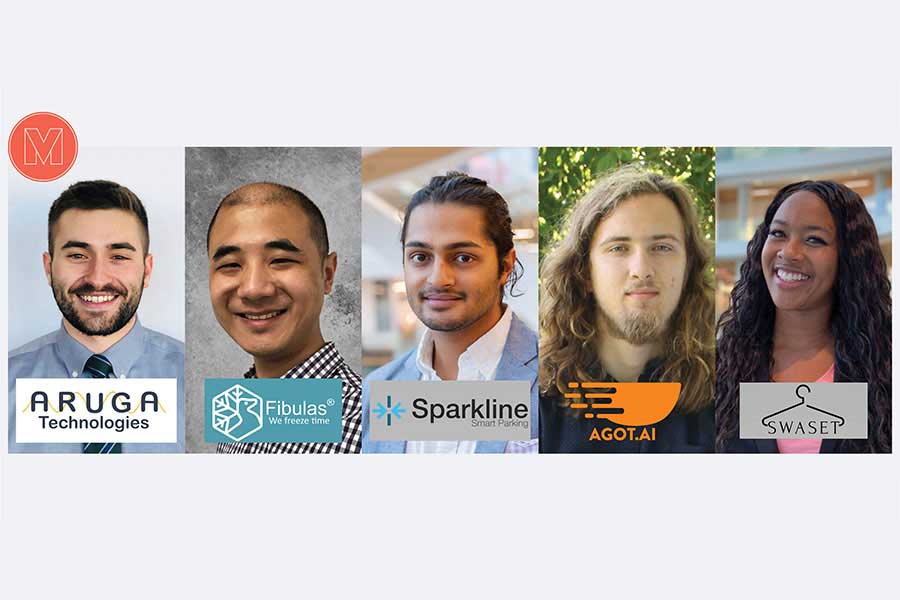 May 13, 2020
3 Tips for Entrepreneurs: McGinnis Venture Competition
Gerald and Alicia McGinnis, benefactors of the McGinnis Venture Competition, offer some advice to aspiring entrepreneurs.
This spring, the final round of the McGinnis Venture Competition took place via videoconference due to ongoing COVID-19 social distancing guidelines. Aspiring Carnegie Mellon University entrepreneurs presented their startup ideas over Zoom to compete for a total of $60,000 in investment funds.
Top prize in the graduate track went to Aruga Technologies, a medical device company from engineering student Joseph Pugar. In the undergraduate track, the winning company was Agot, an AI company powering self-service checkout with deep learning, co-founded by computer science student Alex Litzenberger and alumnus Evan DeSantola (CS 2019).
"This year, the winner of the undergraduate competition seemed to have more market validation than any of them. That gave them quite a bit of credibility," said Alicia McGinnis, General Partner of Audrey's Kitchen LP. She served as a judge for the competition this year along with her father, Gerald McGinnis, whose 2004 endowment established the competition.
The two shared their guidance for entrepreneurs pursuing investors:
Put in the work on a sophisticated market validation.
"The top three things in spotting a really good startup company are market validation, market validation, and market validation," Alicia McGinnis said, co-opting a common adage about real estate. "I can't state how important that is. It takes the top three spots."
She noted that student competitions like the McGinnis Venture Competition can be difficult to judge, because the entrants vary widely in their levels of experience and the work they have put into their ideas. The ones with highly sophisticated market validation are able to demonstrate a deep understanding of the market and justify how their company adds to its current level of service or disrupts it such that their product is necessary.
"A successful entrepreneur can communicate a complete grasp of the profit-making potential of their startup," Gerald McGinnis said, including recognizing who their customers are, where to find them, and how to communicate with them. Then, founders need to be willing to pivot their ideas based on what they are learning from their market research.
Don't take things personally.
One of the most important traits for an entrepreneur is a flexible mindset. By remaining open-minded, entrepreneurs are better able to handle when things don't seem to be working and consider how they might change approaches to get to the root of a problem.
On top of that, entrepreneurs must be able to demonstrate that they have the resources and skills at their disposal to meet challenges. In addition to a team of credible talent and strong connections, startup companies benefit from founders who are curious, who learn fast, and who exhibit integrity and good manners.
"Most of these attributes are teachable," Gerald McGinnis said. A formal business education like the Tepper School's undergraduate and MBA programs can help entrepreneurs to not only build specific business skills, but also hone these important qualities.
But Alicia McGinnis cautions that a formal education must accompany firsthand experience in the market. "The ones that went out in the world and engaged with customers are the ones who really shine," she said. "They're able to apply what they're learning in class to what's happening when they go out and talk about their product." 
Maintain long-term connections.
"You should never invest in someone until you have spoken to them for quite a few months, minimally," Alicia McGinnis said. Investors are better able to assess the skills and resources of entrepreneurs who maintain a relationship with them over a long period of time, continually updating them on progress and achievements.
Entrepreneurs at Carnegie Mellon have the benefit of the Swartz Center for Entrepreneurship to help them make connections with investors and customers. "Investors from other areas of the country are interested in Pittsburgh because of Carnegie Mellon," Alicia McGinnis said. In Silicon Valley, she sees significant interest in the innovations coming out of the university, especially in areas like machine learning and artificial intelligence.
One such innovation is Sparkline, a company operating an incubator space at the Swartz Center.
Sparkline — co-founded by Max Henkart (MBA 2019) and computer science student Vai Viswanathan — uses predictive AI to help parking providers to better deploy their services and monetize excess capacity.
The company secured third place in the graduate track of the McGinnis Venture Competition. "This competition is really significant, because it forces them to begin the process of starting a company," Alicia McGinnis said. "And that's really a unique set of skills."
McGinnis Venture Competition winners
Graduate track:
First place — Aruga Technologies with doctoral engineering student Joseph Pugar.
Second place — Fibulas with doctoral engineering student Xiaotian Ma.
Third place — Sparkline with Max Henkart (MBA 2019) and computer science master's student Vai Viswanathan.
Undergraduate track:
First place — Agot with Evan DeSantola (CS 2019) and senior computer science student Alex Litzenberger.
Second place — Swaset with senior engineering student Anthony Attipoe, sophomore engineering student Evangeline Mensah-Agyekum, and first-year computer science student Seth Setse.