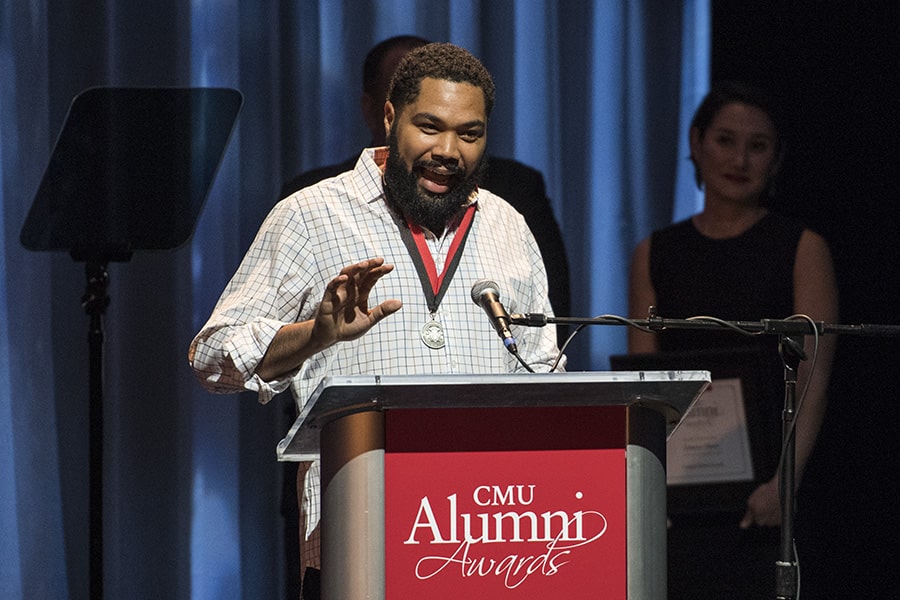 July 28, 2020
Tepper Econ Alumnus and Filmmaker Tommy Oliver Documents 'Power of the Protests'
Tommy Oliver's personal and professional life are hitting high notes right now, but he is not one to stand on the sidelines and rest on past accomplishments. And he would be the first to tell you he wouldn't have it any other way.
Oliver Welcomed Into Academy of Motion Picture Arts and Sciences 
Oliver is a 2006 graduate of Carnegie Mellon's economics program, a joint offering of the Dietrich College of Humanities and Social Sciences and the Tepper School of Business. He is a Los Angeles-based producer, director, and writer best known for "Kinyarwanda" (2011), "The Perfect Guy" (2015), "Black Love" (2017), and "1982" (2013). Earlier this month, he was invited to join the Academy of Motion Picture Arts and Sciences along with more than 800 artists and executives who have distinguished themselves by their contributions to theatrical motion pictures.
"The Academy is delighted to welcome these distinguished fellow travelers in the motion picture arts and sciences. We have always embraced extraordinary talent that reflects the rich variety of our global film community, and never more so than now," said Academy President David Rubin.
Oliver's accomplishments were certainly evident as the Academy invited him into the producers branch. He founded his own production company, Confluential Films, in 2012. He is one of the youngest people to ever produce a feature film at Sony Studios — 2015's "The Perfect Guy," which made $26 million its opening weekend. His directorial debut, the semi-autobiographical "1982," premiered at the Toronto International Film Festival to critical acclaim in 2013. He also produced 2011's "Kinyarwanda," a Sundance Award winner and sixth on Roger Ebert's Top 10 list of films of that year.
Docu-series Showcases Loving Black Relationships
In addition to his film work, Oliver and his wife, Codie, have had great success in television. The two created the highest-rated unscripted TV debut in Oprah Winfrey Network history with "Black Love," a docu-series that uses interviews with black couples to showcase what it takes to make a relationship work. Its fourth season begins this fall.
The series began because Codie (then his girlfriend) was frustrated by the constant barrage of negative stories and images about the Black experience and the lack of coverage of loving relationships. She and Oliver independently financed the documentary that would become "Black Love," traveling around the country, Codie as director/interviewer and Oliver as producer/cinematographer/co-editor.
The series' success eventually led to the expansion of the overall brand through digital, traditional, and experiential media. The components are:
Black Love Doc (the broadcast TV series)
Black Love social channels - IG: @blacklove FB: @blacklovedoc TW: @blacklovedoc
Black Love Experiential - The Black Love Summit, Black Love Live, etc.

Documenting the Power of Protests
Although Oliver is best known as a filmmaker, he recently made headlines as a photographer. During the recent protests following the death of George Floyd Jr. in Minneapolis, Oliver did not stand on the sidelines but, rather, chose to get involved by documenting the protests. He attended a rally on Hollywood Boulevard where upwards of 50,000 people gathered and said he found the experience deeply affecting.
"I filmed the power of the protests," he said, and saw that "when we work together, there's no stopping us."
He talked about the experience with @3rdHourTODAY where he mentioned his motivation. "I would not be able to sleep at night if I didn't do something about it, if I could do something about it."
What he did was capture an important moment through his camera lens.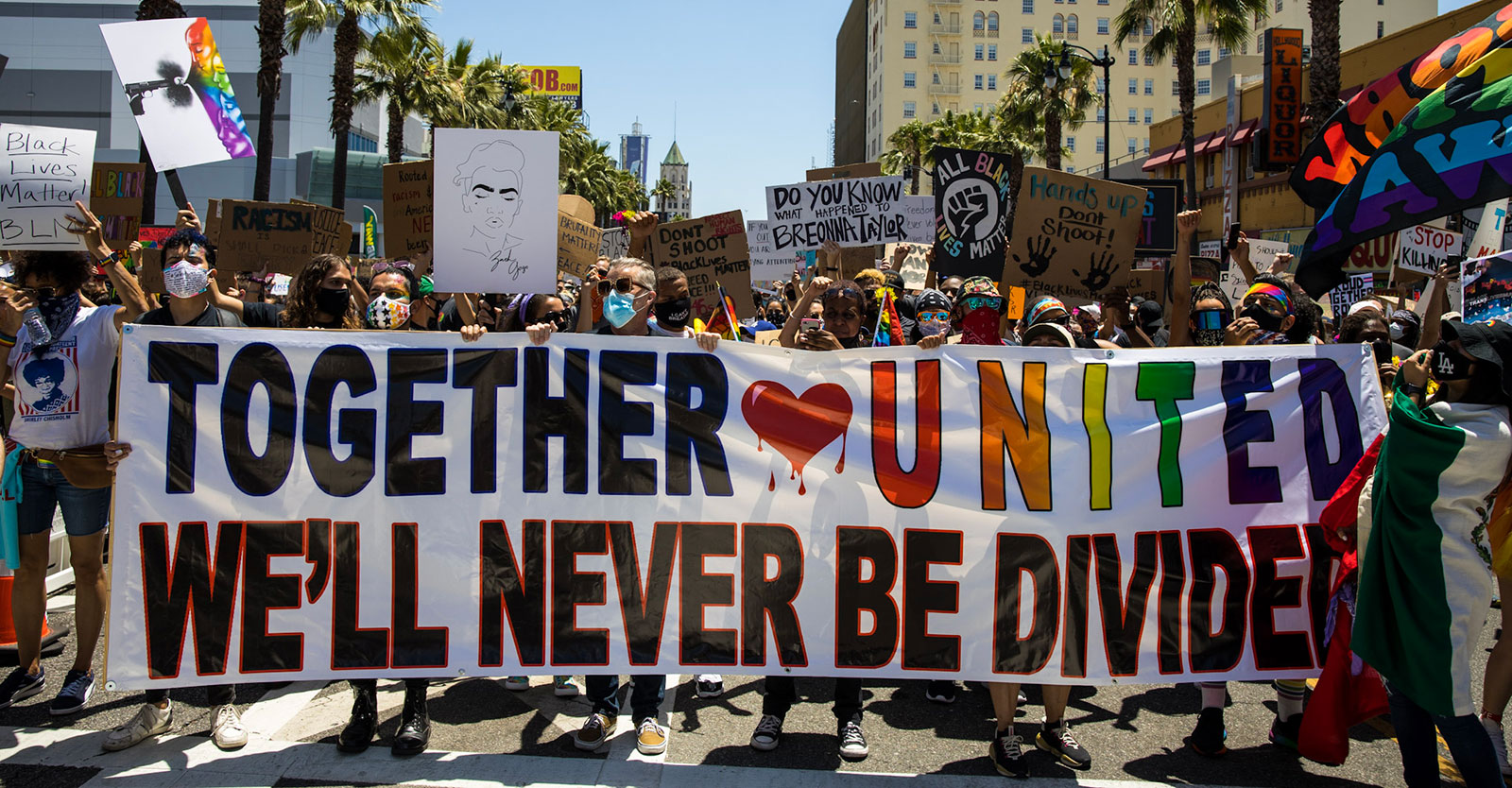 Ongoing Supporter of the CMU Community
Oliver and Codie married during their journey together, and they now have three children. Busy at home, busy at work, Oliver still makes time to give back to his alma mater.
He regularly gives workshops in Los Angeles for CMU students in the Master of Entertainment Industry Management (MEIM) program, a joint effort of the College of Fine Arts and Heinz College. He has also been a guest panelist for the CMU School of Drama during the annual Los Angeles Showcase of New Talent event that highlights graduating seniors' talents and provides exposure to industry professionals.
Dan Green, Ph.D., heads the MEIM program and has asked Oliver to join the faculty this year.
"Tommy has been doing workshops for the MEIM program for years at Sundance and in Los Angeles. He has a gift for giving practical, real advice while still being inspiring, and that's not an easy thing to do," Green said.
"On top of all of the work he does in the classroom, Tommy has helped produce recent graduates' projects, he's hired our students at Confluential Films, and this summer in the middle of the pandemic, he brought on a MEIM student to intern remotely with the head of development, who also happens to be a MEIM graduate."
Oliver also serves on the CMU College of Fine Arts Dean Council, an advisory group that helps to shape decisions and steer the college toward future successes.
"Tommy's passion and drive, together with his position as an influencer in the entertainment industry, made him a natural choice for the Dean's Council," said Dan Martin, dean, College of Fine Arts.
"It is extremely important that, at this time in our society and our world, we have the perspective of a successful Black entrepreneur who can positively affect our college and our students as we are working to increase our concrete efforts in diversity, equity, and inclusion."