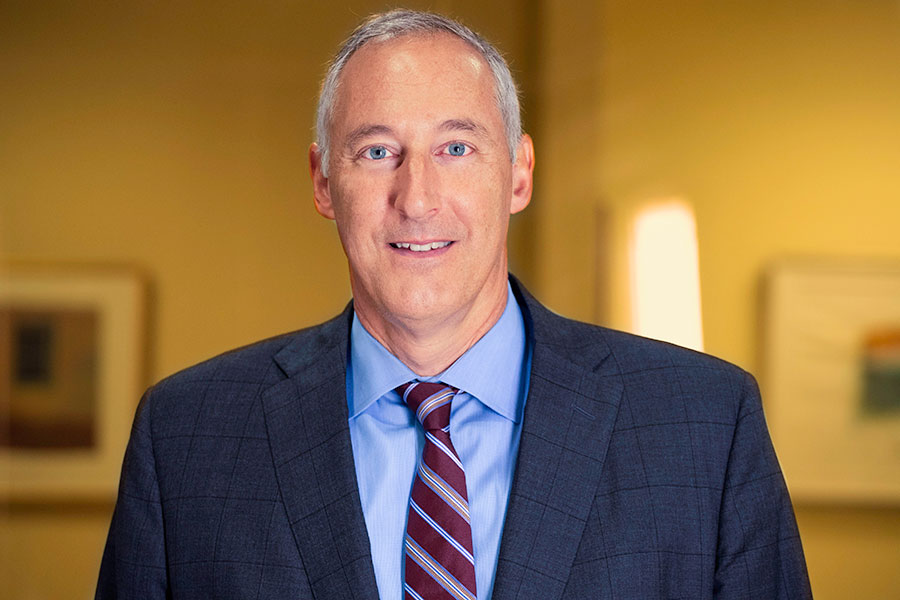 July 15, 2020
Alumni Spotlight: Mark Zacur on Managing Supply Chains in a Pandemic
Alumnus Mark Zacur (TPR 1997) provides perspective from the frontlines of healthcare supply management and reflects on the importance of being a well-rounded leader in times of crisis.
By the time the COVID-19 pandemic reached the U.S. in early January, hospitals across the country began experiencing a shortage of medical supplies needed to combat the virus, including N95 respirators and other personal protective equipment for frontline healthcare workers. The shortage was felt globally as China, the leading manufacturing region of medical supplies, shut down production and distribution centers and export shipping lanes, as the coronavirus swept through the country. The skyrocketing demand and reduced global supply meant that the medical community in the U.S. — including healthcare professionals, medical suppliers, and ultimately, patients — was immediately impacted. As the number of cases continued to increase in the U.S., so did the need for a speedy supply solution.  
Mark Zacur (TPR 1997), executive vice president and chief commercial officer at Owens & Minor, a global healthcare solutions company that manufactures and distributes products and services to healthcare customers, was one of the many leaders at the forefront of this supply chain crisis. We spoke with Zacur regarding the challenges of operating a critical business during a global pandemic and the business leadership skills required in order to do so. 
American Demand, Meet American Supply
As the number of COVID-19 infections increased in the U.S., the Federal Emergency Management Agency (FEMA) COVID-19 Supply Chain Stabilization Task Force sought out medical experts in manufacturing and distribution in order to quickly supply the country with life-saving equipment. Owens & Minor answered the call. 
"As early as January, we ramped up production and began allocating products to preserve supply," Zacur said. 
"We accomplished this quickly by hiring hundreds of employees and bringing previously idled capacity online for the production of N95 respirators and other high-demand products. Since January, we've been running our manufacturing facilities and distribution centers 24/7."
Included in Owens & Minor's Americas-based manufacturing capabilities is the production of the company's proprietary HALYARD brand of products, including a wide variety of commonly used personal protective equipment.
"In addition to our self-manufactured HALYARD products, Owens & Minor distributes products from over 1,000 branded manufacturers, enabling us to deliver tailored solutions according to each customer's individual supply chain and inventory needs," Zacur said.
"By investing in and leveraging our Americas-based manufacturing and our third-party supplier relationships, we have maintained business continuity for our customers in this incredibly challenging period." 
As an integral part of the healthcare supply chain, Owens & Minor remains focused on providing tailored support so that their healthcare customers are free to focus on delivering vital patient care, no matter the circumstance.
"Seeing our business react and respond to this crisis has been incredible – from our increased manufacturing, to our vast distribution network, to our teammates working tirelessly to get critical products to the frontlines," said Zacur.
"It makes a difference when we know that we are helping our own citizens, in our own hometowns. It makes you want to get out of bed on a Saturday morning and go to work when you know that you are doing the right thing for the right reasons, to make sure that the community hospital down the street has what they need in order to serve their patients." 
White House Task Force Visits Distribution Center
Since the start of the pandemic, Owens & Minor has supplied billions of pieces of personal protective equipment to the medical community in the U.S., including N95 respirators, surgical masks, gloves, and over one million yards of fabric delivered directly to the garment district in New York City, where it was converted to medical gowns for frontline workers.
In recognition of the company's efforts, President Trump and FEMA officials met with the company leadership team and visited the Allentown, Pennsylvania distribution center to thank the Owens & Minor teammates who were responsible for getting the needed medical supplies to New York City. 
"That was a big moment," said Zacur. "I've had the privilege to work closely with leaders of many businesses, hospitals, and the federal government through this pandemic, and in every instance, the intentions and efforts to help were sincere. Our entire team was working seven days a week for months; in many cases, 12- to 15-hour days. So, for our teammates in Allentown to receive that recognition and represent the larger picture of our entire operation and how we're helping clinicians and patients, it really sustains and drives our personal commitment to keep going."
Creating Supply Chain Redundancies 
High demand for personal protective equipment and other medical supplies may continue for much longer than anyone can accurately guess, as the COVID-19 pandemic continues to impact countries around the world. 
"The COVID-19 pandemic is a fluid and unprecedented situation, but investing in product expansion within U.S. manufacturing, along with innovative supply chain management, would create an assurance of supplies," Zacur said. 
"We have to balance the textbook view of a one hundred percent efficient supply chain with critical thinking about what will go wrong, and how to build robust and tangible contingency plans to address that, especially in healthcare.
"A fear I have is that we as a country may maintain American manufacturing for the next twelve to eighteen months to answer the demand, but then what happens? We need to ensure that domestic manufacturing for critical supplies is sustainable over the long run. If we don't do this, then we might be back at square one, with our healthcare workers being unprotected during the next pandemic, and that's an unacceptable answer," Zacur said.
Such a contingency plan could include more emphasis on onshore and nearshore manufacturing, as well as clear stockpiling of critical healthcare supplies.
"We need to do the right thing for humanity, every time," Zacur said. 
Leadership Is More than a Numbers Game
From building supply chains with redundancies to examining if the bottom line is the best measure for business success, the COVID-19 pandemic is changing much of how — and why — we do business. 
"We need to consider: how do we make more of a societal impact with the work that we do? How do we personalize it? Let's keep the bigger picture in mind of our fundamental mission (especially in healthcare) and balance that with the traditional financial levers which we typically use to measure success," Zacur said. 
Much of running a successful business and being a leader focuses on having the answers: identifying the problem, crunching the numbers, and creating a solution that works. But according to Zacur, being a strong leader goes beyond having analytical skills. 
"We need to continue to emphasize interpersonal skills. The ability to communicate is so important. It's not just about having the right answers. We can continue to produce analytical leaders, but if they don't have leadership and community-building skills, they will be capped out in their career."
Zacur recalled taking a business communications course at the Tepper School that taught him how to "get your point across in an effective manner" and although many viewed the course as a "soft skill" class, he emphasized that it had a critical impact on his career. Zacur has called on his communications skills many times during this pandemic.
"I was on the phone with a senior supply chain executive from a major healthcare institution at around 10 p.m. on a Saturday night. They were facing an onslaught of patients and were on the verge of being overrun. I let him know that we were diverting an entire truckload of critical products to them and in response, I could feel his emotion through the phone as he choked back tears and thanked me. I can't recall a more personally rewarding moment in my career.
"When true leaders show up, they are empathetic, calm, and have command of the facts that matter. There's no substitute for strong leaders, even if you have strong answers. This pandemic exemplifies what happens when you have strong leadership, or lack of it. It's the communication skills that make a true leader in times of crisis," Zacur said.