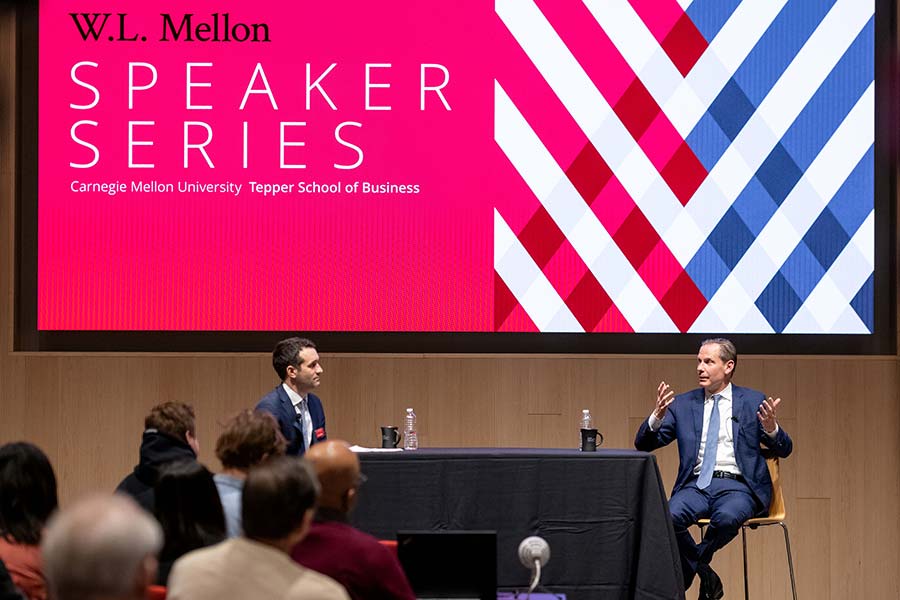 January 16, 2020
W.L. Mellon Speaker Series: IBM's Schroeter Talks About Leadership, Decision-Making, and What It Means To Succeed
Martin Schroeter (MSIA 1992), Senior Vice President of IBM Global Markets, spoke as part of the W.L. Mellon Speaker Series.
"You are the master of your destiny," said Martin Schroeter, senior vice president of IBM Global Markets (MSIA 1992), to a room of students as part of the W.L. Mellon Speaker Series.
He expanded with three key questions that has helped him over the years to advance his own career and development, and ultimately prepare him for professional crossroads:
How can I prepare for what I am doing now and what I will do next?
How can I practice what I have read about?
How will I continue to learn?
Having worked for a mid-sized bank prior to attending the Tepper School, Schroeter knew he wanted to work at a global company and in a dynamic industry after he graduated. IBM, which operates in over 170 countries and is an integral part of so many vital components in daily life, fit the bill. Schroeter rose through the ranks to assume many executive roles, including treasurer and chief financial officer, before landing in his current position as the global leader for sales, marketing and communications.
"Success, when I left Carnegie Mellon, was very much in the beginning about my ability to answer [other people's] questions," he said. "But over time, it meant being able to ask the questions that matter, something for which the analytical education at the Tepper School provides a solid foundation."
The robust discussion with Schroeter spanned topics from: how to build trust and motivate highly successful teams; to IBM's model of continuously moving to high-value technology spaces; to placing big business bets like IBM's $34 billion acquisition of Red Hat; to how Artificial Intelligence will augment future jobs and professions.
The W.L. Mellon Speaker Series enables students to interact with global leaders, CEOs, and management experts in student forums that encourage insightful and lively dialogue.