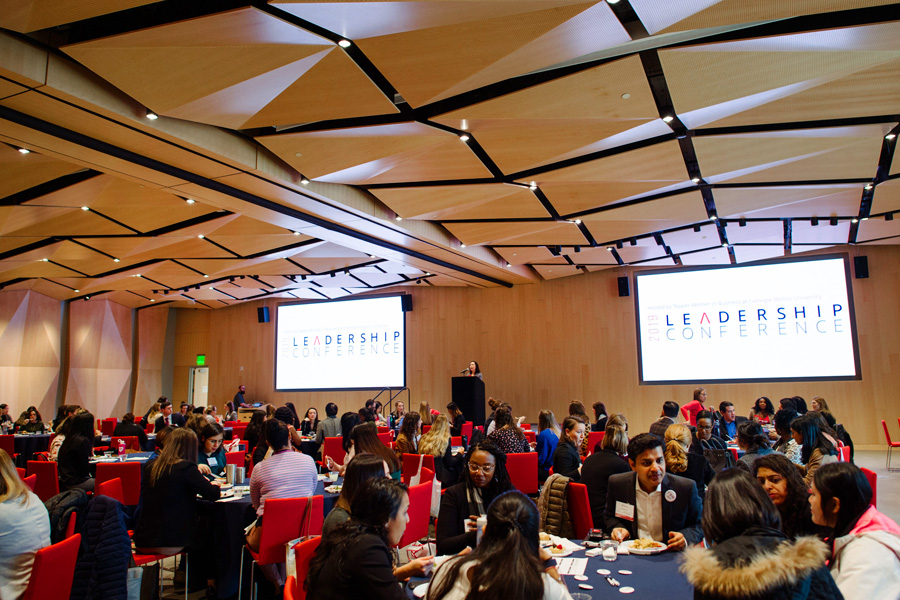 January 29, 2020
Tepper School Leadership Conference Explores Sustainability and the Culture of Busyness
Prospective MBA students and early-career professional women, along with their male allies, are invited to participate in the 2020 Leadership Conference at the Tepper School of Business. The conference, hosted by the Tepper Women in Business club, will take place in Simmons auditorium at the Tepper Quad on Sunday, Feb. 16, 2020. 
Sustainable Leadership and Personal Empowerment
The conference theme this year is leadership sustainability, in the context of personal empowerment and wellness. The full-day conference incorporates discussion of key topics like self-care, resilience, and wellbeing, and provides practical instruction of skills attendees can implement to sustain a strong and healthy career.
The 2020 conference organizers partnered with Angie Lusk, Program Director for Student Affairs Wellness Initiatives at Carnegie Mellon to develop the programming. "Young professionals can often place their own health and wellbeing second to their professional goals, and while that might suffice in the short term, it's not sustainable," Lusk said. "We live in a culture that embraces busyness and our mental health suffers as a result. By challenging the status quo, we can unpack the unhealthy and inefficient ways of going about our day."
Sessions will include keynote addresses and activities focused on the leadership journey and themes of empowering yourself and others, as well as a networking session with business leaders and professionals in the Pittsburgh and CMU communities. TWIB club board members and conference organizers Jamie Eustace and Natasha Singh, both second-year MBA students, sought to make the conference interactive, keeping attendees engaged and active throughout the day.
Practical Skills for Early-Career Professionals
They hope that by attending the conference, early-career professionals will gain practical skills to handle some of the challenges they may encounter. One session, hosted by the Accelerate Leadership Center, will focus on imposter syndrome, a pattern of thinking one's achievements are not deserved. This is often a challenge for women, who are frequently tasked with behind-the-scenes duties that are not rewarded.
Speakers include Tepper School and Carnegie Mellon University alumni, including keynote speakers Angela Blanton, Carnegie Mellon University Vice President for Finance and Chief Financial Officer and an alumna of the Tepper School of Business, and Emily Wazlak, founder and CEO of Shine Registry and an alumna of the Heinz College of Information Systems and Public Policy. There will also be a panel discussion including Tepper alumnae Carisa Griffin (MBA 2008), Brand Strategist at Dick's Sporting Goods, and Raji Sankar (MSIA 2000), co-CEO of Wholesome International and founder of Choolaah Indian BBQ.
An energizing element of this conference are what organizers call "Wellness Bursts," which will occur throughout the day to boost attendees' energy amid conference sessions.
This is the fifth year TWIB has hosted their leadership conference. Sponsors include Amazon, American Water, Emerson, and PwC.
Register online for the 2020 conference.