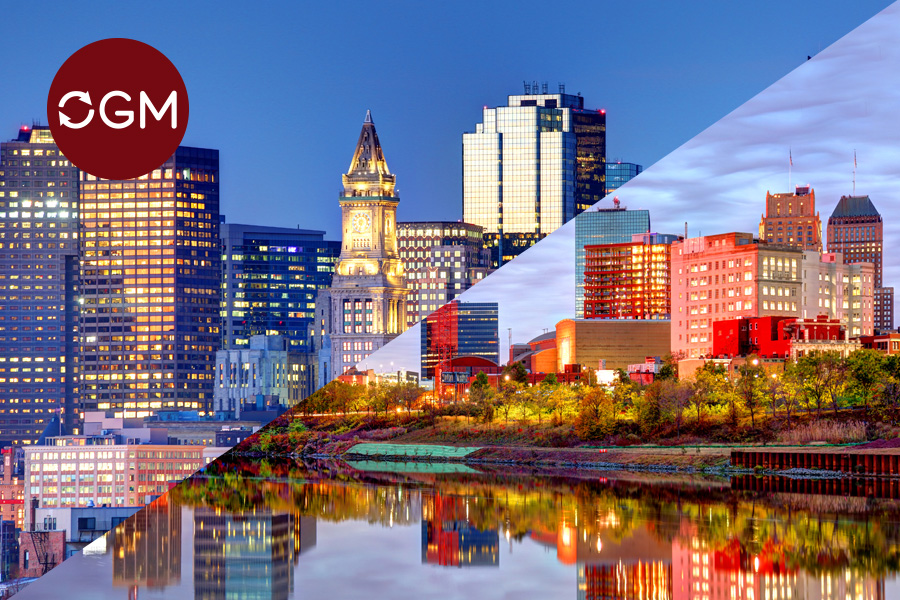 January 03, 2020
Operations & General Management Gains Industry Perspectives
With visits to companies in many different industries, OGM's East Coast trek introduced a wealth of opportunities available to MBA students.
The newly created Operations & General Management Club brings together two previous Tepper School of Business MBA student organizations dedicated to preparing MBA students for career paths in operations management and general management. OGM's broad focus fostered a wide spectrum of companies and industries during its fall trek to New Jersey and Boston, Massachusetts.
With a strong network of recruiters, the Tepper School offers MBA students ample opportunity to connect with potential employers right from the start of their MBA journeys. Starting in the fall semester, student clubs host "treks" to major cities across the U.S. to connect with companies and alumni in various industries and function
"Career treks are a significant resource for MBA students to gain valuable insights and make important contacts within industries of interest," said Stephen Rakas, Executive Director of the Masters Career Center. "The treks provide invaluable networking opportunities and we're pleased to support our student organizations each year in building strong, lasting connections to our Tepper alumni network and the broader business community." 
On a career trek, students visit companies that partner with the Tepper School to recruit MBA interns and graduates, as well as other leading companies of interest to the students. They may also attend social gatherings to connect with alumni and industry leaders in the area to learn more about the city and build their professional networks.
Strong Education in Operations
Citing the Tepper School's #2 ranking in Production/Operations from U.S. News & World Report, MBA student and OGM trek leader Evan Werner said, "We have a strong history of great operational educational experience here." The club offers opportunities for its members to learn more about the roles and functions available for operations and general management careers, such as those in operational strategy or supply chain and logistics.
"The club, especially the second-year students, have been giving us a wide variety of insights into the different businesses," MBA student and OGM trek leader Ryan Dettmann said. "They've really helped out with their mentorship program." The club connects first-year MBA students with second-year student mentors who share similar backgrounds to help them navigate their career path and the recruiting process. 
"It helps us steer this transition," Werner said. "Getting knowledge of companies, the specific roles within companies, and the functionality of those roles has been a huge part of the OGM club." 
In addition to professional and educational development, OGM hosts social activities to encourage members to get to know one another outside of class, including go-kart racing and axe throwing. "It was a lot of fun," Dettmann said. "We got to unleash some of our competitive spirit a bit."
Looking Inside Corporate Culture
Werner was pleased to strengthen his bonds with his classmates further on OGM's career trek this fall. "We had a very diverse group of first-year students," he said. "It gave us a lot of insight into our classmates' unique backgrounds and perspectives. Forty percent of our class consists of students from the international community. This trek was a wonderful opportunity to learn more about their cultural backgrounds. For me, that was easily the most rewarding part of the trip."
OGM brought its members to a smattering of companies across several industries, including Philips, Thermo Fischer Scientific, Keurig Dr Pepper, and Wayfair Inc. in Boston; Merck & Co. and Bristol-Myers Squibb in northern New Jersey; and three Amazon fulfillment centers in Swedesboro, New Jersey. For some of the visits, OGM partnered with other Tepper MBA organizations like the Healthcare Club and Tepper Consulting Club.
Werner noted that several of these companies offer rotational programs in areas such as leadership, finance, and supply chain, for which students focusing in operations and general management are often well-suited. "Seeing these companies really gave us the opportunity of applying what we've learned," he said, "but also giving us the opportunity of getting to learn these companies' corporate culture and seeing if it would be a good fit for our summer internship and post-MBA career."
The companies were chosen by second-year OGM officers in partnership with the Masters Career Center, who capitalized on existing relationships with recruiters and Tepper School alumni. The alumni spoke with visiting students about their career paths and offered advice from their time at the Tepper School and in their careers. "You could tell from the effort they put in these tours and treks that they really cared about Tepper and also their company. It was great to see that passion," Dettmann said.
These kinds of inside looks are an important asset of treks like these, Werner said. "You're not talking to company promoters or recruiters. You're talking to the actual people working there, the people on the floor." 
Both students stressed that, especially for roles in operations and general management, seeing inside companies can be a driving factor for students in choosing companies and roles that suit them. "You get a really deep dive into how they solve problems and their philosophies on solving those problems," Dettmann said. "It gives a good insight into what their vision is."